On Monday, Virgil Abloh gave a lecture to students at Columbia University. The lecture, titled "Everything in Quotes," aimed to give advice to young creatives. Abloh, a designer and Kanye West's longtime creative director, touched on everything from Pyrex, his first venture into clothing design, to the layout of his store spaces. He even teased Off-White's future collaboration with Nike and a project with a "super awesome furniture design company," and explained the meaning behind West's Yeezus album cover. There were tons of knowledge darts; here are the seven best ones. 
1. Kanye West knew CDs were over with 'Yeezus.'
Abloh recognized his work with West on the Yeezus album cover as a moment where they thought they "outdid" themselves. "We weren't supposed to come up with something this clean," he said. "I don't know what happened. We don't know what it was but we both looked at it in the end and we were like, 'Damn. It's as if we went to design school.'" He also added that the cover was metaphorical—it represented the death of the CD and that this would be the last time anyone sees a CD. "It's an open casket for a format of music we were raised off of," he said. 
2. Off-White's construction belt was born out of a photo he took with his iPhone. 
He took a photo of a tiedown on an industrial truck outside of Hotel Americano in New York and was inspired to create a belt. The "Industrial Belt" has become one of the biggest and most popular items he's ever made for Off-White.
3. Before the diagonal lines, he once tried to come up with a monogram for Off-White. 
Abloh wanted to brand Off-White. But after Pyrex, other brands began using names and numbers on the backs of garments. The designer admits to trying to creative an Off-White monogram, but quickly realized most monograms would simply look like Louis Vuitton's signature branding. In the end, he decided on the diagonal lines—a repeating pattern that no one used. "I'm trying to use ready-made things to make people see them," he said at the lecture. 
4. The "Pyrex" and "23" texts on Pyrex pieces were inspired by basketball and selling drugs.
In 2013, Abloh's released Pyrex Vision, which was his first foray into the fashion world. During the lecture, he spoke about the deeper meaning behind the "23" and "Pyrex" text that became the main symbols of the brand. The "23" was inspired by Michael Jordan, the greatest basketball player of all time, while "Pyrex" was meant to represent the Tupperware used to cook drugs. Playing basketball and selling drugs, he said, were often thought to be the only ways to make it out of the hood. 
5. He played Migos' "T-Shirt" at his Fall/Winter 2017 runway show—and Anna Wintour liked it.
Abloh said Wintour listened to the whole song and was "into it."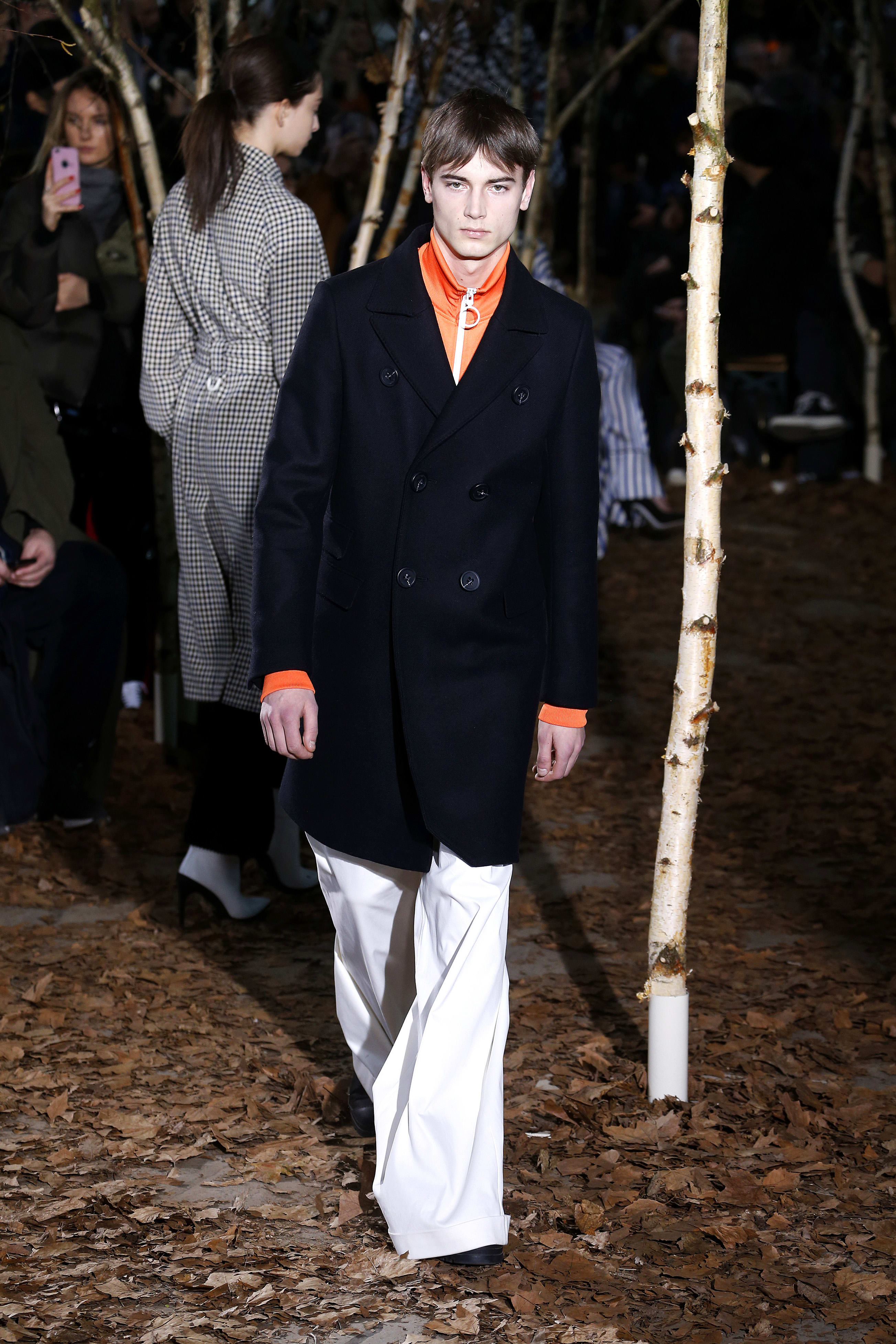 6. He's collaborating with a furniture company. 
He wouldn't divulge which company he's working with, only describing it as a "super awesome design furniture company."
7. His favorite piece of artwork is a rug by Jim Joe—inspired by a story 'Four Pins' ran.  
In 2013, Four Pins published a story about Abloh's $500 Pyrex flannel and wrote that the designer had used Rugby's Country Workshirt and printed "Pyrex" on the back. At that point, Polo had announced they were closing their sub-brand Rugby. Abloh caught wind of Four Pins's piece and, at the time, felt like "my brand was over." Later, he commissioned artist Jim Joe to make a rug for his showroom. Jim Joe wound up creating a rug with an excerpt from the Four Pins story. "I thought, what better rug for my showroom to have buyers come in and stand on this rug that explains my whole premise? Who has the last word?" he said.