For nearly 20 years, Zariff, who wouldn't reveal his last name and said age "didn't matter" (he's right), has been President Barack Obama's trusted barber.
But the Chicago native didn't start out wanting to become a barber; he dreamed of being a hairstylist. After graduating from cosmetology school, he applied for a position at Hyde Park Hair Salon, not realizing it was actually a barbershop. Still, he was hired and has had the same job at the shop, where everyone from Muhammad Ali to Spike Lee have stopped by for a cut, ever since.
Now, he's served as the First Barber of the United States, or FBOTUS, for the past eight years, flying back and forth from Chicago to Washington and even coined the term "The Obama Cut" at Hyde Park Salon.
In the final days of Obama's presidency, Complex spoke with Zariff about his barbering techniques, advice he's given to the President, and his plans after the Obama family leaves the White House.
How did you start cutting Barack Obama's hair?
There was another gentleman cutting his hair, named Wahlee. Barack came in one day and he said, "Where is Wahlee?" I said, "He relocated down the street." It was probably about half a block away, but Barack was very loyal to the shop. He said, "What you doing?" And I said, "Well, I'm cutting you hair, I guess. I'm not busy." So I started cutting his hair.
What makes this experience so surreal for you?
A long time ago, my school went on a class trip to D.C. At the time, my parents couldn't afford for me to go and I didn't feel too good about that because I really wanted to go. I didn't know that down the line I would actually be making that trip on a very regular basis and cutting the future President's hair. I say that to say you never know your path. You just have to live life, do right and stay prepared for anything.
How would you describe Obama's demeanor in the shop? Did he participate in shop talk?
He would definitely participate in all the debates when he was there. He'd get on your case too. He'd talk about you. He definitely had a lot of competition in there too as far as a lot of the debates. He was very intelligent, but he didn't really throw it at you. He would lay back in the cut with it and listen to everybody else.
Does Barack Obama wear a durag?
[Laughs]. No, not at all. He isn't really into vanity. He leaves his hair up to me. If he has any slight changes, it would probably [be] just not to make it as short this time or to have it look like he got it cut two or three days ago.
Is it true that you get to fly to the White House on a private jet to cut Obama's hair? How often are you going?
That sounds really good, the private jet part. I would love that. I'm his only barber so I have to travel a lot to make that happen. I'd say on average every two to three weeks, it all depends.
What's your favorite moment with him?
It's a really simple one: When he used to bring his girls in the shop every now and then when they were very young. Of course, they were so little they'd sit in the chair and their feet wouldn't even hit the floor. They would watch him get his haircut. I think it was Malia who asked him one day, "Dad, why do you get your hair cut all the time? It looks the same." And he said, "That's the point." [Laughs]
There's a running joke on Twitter that Obama's hairline has stayed "crisp and undefeated" for all of his time as President. Would you say it's just genetics or do you have some magic tricks up your sleeve?
Once you find a good barber you keep your barber. There's a good reason why I am his barber. There might be a flaw or two in his hair, but it's all in the technique, it's all in the lining and how you present that. I don't believe in razor lines, I see they do a lot of that today. Razors are so harsh they give you a very sharp and defined line, but they take away a lot on the hairline, the top layer of the skin, everything, because you are trying to get that line so defined. Keep a natural line with electric liners.
But, of course, your genetics play a part. It's in your genes if you get over the age of 45 and you still have your hair in tact.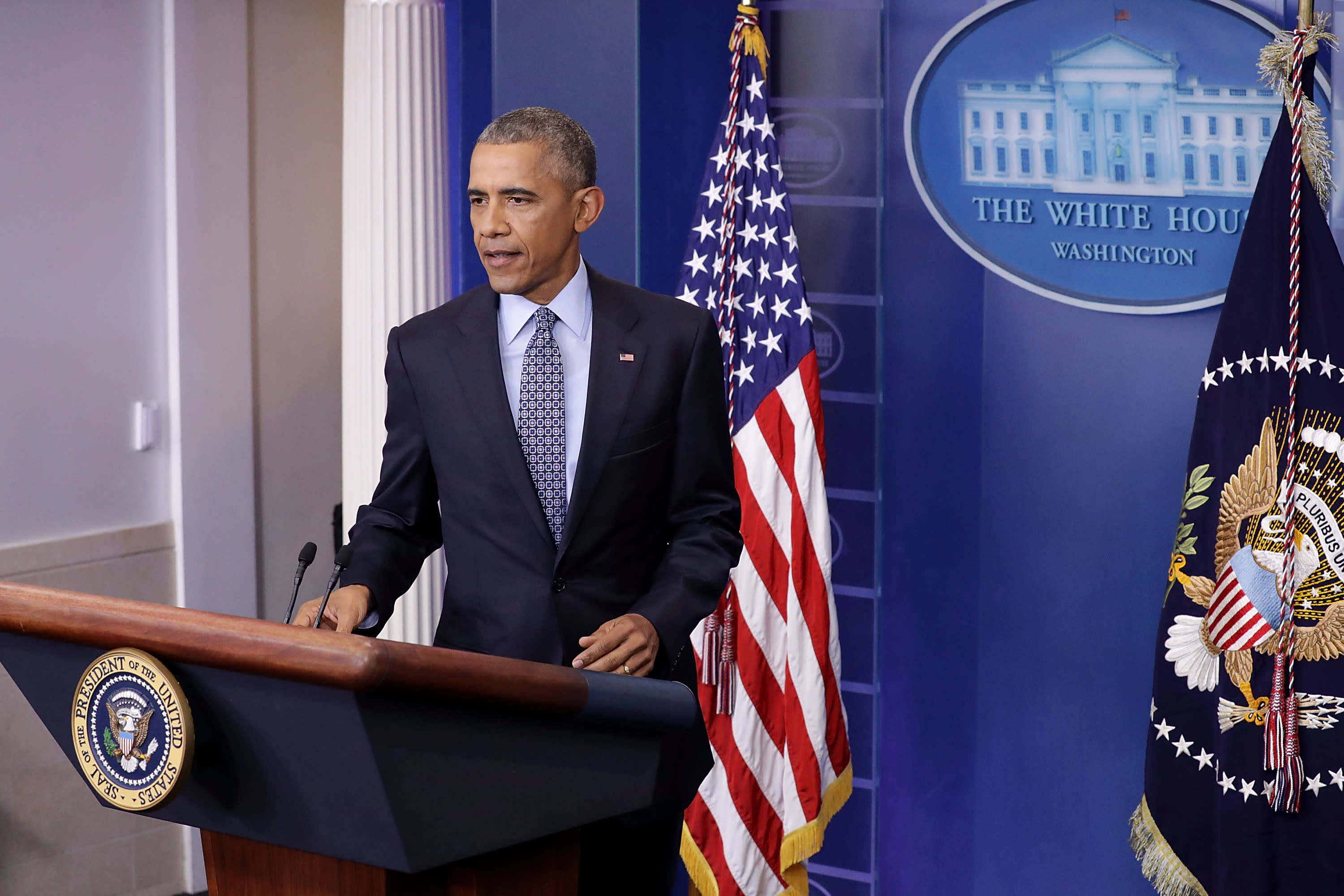 Obama's haircut changed at the DNC in 2008. I know it's called "The Obama Cut" at your shop. How did that come to be and what makes it special?
He was wearing his hair a lot longer before and he mentioned to me that he was speaking at the DNC. He said, "Hey man, make it look good." I thought since he had such a huge audience that we had to do something a little different and more defining. I decided to take it shorter and taper it on the sides a little bit and in the back. It was a totally different look but it worked for him. He left it up to me.
How did the shop start doing "The Obama Cut" on other customers?
"The Obama Cut" has been on the shop menu for the longest time, but it's not [officially] called an "Obama Cut," it's just called a low fade with a taper. But there are so many people who come in and say, "Hey, I want to look like the President." We had so many requests for that cut, so we just started calling it the "Obama Cut."
There's a photo from 2009 of a little boy touching Obama's hair because he wants to see if it felt the same. What did that moment mean for you?
It brought me back to a moment when a reporter came into the barbershop and asked me a question that was way left field. She asked if I cut his hair in a certain way to make him appear white. I thought that was a crazy question especially because you can't cut a person's hair a particular way to make him appear white or black. But unlike that reporter, the little boy just wanted to be so much like the President. He was just doing his own personal check to be like, "I know you're like me. I just want to be sure." It made me more aware that the younger generation is watching and listening.
What are your plans after Obama leaves office?
I'm going to take a nice break after this. I'm pretty sure everybody will try to decompress and go from there. But I'm still his barber. That's it.