Montreal-based activewear company Gildan has entered a deal to purchase plagued basics purveyor American Apparel for a reported $88 million USD. They upped their asking price by $22 million after facing competition from other undisclosed rival apparel companies. Under the deal, Gildan will acquire American Apparel's intellectual property rights and manufacturing equipment from the Los Angeles factories, but will not inherit any stores or e-commerce.
American Apparel has found itself in hot water more than a few times over the past few years for everything from multiple bankruptcy protection filings—in October 2015 and November 2016 respectively—to founder Dov Charney's sexual harassment scandals. Although Charney adamantly denied all allegations, he was forced into resignation from the company in 2014.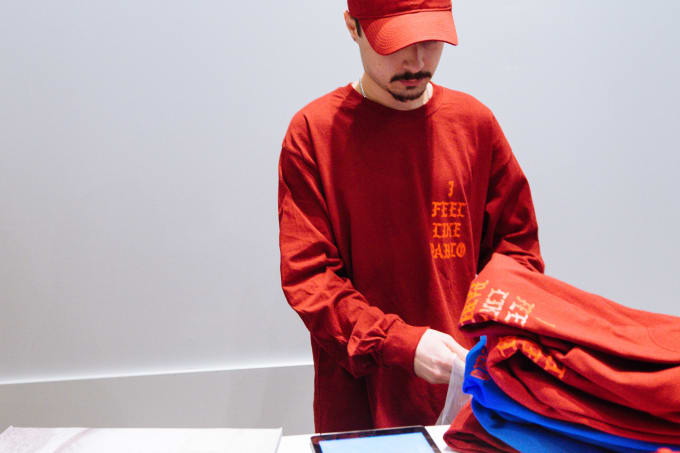 Charney started American Apparel back in 1989 in his hometown of Montreal. He is said to have admired American culture as a teenager, for everything from its clothing production to breakfast cereals, which is why he named his brand as such. Considering its Montreal roots, American Apparel's acquisition by Gildan represents a bit of a full circle moment for the troubled brand. Gildan itself has been in the headlines as well lately for being the supplier of choice for Kanye West and his hit "Saint Pablo" merch: the tees that Gildan sells for $1.50 to $4 at wholesale later go for upwards of $50 to $75 when #blessed by Yeezus himself with the signature Old English font that has been prevalent across all his latest tour merch. While some criticize the quality of Gildan products and Kanye's choice to use them, overall it's not a bad bit of press for the Montreal brand whose most famous clients prior to Kanye were New Balance and Under Armour.
While the deal is signed and sealed, one thing is still up in the air: whether American Apparel will still retain its famous "Made In The USA" tag, seeing as how Gildan may very well move production elsewhere. As of now though, current American Apparel retail stores are expected to close within 100 days, so keep an eye out for those clearance sales.