Kanye West is streaming his Yeezy Season 4 fashion show live via Tidal. The Tidal X: Season 4 event is meant to showcase Kanye's latest clothing collection, which he previously said would be geared towards kids. Ahead of the fashion show, which is being held at Roosevelt Island, Kanye told Vogue that he wanted to build upon his military-inspired aesthetic that we saw in his previous Yeezy collections. 
The only other information we know about the collection comes from Kanye's casting call at Jack Studios in NYC. He sent out a tweet asking for "multiracial women only," and also requesting that they wear "no makeup please come as you are." The request for only multiracial women caused some backlash on social media, with some accusing Kanye of colorism.
The Tidal X: Season 4 live stream is just the latest partnership between Kanye West and Tidal. He recently premiered his seventh album The Life of Pablo exclusively via Tidal for over a month, and also exclusively premiered the videos for "Fade" and "Famous" on the service. His Yeezy Season 3 event at Madison Square Garden in NYC was also live-streamed on the Jay Z-backed music service. The Yeezy Season 3 show grabbed tons of headlines, in large part due to the spectacle of the show and its timing around the release of The Life of Pablo.
We'll have to wait and see if Season 4 can top the Season 3 show. Tidal subscribers can watch the entire Tidal X: Season 4 live stream in the video above, while non-members will be able to check out a one-minute preview of the show.
Kanye is selling merch to guests at the Yeezy fashion show. It appears there are long sleeve tees available in a couple different colorways that have the event details on the front and "Season 4" on the back.
The models have finally taken their places at the show. So far, It looks like the Yeezy Season 4 collection is entirely women's clothing and not kid's as he had said previously. Kim Kardashian and Kendall and Kylie Jenner are all in attendance.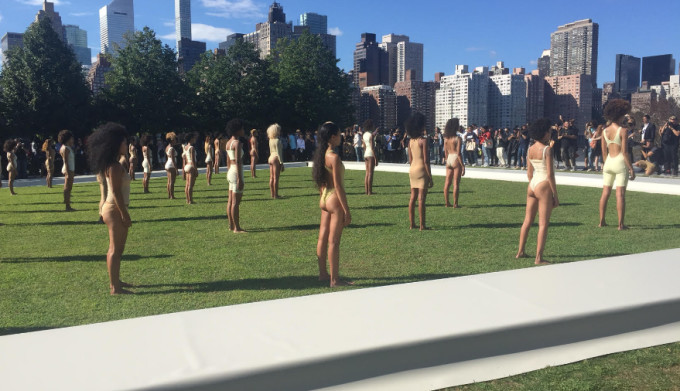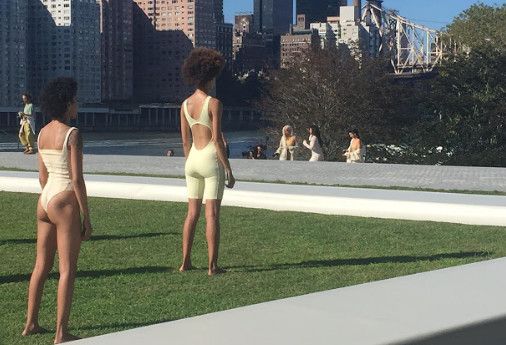 Model Amina Blue made her return to the Yeezy runway. She was joined by Teyana Taylor, Sofia Richie, and Chanel Iman.