Last April saw Patagonia bring back their world-renowned Worn Wear Tour. Already a staple fixture in the brand's calendar, this year was the first time the tour reached the UK. It's a scheme where they encourage the general public to bring their damaged apparel and accessories to their pop-up stores so they can restore it, thus giving it a second life.
When it comes to eco-responsible brands Patagonia should be at the top of your list—or at least close to it. Since 1973, they have been providing the world with top-of-the-line gear made for the great outdoors. Whether you're trekking Mount Everest or snowboarding on the slopes of the French Alps, Patagonia's quality is pretty much second-to-none.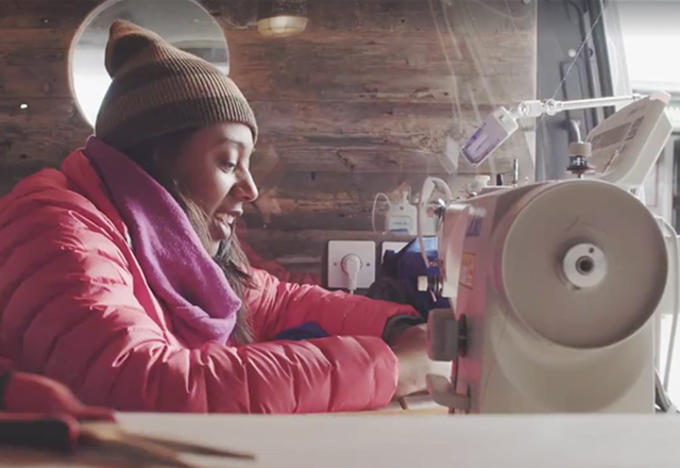 The belief in their products is so strong that they have an iron clad guarantee that they will last for a lifetime, they do this not out of kudos but as a necessity to refrain from doing further damage to our planet. Hence why they launch initiatives like the Worn Wear Tour. From city-to-city, country-to-country across the world, Patagonia weren't just fixing old gear, they were teaching the public how to do for it themselves as well. This year, in the space of three months, they traveled to seven different countries in two vans, making 55 stops and carried out a total of 2033 repairs in the UK alone.
"We wanted to give people an experience, how to actually repair stuff," says Patagonia's Environmental & Social Initiatives Manager, Mihela Hiladin "…it started in the US, we actually got a small truck out on the road and it was a huge success. People would start bringing in clothes, old and new, and we saw that the engagement was really important. We really needed to be on the streets for them to see the message and really grasp the iron clad guarantee and the 'Worn Wear' concept."

Since the program began in 2013 they've seen a positive impact, when attending East Co., the world's largest outdoor tradeshow Mihela told us they noticed a lot of other brands were following suit, starting to offer clothing repairs "it is a signal in the industry that it's time to start engaging with people on more than just a consumer level, but in developing a partnership with the costumers and offering tools to keep these clothes longer". However their long-term goal of tackling the current consumption model is still far away. Slowly but surely they're working towards that goal.
By setting up temporary workstations in their various stop-offs they were also on-hand to provide helpful workshops so they could pass on the skills and knowledge. "I live in Amsterdam where there is a repair shop on every corner, I lived in China before and it was the same, I could get everything fixed," Mihela explains, "Back in my home country of Slovenia I need to know somebody, who knows somebody, who knows someone else, who knows this other person who can still repair stuff. So making it easier for people to repair should be as easy as having people to buy stuff". It's the simple gesture of extending the life of garments and accessories, that you'd otherwise throw away, that contributes to the reduction of CO2 emissions, waste output and water usage.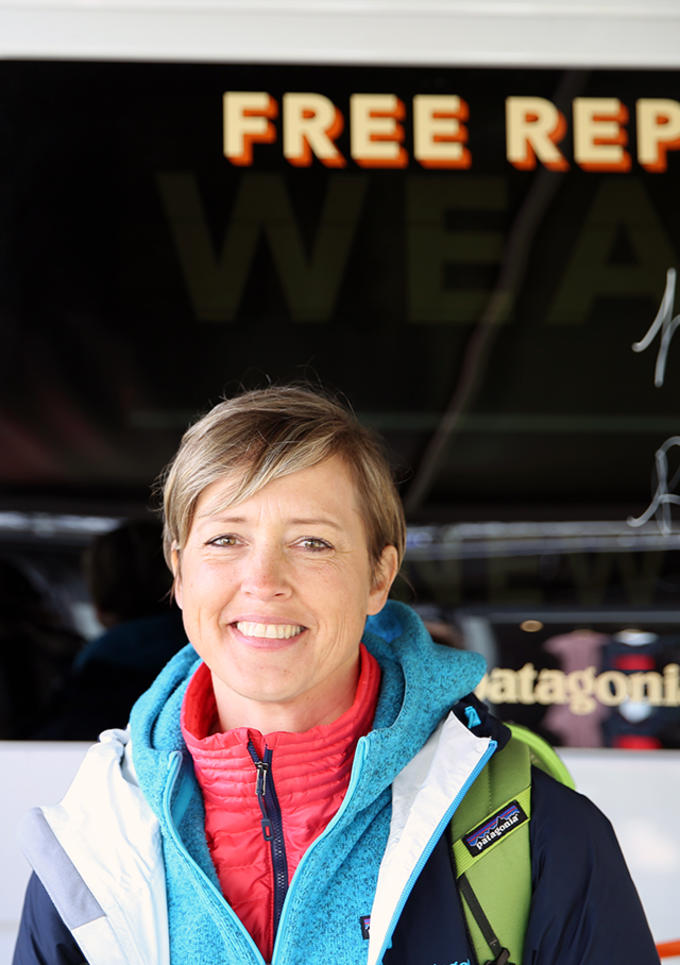 You may think that the Worn Wear Tour is counter-productive to a brand's growth and goal to make profit, particularly in such times of financial uncertainty but Mihela points out that "At Patagonia I learnt that it's much more than having the financial background to do something right… For 40 years our philosophy was always considering the environmental impact. We always knew that we were part of the problem and we will always be part of the problem as a business. When you start a business today you want to do 100% good but you don't get the black book of A-to-Z on how to do it. You really need to experiment and learn how to do it. So yes, it is risky to go out there and say to people "repair it yourselves" but in the long term we think about "What will Patagonia's impact be in 2050", not the next quarter. This kind of behaviour will lower the impact we have as a business."
For information on Patagonia's Worn Wear Tour click here.