Zayn Malik is the latest to throw his fashionable T-shirt into the ring of stylish merch. There's nothing inherently wrong with Malik's merch and he would be stupid to not capitalize on his stylish persona and this wave of artists making money off their own branded apparel.
Malik's effort, actually, is commendable. He went with the same metal theme that has already been done by musicians like Post Malone, Justin Bieber, and Kanye West, like, several years ago, but at least he worked with Iron Maiden illustrator Mark Wilkinson, according to Vogue. That definitely should give Malik some cred.
But—and this really has nothing to do with Zayn—this is my personal breaking point. Concert merch no longer really means much and, tbh, I'm happy to die on this hill yelling at you to get off the lawn that surrounds it. Concert merch used to be about actually, you know, going to the concert, enjoying the music, and taking home the T-shirt as a badge that this musician or genre of music was somehow intrinsic to your identity.
Now, concert merch has devolved into nothing more than another stylish piece of clothing—just a fashion statement. This is evident based on the droves of people who showed up to Justin Bieber's pop-up but told Complex they had no plans on attending the concert. It's evident based on how the resale market has responded to this new wave of concert merch.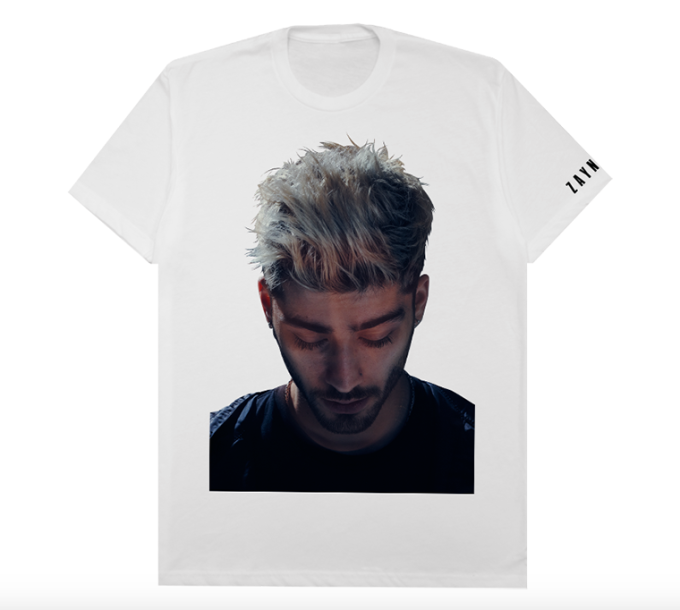 These concert merch pop-ups are now resellers first stop, or maybe second depending on whether or not there was a Supreme drop that day. Attendees at Kanye's New York pop up didn't even wait until they were off the block to start yelling out prices to people still waiting in line.
The list of artists who have released their own merch has grown increasingly long. Post Malone, Pusha T, Kanye, Justin Bieber, YG, Travi$ Scott, and Chance the Rapper. Each has their merits: Bieber worked with a legit designer, Scott collaborated with a brand, YG collaborated with a brand, L.A.-based Born x Raised, that really made sense for him. Chance let you customize it. None of these are obnoxious in a vacuum, but cumulatively they strip away the meaning we once associated with concert merch.
Something about waiting three to four business weeks just doesn't have the same sentimental value as wearing the merch the day after the concert, ears still ringing from the night before.