In August 2013, Big Sean performed "Beware" with Jhene Aiko on Jimmy Kimmel Live. He was wearing black jeans, his gold lion chain, and a vintage Ol' Dirty Bastard tee. Rap tees were his uniform for most of that summer. But Big Sean wasn't the only rapper or celebrity to sport vintage rap/concert tees at the time. Drake was seen wearing a For All to Envy Master P and Tupac tees. Celebrities aside, brands like Coke Magic and Vintage Bleach sold their own rap tees; vintage rap tees were selling out for hundreds of dollars at clothing stores like Procell in Manhattan and For All to Envy in Los Angeles.
Those tees are back, but this time with a twist. Recently, brands have been releasing concert style tees with graphics of pop culture figures—not rappers, singers, or rock bands.
Today, Puck, founder of OFFTHEROPE, is releasing a Dennis Rodman T-shirt that's inspired by Rodman's jump to the nWo and World Championship Wrestling in 1997. The tee features five different photos of Rodman and his name above and below the graphics in bold purple font—rap/concert tee style. "When I started my brand I was watching WCW Nitro on the WWE Network, like from '96-'99," says Puck, "Rodman was a natural at the shit. And it's such a dope story I don't think a lot of people know. I love the story, him being a part of nWo and tag-teaming with Hulk. Also, missing a Bulls practice for the Finals in '98 to appear on Nitro. I can see [Michael Jordan] just asking where Rodman was and they turn on Nitro in the locker room. Had to bring it to light."
According to Puck, the T-shirt was, in fact, inspired by vintage rap tees. "I just thought that the era of when Rodman was in WCW was the same era these style of tees were hot."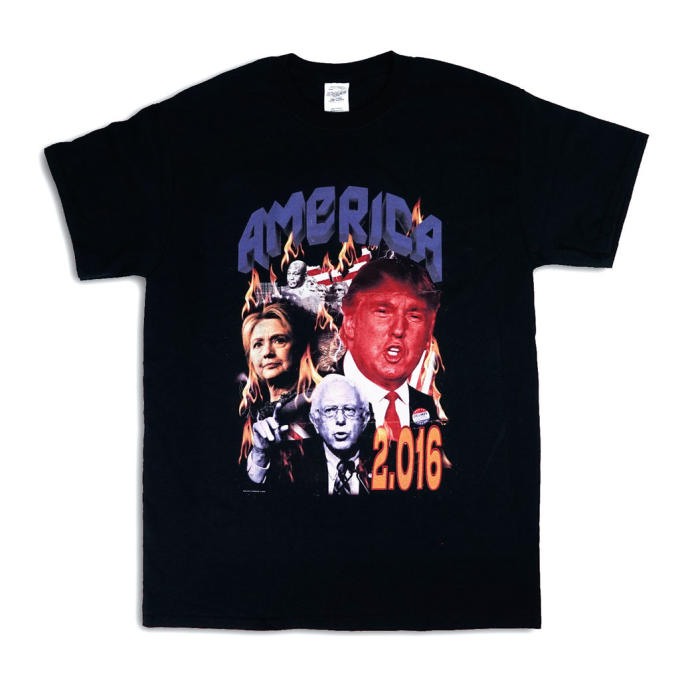 Similarly, Claudia Gold, New York-based graffiti-artist-turned-fashion-designer of Claw & Co., collaborated with @fuckjerry (of Instagram fame) on a tee—also designed in the style of rap/concert shirts—that features Hillary Clinton, Bernie Sanders, and Donald Trump. "I wanted to do something that was out of our usual context," she explains. "I initially wanted to do some weird concert tees with other celebs." After some back and forth with @fuckjerry—real name Elliot Tebele—who wanted to work on a project that referenced the 2016 presidential run, the pair decided on the current graphic. "I was like, 'What if we do a concert tee with [Sanders, Clinton, and Trump], because it really is a weird entertaining show," she says. "It's some sort of three-ring circus, and we're fucked, anyway you cut it. I thought it would be appropriate for the presidential run, because they are all so forceful. So, why not memorialize it in a T-shirt? Plus, I think that these T-shirts, in 20 years, will be the coolest T-shirts."
Avi Gold, a Toronto-based creative, released similar T-shirts with various Larry David graphics. The pieces, which have become a favorite for both menswear guys and regular dudes, were carried at Dover Street Market's London and New York locations, and sold out quickly. Bloop also sells a Steph Curry MVP shirt on its website.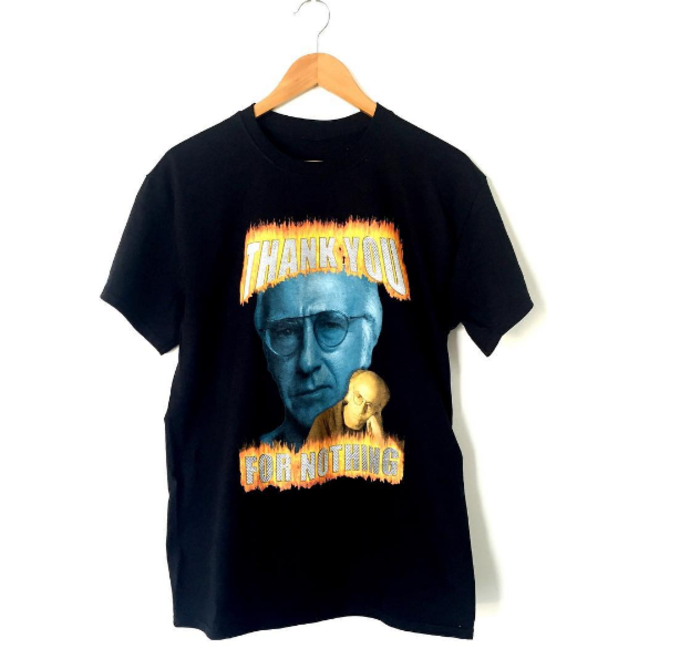 Nostalgia is what drives the interest and resurgence of these types of tees. "It's a relic of a certain time, a trophy of that specific year—whether I went to the concert or I bought it second-hand," explains Gold, who's collected vintage tour tees over the years and now sells them at her store, Claw & Co., in downtown Manhattan. "I think that everyone's still nostalgic about everything—especially fashion. Fashion's not really moving forward, it's sort of just regurgitating everything over and over. This whole retro sort of thing is going on in a big way. And, why not rap T-shirts?"
Puck agrees. "A lot of people in our generation were young when these types of tees were out," he says. "So the fact that they can rock them and have it bring them back to their childhood is dope. Nostalgia always wins."