The fashion industry has always had a complex and often unusual fascination with tattoos. Late clothing mogul Christian Audigier (of Von Dutch fame) turned the work of a tattoo artist with a niche audience, Ed Hardy, into a global phenomenon. High-end labels like Gucci and Maison Margiela have tactfully incorporated tattoo motifs and influence within their Pre-Fall 2016 and Spring/Summer 2014 collections, respectively. And now, as shirtless poster boy and newly minted NBA Champion J.R. Smith begins selling an officially licensed "tattoo" T-shirt, it seems the prevalence of tattoos on the clothing we wear is a surefire sign that, for better or for worse, the marriage between body ink and fashion isn't ending anytime soon. 
To get a sense of the history, let's first take a step back and look at tattoos and their place in modern society. Long before beloved teen idol Justin Bieber rushed into getting a full sleeve shortly after his 18th birthday, permanently marking one's body was reserved for outcasts and rebels. The practice was common among sailors in the early-mid twentieth century, before finding a second home with bikers and punk rockers in the '70s and '80s. Later on, around 2005, tattooing found its way into the mainstream zeitgeist thanks in part to the rising popularity of reality television shows like TLC's Miami Ink and A&E's Inked. Soon, the very notion of getting inked became more widely accepted, and tattoo artists were idolized for their talent and newfound fame.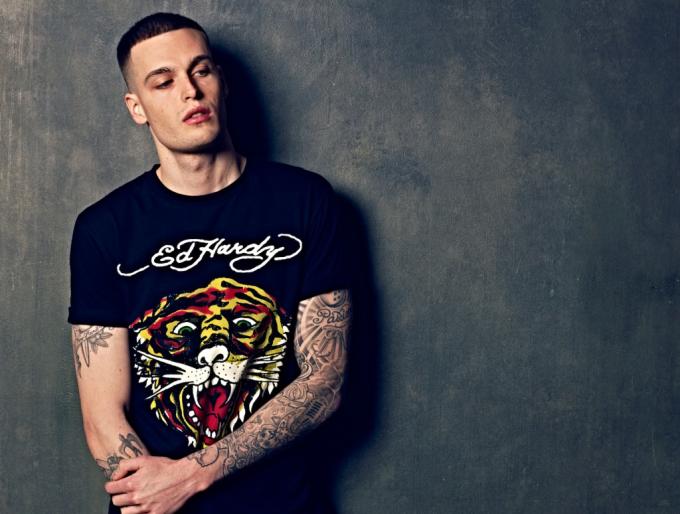 The very same boost in popularity helped birth the infamous Ed Hardy clothing brand. Thanks to an extensive licensing deal, the work of tattoo artist Donald Edward Hardy found its way onto a smorgasbord of T-shirts, rhinestone-studded jeans, and colorful trucker hats. The look was adopted by the likes of Tara Reid and Spencer Pratt, and people who aspired to be Tara Reid and Spencer Pratt. Despite being relentlessly mocked since its inception, sales soared. The brand managed to sell an insane amount of product during its time and reported over $700 million in annual revenue at the height of the label's popularity in the early 2000's. Luckily for all non-douchebags, Ed Hardy was as quick to fall as it was to rise, and the vibrant clothing is now a distant memory alongside MTV's The Jersey Shore.
Luxury fashion houses have long embraced tattoo subculture, too. One of the earliest instances came courtesy of designer Martin Margiela, who sent model Graça Fisher down the runway in a tribal tattoo-inspired MMM top during the label's now-revered and often-remembered 1989 show. Over the course of the next ten years, designers continued the trend. Jean Paul Gaultier debuted an aquatic-themed collection inspired by traditional Japanese tattoos in 2007; Chanel introduced a line of temporary tattoos, "Les Trompe L'Oeil de Chanel," alongside their 2010 ready-to-wear collection; Maison Margiela tapped the bold, classic artwork of well-known tattoo artist Norman "Sailor Jerry" Collins for its Spring/Summer 2014 couture collection. Most recently, Alessandro Michele and Gucci created a collection of silk bombers, denim jackets and leather biker jackets featuring snakes, tigers, and flowers in the style made famous by classic tattoo artists. Those pieces have already caught the eyes of A$AP Rocky, Pusha T, and 2 Chainz.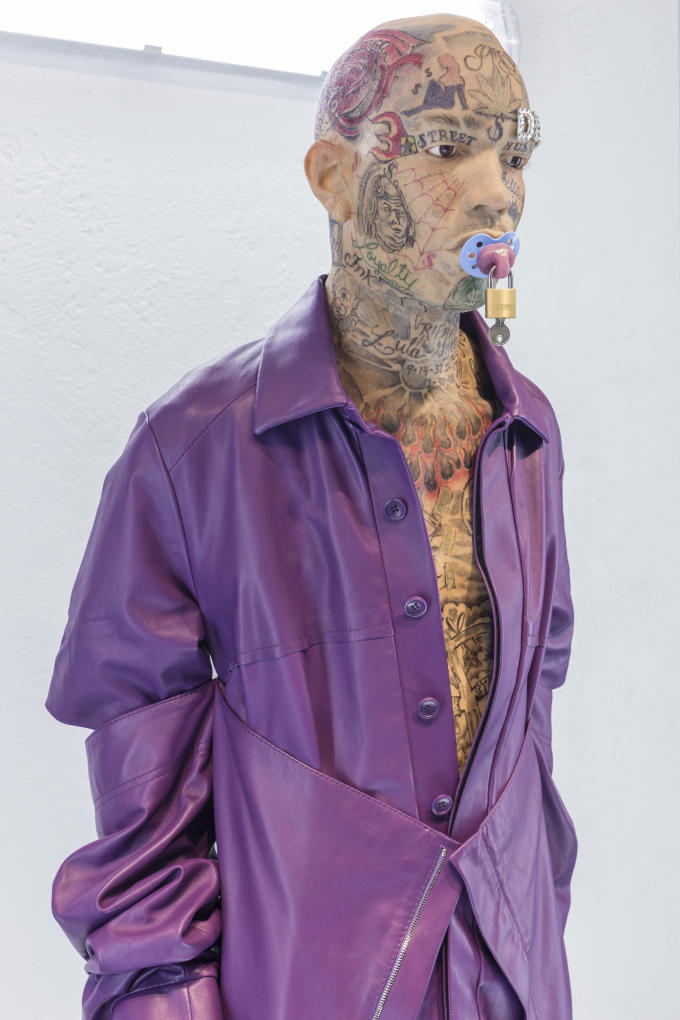 Fashion's affinity for tattoos isn't limited to the clothing being sent down the runway either—you can also spot the ink in editorials and print campaigns. There was a time when tattooed models were considered an alternative niche, but not in today's social media age. Tattoo-covered models like Cara Delevingne and Cole Mohr now boast millions of online followers and frequently book jobs for both major, iconic houses and newer, younger labels. Hood By Air installed eye-catching window installations at Barney's New York that featured lifelike mannequins of the heavily inked models from their Spring 2016 runway show. Terry Richardson and his tatted-up arms have been the recurring star for numerous Valentino campaigns. Acclaimed tattoo artist Scott Campbell, who has also collaborated on a collection with Louis Vuitton, painted a nude Lake Bell (his wife) with an ornate rose design for the cover of New York Magazine's Fall Fashion issue in 2013. Even suburban mall favorite Victoria's Secret sent down model Liu Wen at the 2012 Victoria's Secret Fashion Show covered in hand-painted tattoos.
Fashion's love for tattoos shows no signs of slowing down. Yes, that has unfortunately means there will always be some cheesy apparel and accessories—perhaps the worst culprit being those fake tattoo sleeves—but it hasn't been all bad. Fashion has given a larger platform to a generation of talented tattoo artists and helped usher in a wider appreciation of the medium. Now, people who dig the look of tattoos, but don't want to make the permanent commitment of getting inked can put on (and easily take off) a shirt or jacket wielding tattoo-like designs. Or, you can look exactly like the shirtless NBA champ J.R. Smith, without spending hours at the tattoo parlor.