It's always a little jarring to see an erect penis when you aren't expecting it. That explains why so much of what's been written about Raf Simons' runway show late last week at Pitti Uomo in Florence has been focused on one jacket in particular, which features a full frontal Robert Mapplethorpe photo on the back. Instantly after the show, and all through the weekend, that one item remained front and center for most Raf-related coverage.  "Men's Fashion Designers Are Just Putting Penises on Jackets Now," read the headline at The Cut. GQ contributed, "Okay, So, Raf Simons Made a Jacket With a Boner On It." Or, my personal favorite headline, from German fashion blog Stylebook: "WÜRDEN SIE DIESES PENIS-SHIRT TRAGEN?" We even published a helpful compendium of other notable fashion penises for you, inspired by Simons.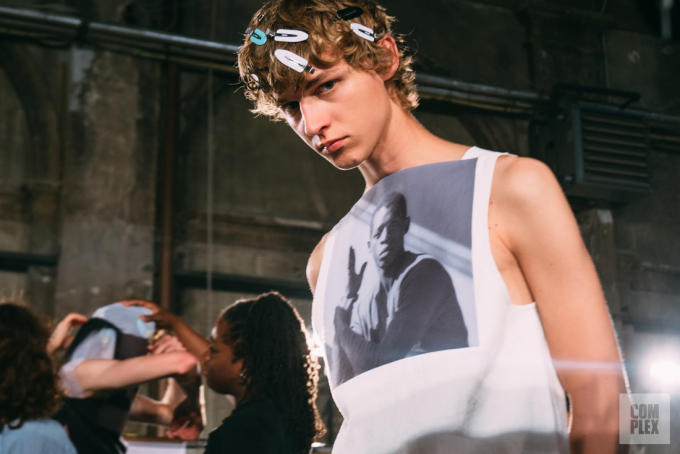 And it makes sense: You don't slap a schlong on your jacket without expecting to get some sort of reaction (and reacting is what the Internet does best, after all). But, in some ways all the dong-centric coverage is a shame, because it threatens to overshadow the rest of the collection, that was just as interesting (if not more so) and full of the type of grail-worthy pieces Simons fans snatch up in droves. That the runway show took place amid hundreds of mannequins dressed in Raf Simons pieces from years past provided more context for how Simons has always been provocative, but never just for shock value alone. The inclusion of that specific photo—and all of the Mapplethorpe photos—is about more than just inciting a reaction.
Throughout his career, Simons has always been attracted to complicated ideas. You can see that through the way he pushes menswear forward—whether menswear is ready or not—in tangible ways like the introduction of his skinny suit or last season's oversized sweaters. But, you can also see that by looking at what his collections are meant to represent. "His clothes then, and now, express something about the world in which we live," Alexander Fury summed up perfectly in T Magazine earlier this year. "Their design evokes socioeconomic mores, notions of value and worth, complex codes of masculinity, youthful rebellion. They challenge the status quo, frequently championing the dispossessed."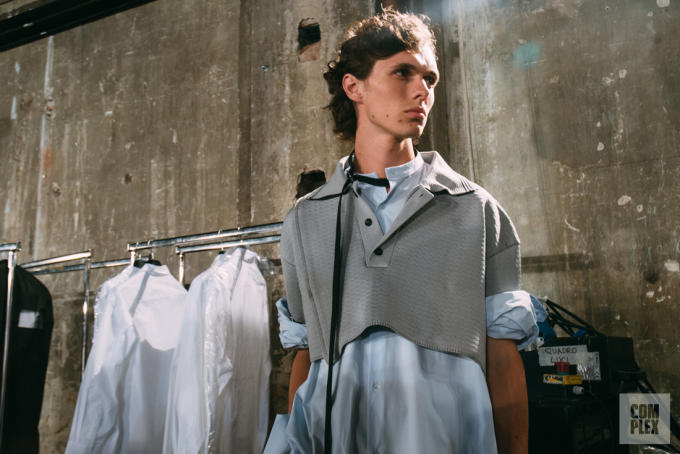 Simons has often turned to the art world to help him express those ideas, working with names like Sterling Ruby, David Sims, and Peter Saville. Mapplethorpe, maybe one of America's most complicated photographers, dealt with some of those same concerns head-on—notably themes of rebellion and masculinity, definitely with an interest toward challenging the status quo. A few months ago, when the Mapplethorpe Foundation approached Simons with an offer to work together (the artist himself died in 1989), they gave him access to Mapplethorpe's extensive body of work. Simons used a diverse assortment of photos in the collection. You can see Mapplethorpe's still lifes and portraits of musicians like Debbie Harry and Patti Smith.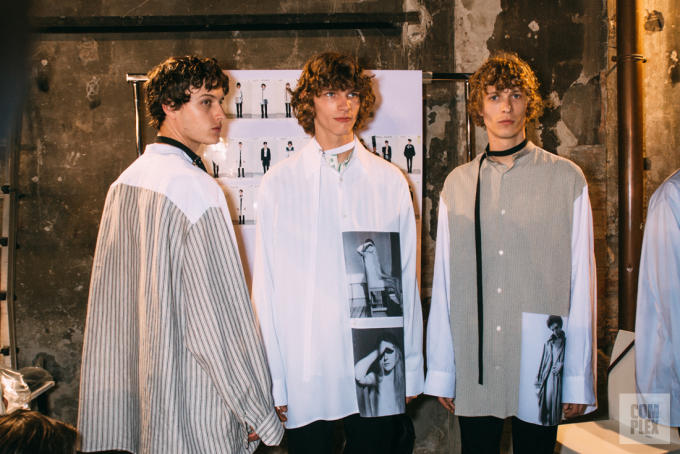 But of course the portraits of men would be there, too; having a conversation about Mapplethorpe without talking about his male nudes would be like talking about Kanye West without mentioning his God complex, or Drake without acknowledging all of his feelings. It's an essential part of who he is as an artist, a vital component of what makes him notable. That those photos relate to Simons' own body of work in such a clear way make the partnership all the more fitting. Nobody challenges the status quo, champions outsiders, or raises questions about masculinity with their art like a photographer who sent 100 U.S. Congressmen into a blind rage with a museum exhibit featuring S&M-themed images.
That S&M theme was there in Simon's show, too, by the way, with models in leather hats and collars. There was also a shirt with a photo of a topless woman that no one seemed to notice and some fairly sexual close-ups of flowers and statues. But you'd need to look beyond the wang to get to that cohesive statement.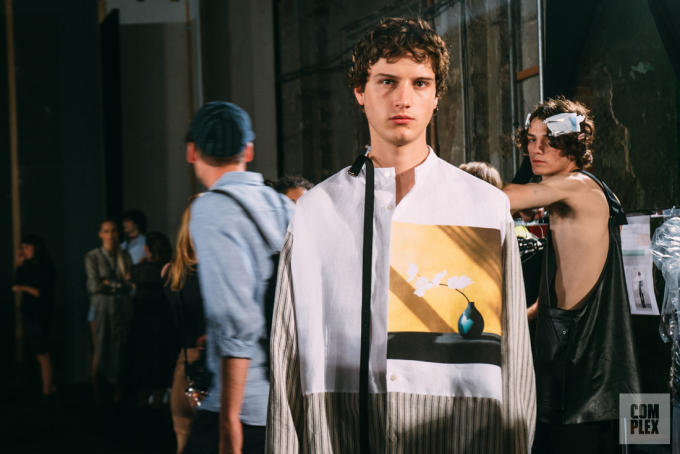 Simons isn't too interested in talking about where those gasp-inducing penis shirts fit in—he famously designed a jacket with a message declaring his archives "no longer relevant" in 2015, and told W Magazine that he doesn't care about explaining and analyzing what he does. Somebody else can unpack why a penis photo still elicits the response it does, but, coming from an artist like Simons, the inclusion of a Mapplethorpe penis photo shouldn't have been so shocking at all.