A few months after Donald Trump announced his candidacy for President, NYC street artist Hanksy decided to create a mural depicting the businessman as a fly-infested pile of crap. The image, which was originally displayed on the Lower East Side, quickly went viral and eventually became the symbol for the "Dump Trump" mantra.
"Much like his campaign, it all started out as a joke," Hanksy told Complex. "That one shitty image, painted on a wall in Chinatown, completely took off. I started seeing it pop up all over social media. Bootleg T-shirts, homemade signs […] People really responded to it."
Since then, Hanksy and his team have started the "Dump Across America" movement—taking their anti-Trump message to rallies and protests along the East Coast. This weekend, Hanksy will take his efforts one step further by launching the first Dump Trump Protest Shop, where visitors can cop anti-Trump stickers, anti-Trump signs, and portraits of the politician made with dog feces. Yes, actual dog crap.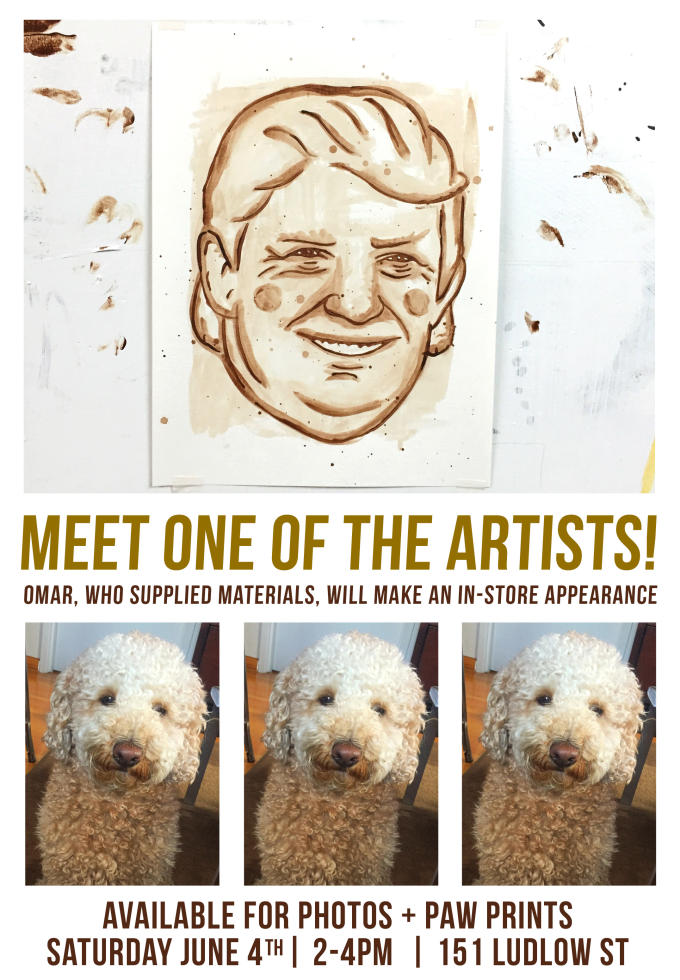 "The well-wigged knucklehead has absolutely no experience and doesn't deserve to be taken seriously," Hanksy explained. "When it comes down to it, Donald's just not a good guy. He's a piece of shit. So it only made sense to collaborate with my furry friends."
The 20 portraits were created with a "paint-like substance," which included piles of dog crap that were collected around Trump Tower. Hanksy insists customers shouldn't worry, though, as they've been coated in a several layers of varnish.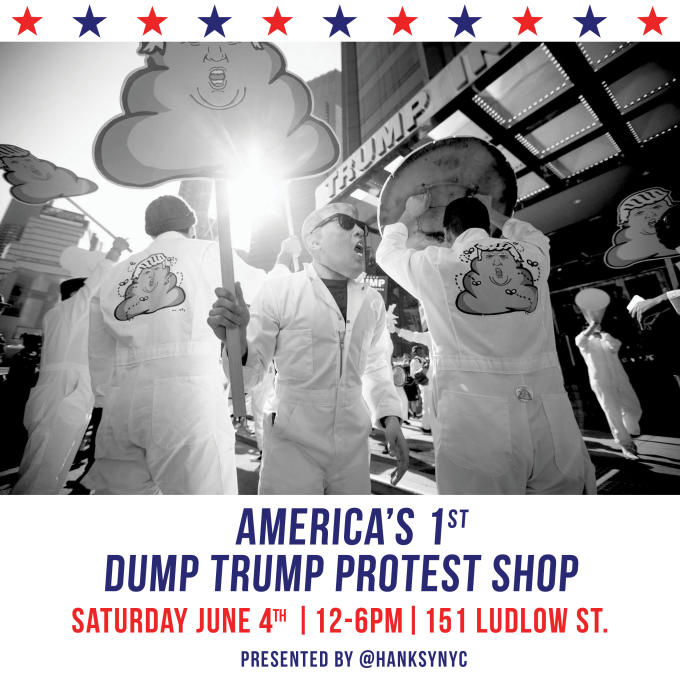 The one-day event will take place at The Inutilious Retailer, Adrian Wilson's award-winning concept store that doesn't sell a thing.
"The purpose of the Inutilious Retailer, and the anonymous art projects that I did for the 10 years before it, was always to encourage people to think," Wilson told Complex. "As both an immigrant and someone who can't vote, Hanksy's use of humor and art to ridicule the extremism of Trump resonated with me […] Hopefully it will make people think that an anti establishment protest vote is one thing, but really how ridiculous Donald Trump as president actually would be."
The shop will open to the public from noon to 6 p.m. EST at 151 Ludlow St. To learn more about Hanksy's movement and to download its art for free, head to the Dump Across America website.