ComplexCon returns to Long Beach Nov. 6 - 7 with hosts J. Balvin and Kristen Noel Crawley, performances by A$AP Rocky and Turnstile, and more shopping and drops.
Secure your spot while tickets last!
Gucci designer Alessandro Michele never claimed to create practical clothing, which is good, considering this is the man who put us in kangaroo fur loafers and a men's ruffled shirt designed to be worn underneath a dress. In Michele's world, you don't need to follow traditional rules of what constitutes wearable clothing for at least half of the time. But for that other 50%, the designer does have plenty of more universally-appealing options.
Or so we thought. When we first saw Gucci's track jackets (one of many designer-level takes on the sportswear classic for the season—see also Burberry, rag & bone, Ami, and more), we thought it was one of the more easy-to-wear pieces from a label that favors the bold. But, unsure if our point of view was skewed from looking at runway collections all day, we turned to two people who know their way around workout gear: New York City gym teachers Tom and Nicole. (Since they're teachers, they asked us to only use their first names for this story.)
We sent Tom and Nicole photos of one of Gucci's track jackets that features both gold embroidery and a hefty price tag of nearly $2,000. They sent back their unedited opinions, which we've included below. Suffice it to say, we may have misjudged just how wearable this item is.
(And, whether you care about practicality or not, if you've got a spare $1,980 lying around, the piece in question can still currently be purchased at matchesfashion.com.)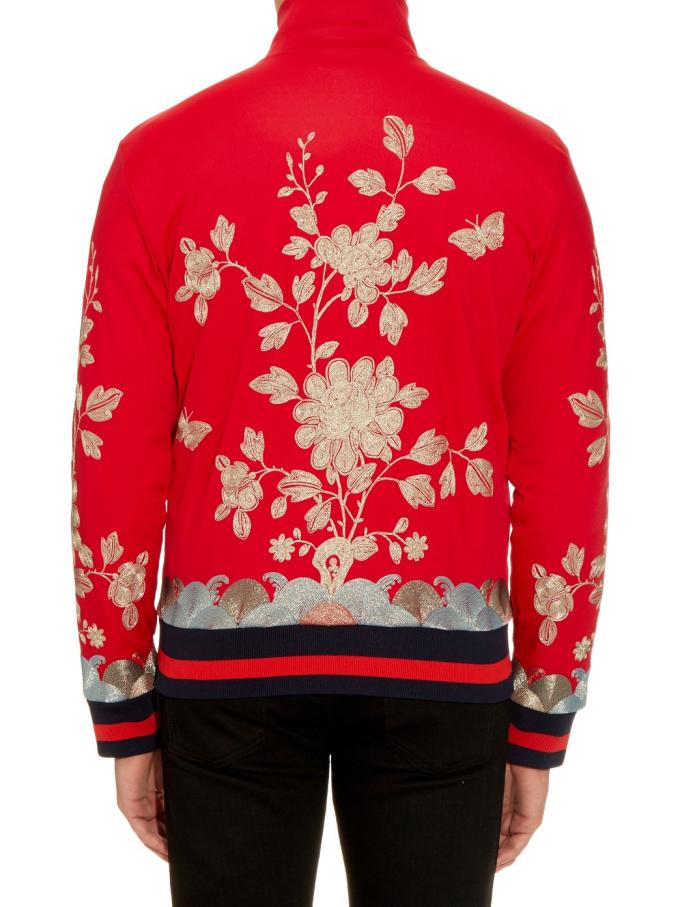 First, did you know that tracksuits were back as a men's fashion trend? 
Nicole: I was completely unaware that tracksuits were trending again. I'm stuck in a gymnasium basement 40 hours a week and have little to no communication with humans over the age of nine.
Tom: When did they go out?!? (Kidding). Although, being in New York, you would think I could stay up with the fashion trends. The resurrection of the tracksuit must have slipped under my radar. Now that I've been informed, I will be quick to remind the fashion world that P.E. teachers are the trailblazers, or at least the ones who actually wear a tracksuit on a somewhat regular basis. 
Do you wear track jackets to work?
Nicole: Not every day. That would be a little too circa-1982-kind-of-gym-teacher. But you say they are back in? Food for thought during my F train commute...
Tom: I do not wear track jackets to work and if I did, may God have mercy on my soul.  
What was your first reaction when you saw this jacket?
Tom: First reaction, it looks like a jacket worn in Southeast Asia during the Ming dynasty. And then I saw price. 
Nicole: I thought it looked formal, stiff, and maybe even a bit uncomfortable? High end, Asian flair with a military feel. I'm also the wife of a Marine...perhaps that explains the latter. Loved the embroidery! Very regal looking.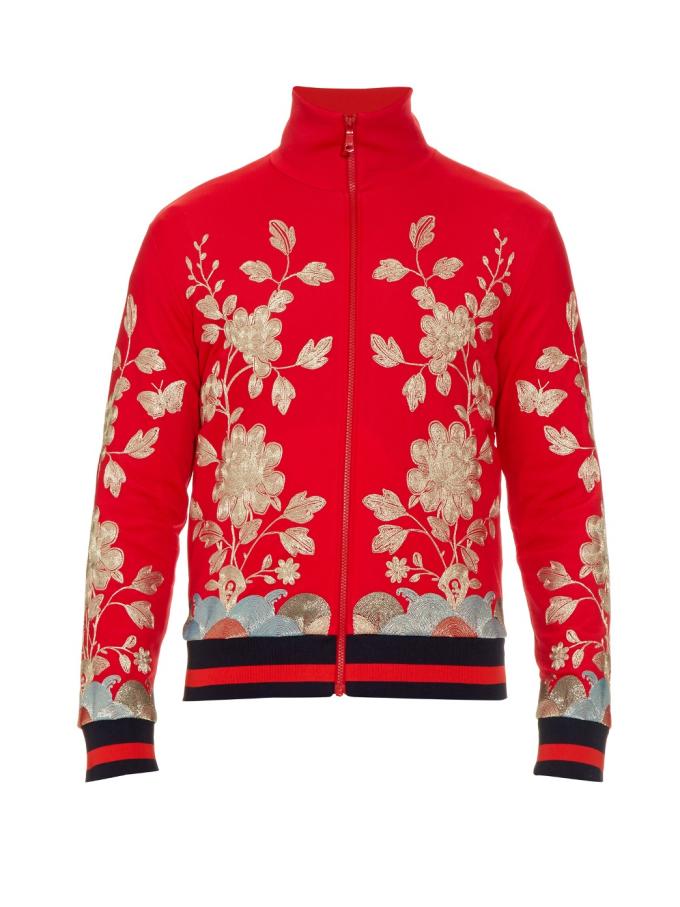 Could you feasibly wear this to work? 
Tom: I think this question needs to be preceded with, 'How much money would you want to...' I would have to receive some financial compensation to wear this in public. Or going back to my previous answer, it would have to be the year 1408 in China. 
Nicole: It would not be feasible. Most New York public school gyms are not air-conditioned. It's too fancy to get kid's snot and sweaty foreheads all over. 
How do you think your colleagues would react if you showed up wearing this one?
Tom: I would be constantly photographed, Instagrammed, Snapchatted, and whatever form of media that my colleagues and friends could possibly use to show the world what I am wearing. To quote a department member, "I think Sisqo last wore that in the 'Thong Song' music video."
What about your students?
Nicole: They would love it! Probably say things like, 'That's so fire, Ms. C!' But others would honestly think I had dinner reservations in Chinatown. 
This jacket retails for just shy of $2K. Can you see yourself ever spending that much on a track jacket? Is there any piece of clothing that would get $2K of your own money?
Tom: No and probably no. 
Nicole: This question is just embarrassing. It would take the average teacher (including myself) 1.5 paychecks to snag these threads! And last time I checked, Brooklyn rent just keeps going up. The answer would be a giant no. Gotta save my money for tomorrow's happy hour!
Final thoughts: On a scale of 1-10, what's your rating of the jacket? 
Tom: If it had a little more green then I could possibly pull it off in an ugly sweater party, resulting in a 4/10. Other than that I think this jacket would only be acceptable if I was a back up dancer at a Kanye concert. I award this jacket a 2/10.
Nicole: The jacket is definitely dope. I'd rate it a 7. Wearing this while teaching just isn't doable, however. Gorgeous piece, but not very practical. I don't think my wedding dress cost this much!  If I saw one of my colleagues sporting this, I might even be suspicious...Then immediately jealous.