"I don't want to use it as a click bait too much, because I'm trying to distance myself even though they are family," GEO told Complex about his relationship with DONDA over phone. "I want to be separated. This clothing now is trying to push me into a new realm and a new conversation, and a new topic on design​." GEO is well aware of the difficulties of escaping Kanye West's shadow. Hell, even Virgil Abloh, who has more than established himself with his Off-White label, still gets referenced as Kanye's creative director. 
With his first independent apparel collection, titled Collection One, GEO is hoping to separate himself from his former bosses and he's made a hell of a statement from the jump. The first collection is inspired by concert merch—something that GEO worked on during his time at DONDA. And while Kanye evolved the art of concert merch with his Yeezus products, GEO is looking to take it even to the next level.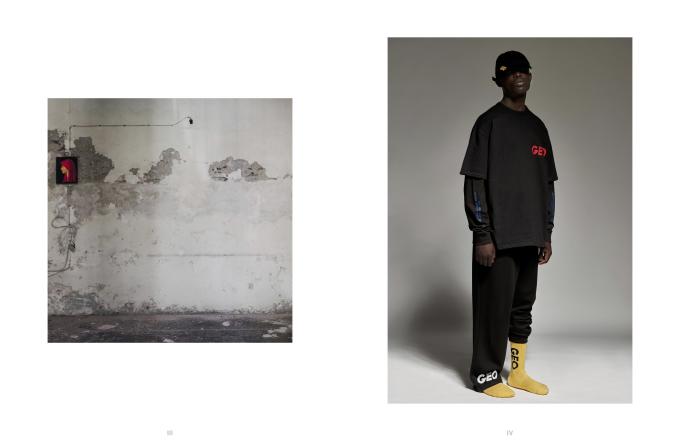 "[The collection is] based off of merch and I wanted it to have a concert feel to it," GEO said. "So I'm trying to take basic merchandise pieces up to the next level and then slowly evolve it into a higher fashion. So it's like my Pyrex Vision—that first initial stop." 
GEO said he was inspired to get into concert merch because of the way it has transcended its initial form into something that can be seriously stylish. "Working on the Yeezus tour merchandise for the initial tour... Seeing the reception it got. And working with Wes Lang on the graphics was a great time period," he explains. "Then they had the pop up stores and it was just really dope." 
GEO also name checks several other influences, including the artwork of Basquiat and George Condo—who both Abloh and West have worked with. GEO has also worked with Fear of God and said that personal friend Samuel Ross, who founded A-COLD-WALL* and worked at DONDA was a huge inspiration.
"He's a good friend of mine as well so I was kind of like taken back by what he had made," GEO said. The designer explained that seeing Ross' "capabilities in this space" pushed him to create his own label. And his time at DONDA taught him not to settle for anything. "It definitely made me focus on the product and making it the best as possible and not having any limitations on it.​"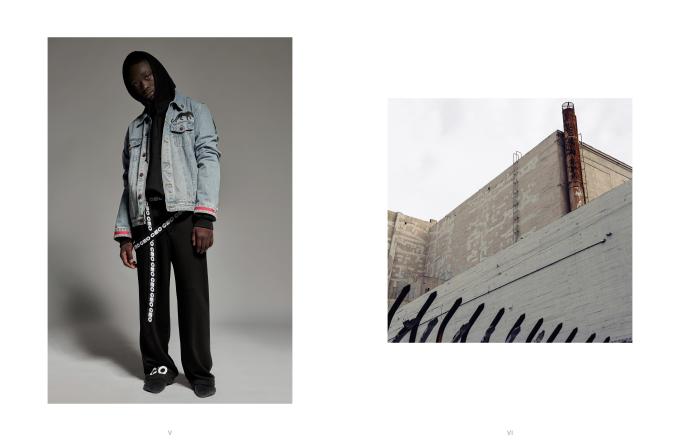 Despite all his influences, GEO comes with a clear message told through oversized tees, hoodies, long extended belts, denim jackets, a poncho, and a panther motif. "The panther it signifies strength," GEO said. "It has no political connotations with the Black Panthers or anything, because it's less aggressive, it's very simplistic. It doesn't speak anger, it just speaks strength to me.​" 
There's strong graphic work throughout and it's an ambitious start, especially for someone who could have easily made a fortune selling screen-printed T-shirt. "People have said to me, 'Why wouldn't you just make a T-shirt?' Well, why should I just make a T-shirt?" he said. "The quality and the standard had to be raised across the board for everything." That includes minute details, like the panther, which is made out of suede, and carries over into the whole collection. "A lot of money was spent on trial-and-error and with the cotton and the T-shirt and the weight, the different washes on the denim," he said. "It was a trial-and-error and trying to find the best of the best. "
The first collection is a succinct eight looks, but GEO hopes to grow it immensely over the next year. He already envisions his own line of womenswear and hitting "Vogue-level" in the next year or two. "Looking back in a year, hopefully we will see the progression to 200, 500 times better than this one," he says. 
That would seem to fall in line with what GEO says is the best advice he ever received from Kanye. "He told me to turn up in everything I do," he said. "And since then I haven't looked back. Because once you get an inspirational quote of that caliber you just think, I need to do it." 
Look for the pieces to drop on GEO's website in the near future.