ComplexCon returns to Long Beach Nov. 6 - 7 with hosts J. Balvin and Kristen Noel Crawley, performances by A$AP Rocky and Turnstile, and more shopping and drops.
Secure your spot while tickets last!
It's been a week since "The Ape," the Bape-loving, Supreme-hating man made his presence known with a video of him running up on Jonah Hill. Word of The Ape spread quickly around the internet thanks to viral videos in which he went around New York City terrorizing people wearing Supreme. 
It appears that The Ape is now striking fear into the hearts of even potential customers who want to avoid getting "violated." Reddit user "adjectives_are_great" posted a conversation he had with a Grailed user.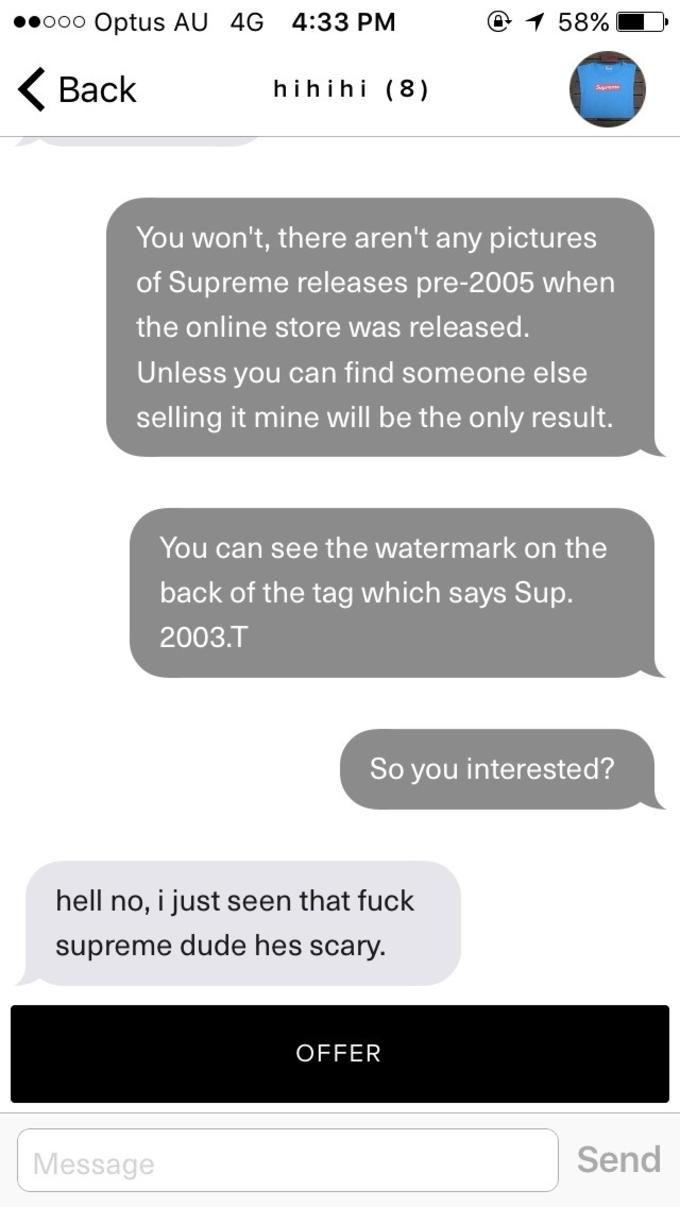 The Grailed user cites the presence of The Ape specifically as the reason for backing out of a transaction. "Hell no, i just seen that fuck supreme dude hes scary." While they should have written "that fuck thupreme" guy, the message is still clear. 
In spite of the fact that there was no chance someone from Supreme was going to comment on this, we contacted Grailed to find out if sales of Supreme had slid on the site recently—and they have, by a whopping 17 percent, according to Grailed brand director Lawrence Schlossman. However, to say he doesn't see the correlation would be putting it lightly. 
"Supreme sales on Grailed are down 17 percent week over week for the last 2 weeks, but that's a ridiculous sample size and most likely has nothing to do with 'The Ape's' fuccboi fear-mongering," Schlossman told Complex. 
Racks, a Supreme regular who was featured in Complex's documentary about Supreme, also believes the drop in sales can be attributed to pure coincidence. "The store closed, seasons over, it's less ppl cuz there's like 4 weak ass items left to drop 😂😂😂😂," he told Complex over text. "So there's no need to be there. Come August is bak to business." 
So while the drop in interest in Supreme by those two metrics probably doesn't have anything to do with the emergence of The Ape, it's certainly funny timing.