On Wednesday morning, H&M announced its next designer collaboration would be with Parisian house Kenzo. The collaboration, as was the case with past partnerships, is meant to introduce high-fashion labels to the masses, and make them more accessible (and affordable). "We can't wait to share the world of Kenzo x H&M with everyone, with all of its creativity, fun and love of fashion," Ann-Sofie Johansson, creative advisor at H&M, said in a statement.
For their part, Kenzo's creative directors, Humberto Leon and Carol Lim, said in a statement: "With this collaboration with H&M we want to think big, push the boundaries and bring the new energy of Kenzo to everyone around the world."
Leon and Lim, who first met during their school years, took the helm at Kenzo in 2011 following their work at Opening Ceremony, the hugely influential boutique the pair founded together. In addition to stocking designers that would go on to be huge later—there are too many to name here—Leon and Lim also had proven success with reviving flailing or forgotten labels and making them cool again. Over the years, they've worked on projects with everyone from Hawaiian shirt brand Reyn Spooner, to DKNY, agnes b, Vision Streetwear. They also oversaw an in-house collection for Opening Ceremony, opened a sales showroom for emerging designers, and collaborated on limited edition product with the likes of Levi's and Timberland. All of this primed them perfectly for the Kenzo gig.
Since taking over, the pair have made the French fashion house, which had been in decline since founder Kenzo Takada's retirement in 1999, one of the most talked about in the industry. Perhaps what's most interesting about Leon and Lim's work for Kenzo is how they've modernised the brand. In 2012, they introduced the sweater to Kenzo, which had not been a category in the label when they arrived. The statement sweater—first a khaki knit with "K" emblazoned on the front in florals—would go on to sell out and be worn by nearly every big-name celebrity, street style star, and editor, like Beyonce, Swizz Beatz, Meek Mill, Drake, Pusha T, and Rihanna, amongst others.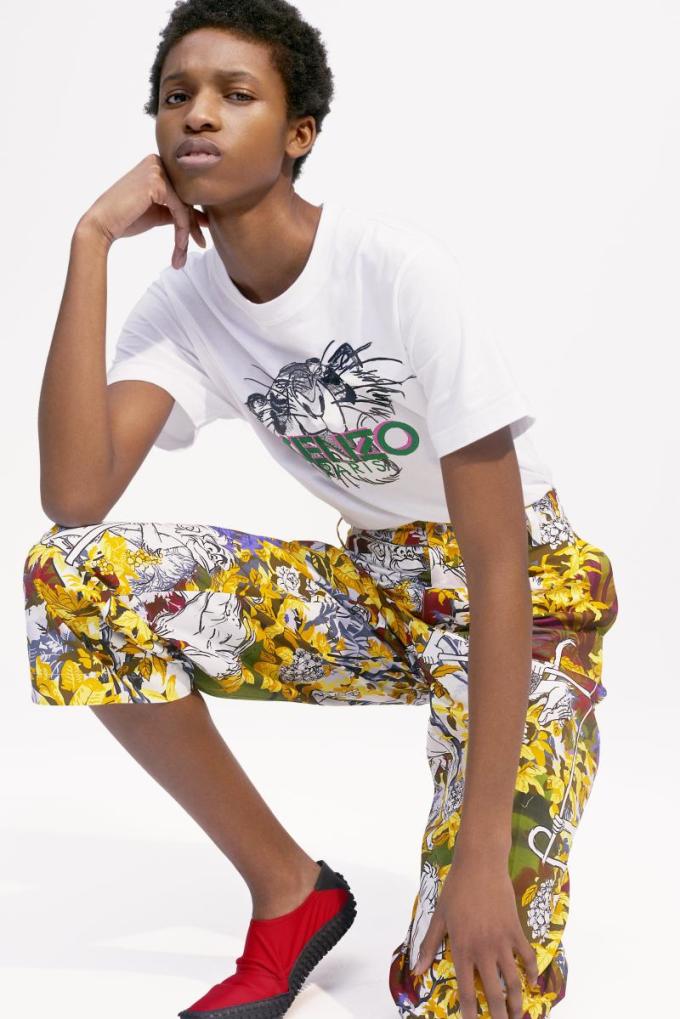 In five years, Leon and Lim have really rebranded KENZO. They've collaborated with brands that are familiar with a younger, cooler audience: Vans, New Era, and even the 2016 The Jungle Book film. They've also reduced prices to make the label more accessible, adopted a Tiger motif in favor of the house's floral design, and overhauled KENZO's visual communications with digitally-driven campaigns—some of which are bizarre and trippy, but remarkably distinctive nonetheless. Not to mention their extravagant fashion week shows in Paris—which have taken included transforming a university science lab building into a runway and having models walk alongside hundreds of mini fountains that erupted to the beat of the show's soundtrack—that have brought back the excitement to fashion week, and made Kenzo a favorite of editors.
"Kenzo, as a brand, has such a rich and fascinating history, it can be hard to determine what exactly we have changed," Leon told Vogue in March 2012. "With our new collections, we hope that we have injected the brand with a youthful spirit and a sense of fun and cheekiness."
The second life that Leon and Lim have brought to Kenzo has attracted quite the crowd. That fanbase will likely only grow once the new H&M collaborative line hits stores on Nov. 3, 2016.