Vetements designer Demna Gvasalia said in a interview that he wouldn't spend thousands on Vetements clothing. But, what about rapper and presumably much richer person Snoop Dogg, who was recently featured on one of the brand's tees. Would he dish out $927 to cop it? The short answer is "hell nah."
Until his recent interview with Hypebeast, Snoop had no know idea that his face was plastered on a Vetements' tee. After Hypebeast showed him the shirt, they told him about the nearly four-figure price tag, and even he couldn't believe it. 
"Are you serious?! Where do you buy that shirt?" he said. "How do you sell a picture of Snoop Dogg on a T-shirt for $924?"
As we've pointed out before the shirt is an exact replica of old Snoop Dogg merch. It uses the same photograph as the merch that was originally created by Death Row Merchandise in 1993. The image is an out take from a cover shoot for Vibe, shot by photographer Dan Winters.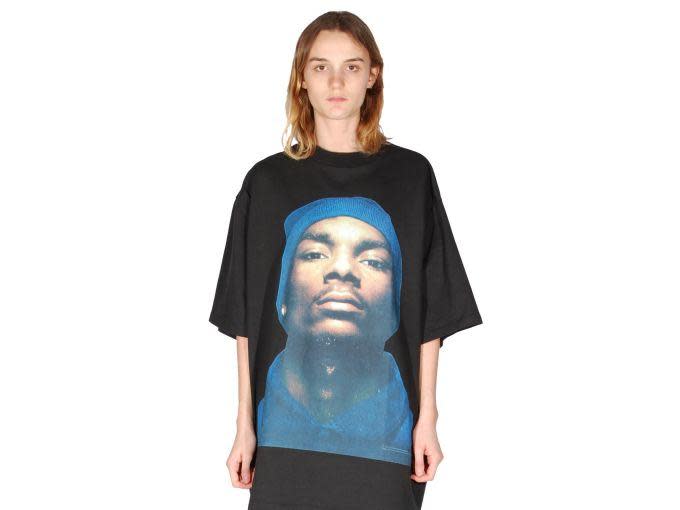 "I wouldn't even pay 900-something dollars for a Snoop Dogg shirt and I know the muthaf***a," he said. "Hell nah, hell nah!" Maybe he would be more into this Wil Fry parody shirt for $129?
A writer for one of Vetements stockists said on Twitter that the price for the Snoop Dogg tee was so high, because of licensing. "Demna [Vetements' designer] pays for licensing to be able to use any image or logo before a garment is produced," she wrote."Reasons why the price point is high!"
Still, Snoop wouldn't mind being compensated for the use of his image. "Nah, but that's a good thing man, continued success to whoever sellin' it man, hopefully one day soon y'all give me something," he said. "Break bread or fake dead, y'all know what it is!"
The rapper also confirmed that he is working on "something special" with legendary skateboarder and Supreme-collaborator Mark Gonzales for adidas. The two first met while filming a commercial together a couple years ago, and were brought together again for a collaboration under the sportswear brand.
"Two great minds, very creative people who want to make something that represents who we are and what we stand for and where we come from," Snoop said about the collaboration. "We're both from the coast with the most so it should be something special, so stay on the lookout and keep it all adidas."