Yesterday, I spent $120 on a yellow hooded sweatshirt meant to commemorate a Justin Bieber concert tour that I did not attend, in support of an album that I did not buy. It says "security" on the front, which, if we're being honest, probably ranks above only "underwear model" on a list of job descriptions that make me uncomfortable. It's also a size too small.
I know what you're thinking: "You could totally be an underwear model, Steve. Don't be so hard on yourself." And to that I say, "Yeah, I know, thanks, @ me," but that's not the point. The point is that yesterday afternoon, I transformed into the most base-level, fashion-bottom-feeder in the shopping landscape of 2016.
My name is Steve, and I became a hypebeast for a day, all thanks to popular Canadian Justin Bieber.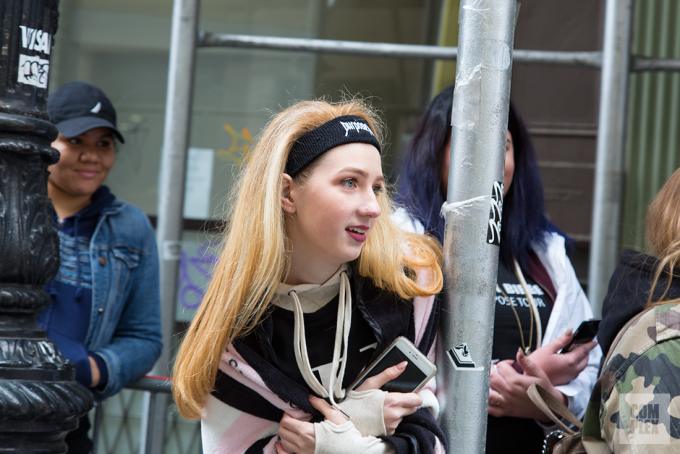 My initial reaction when Justin Bieber and VFILES announced last week that they would be selling Purpose Tour sweatshirts at a two-day pop-up shop was more or less the same as when I found out that Justin Bieber adopted a monkey that one time: Somewhere between "that's weird" and "wait, do I need one?" Even though I always take a look, I'm usually impervious to these sorts of competitive shopping temptations. I don't own any Supreme. I walked past the Vetements DHL T-shirt at Barneys. I do not feel like Pablo. I'd watch from afar as people camped out for limited edition, coveted items, or dropped a month's rent on a one-off piece on Grailed. I understood the appeal, but never bought into it myself; from a distance, I could remain above the fray.
Still, despite my general ambivalence about competitive shopping, anything the Biebs does these days is worth at least noting from a fashion perspective. The VFILES partnership, while unexpected, makes sense on some level. Bieber's tour look this time around meshes with VFILES' occasional Hot-Topic-at-a-higher-price-point vibe. Partnering with the social networking platform/retailer serves Bieber well in his apparent quest to reach a higher fashion plane—see also his Saint Laurent looks and his friendship with Fear of God designer Jerry Lorenzo (who designed the Purpose Tour merch). Do not see also his dreads.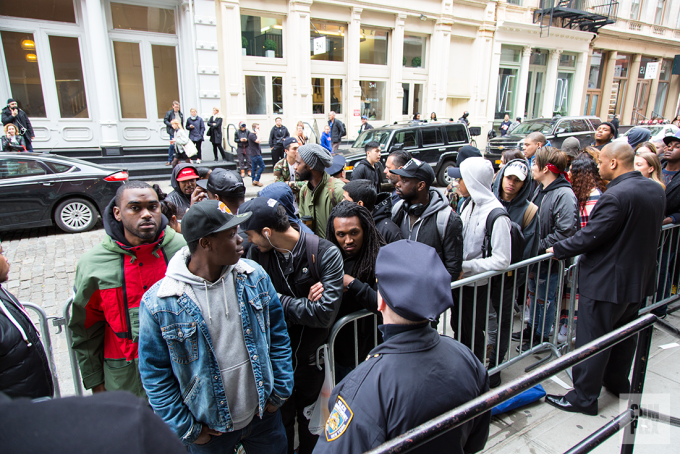 I made an appointment to visit the pop-up during a press preview to be held just before it opened to the public yesterday. A few colleagues came with me, and we prepared ourselves for a mob scene of eager Beliebers, waiting to throat punch one another over a long-sleeve tee with the singer's face on it. When we arrived on Mercer St., though, the crowd was pretty low-key.
"Are you excited to be here?" I asked one teen with the same exact amount of facial hair as his musical idol (four strands). "Not really," he responded quickly. He did admit to looking to cop a tank top, which, I didn't have the heart to tell him, was not actually something that would be for sale there. Maybe try PacSun?
His friend, though, said she wanted a hoodie. A woman down the line was also looking to get one in yellow for her daughter, who decided to go to school yesterday instead of the Bieber pop-up, like a real nerd. "I'd rock it with a nice oversize tee, some biker jeans, Yeezy's," another hopeful customer explained, unsolicited. One guy said he had been waiting three hours to get in and buy that same sweatshirt. More and more of the crowd agreed. It became clear that the yellow hoodie—a VFILES exclusive—was the piece to get. Something inside me stirred. I had mistaken the relative calm of the shoppers for boredom, when it was actually laser focus. Everyone, except the tank top guy, was here for the same thing. "I want the sweatshirt," an older woman in line told me. "But if you can't get what you want, you settle for something else." Speak for yourself, lady. That yellow hoodie was going to be mine.
After tussling with a very demanding fire marshal, a stoic security guard, and a PR rep who now probably qualifies to receive a therapy dog, we were finally let inside. I immediately scanned the crowd for the hoodie. Nearly every staff member was wearing the grail of the day, but none were left on any of the racks. In a sea of black and tan clothes to be purchased, not one flash of yellow heavyweight cotton. Until, that is, some goddamn fool decided he didn't want one, and returned it to its place in the corner.
There it hung, the yellow hoodie, vibrating gently from the bassline of a Bieber remix, waiting to absorb the tears of my haters. I immediately blacked out, but after consulting the Complex Facebook Live stream, I determined that it took me roughly two seconds to bound across the store and grasp the sweatshirt with my grubby, hypebeast-y hands. I didn't care that it was a size small, and I'm a medium. The yellow "security" hoodie, that I wanted since I learned about it twenty minutes prior, was safe in my arms. Soon, it would be on my body.
"It's rare, and because it's rare, it's always the best," a VFILES staffer said, as if I didn't already know that. "It's a yellow colorway, which Bieber never does." But did he ever do a yellow colorway this time. I might even venture to call it "golden."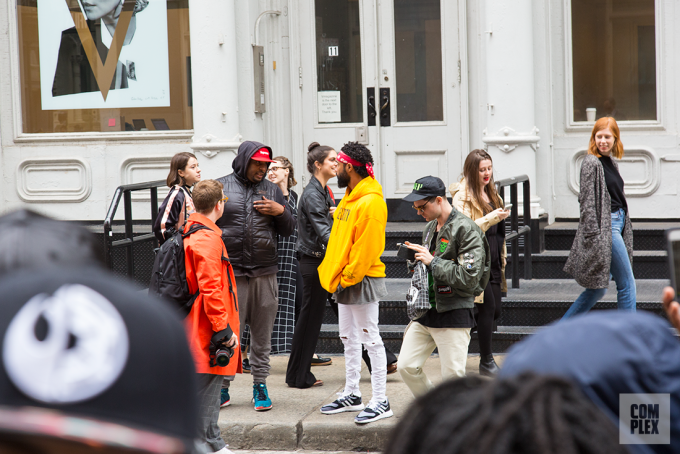 Another shopper told me that he had gotten the last one, and I gleefully told him he was wrong, because I had the last one. I'm fairly certain my eyes had become all black at this point, like a young Robert Durst. The final step in my hypebeast confirmation surgery came from what I said next, which was, unfortunately, captured on video: "All right," I shouted out loud to everyone and no one. "I guess I'm going to go pay for this, and then show that old fucking lady outside that I got it." Is it too late now to say sorry?
One swipe of my debit card, and I left the pop-up triumphantly. But, in the light of day, I suddenly felt a tinge of shame. What had just happened to me? Who was I? Could someone please hold my jacket while I slipped on my new purchase real quick? 
Five minutes later, color returned to my face, and I reflected on the events of the day. If I learned one thing, it's that it's a lot easier to remain above the fray when you avoid the fray altogether. If I learned some other things, it's that buying something just because other people want it is truly absurd, and no one really looks good in yellow.
So, will you ever catch me in the Bieber hoodie? No—not in public, at least. But I might wear it around my apartment and, when I catch my reflection in the mirror, think, "Wow, wearing this around my apartment is really hurting its resale value." Just like a true hypebeast would.