On the corner of Bleeker Street and Broadway is Kith's women's store—a 400-square foot shop designed by Snarkitecture. Inside are full length mirror walls—one of which is entirely dedicated to footwear from Converse, Nike, New Balance, Vans, Timberland, and adidas. A custom marble sign that reads "KITH" hangs at the back, behind a dumbwaiter that sits in the middle of the floor. The store is relatively empty, but just before doors close, a man, who's dressed in Yeezy 750 Boosts and ripped jeans and has a Kith shopping bag in his hand, walks in. He's with his girlfriend, who darts towards the rack filled with Kith's debut women's line. She, too, is dressed in distressed denim, with a wool coat on top.
In December 2015, Kith designer Ronnie Fieg debuted a women's line, alongside a storefront deliberately located directly across the street from the men's flagship. Fieg told Racked that he decided to move into womenswear because he was "seeing smaller sizes of [Kith's] men's apparel selling out very quickly" and that plenty of women were posting photos of themselves wearing the men's pieces on Instagram. "I saw that and thought it was time to dedicate a line to women."
But, Kith isn't the only menswear brand to dive into womenswear recently. Last month, Aimé Leon Dore designer Teddy Santis debuted his women's line. Before him, Chris Stamp welcomed women's apparel into his brand, and so did Norse Projects and Public School. So why are your favorite menswear brands getting into women's?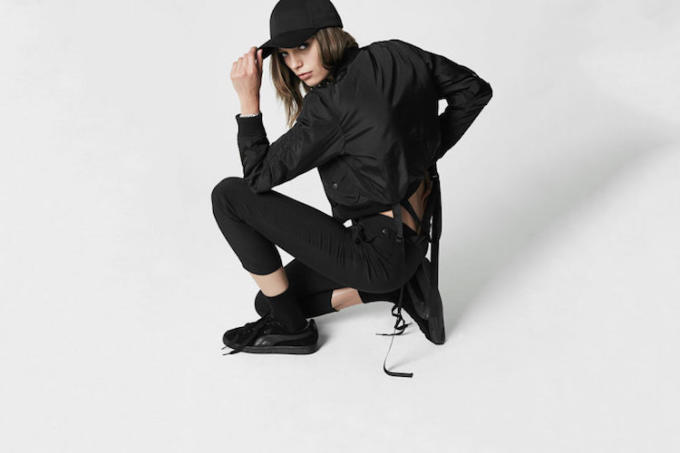 Stamp told Complex he also saw the same trend that Fieg did for his brand. "Just looking at our direct consumer numbers, we noticed a lot of girls were purchasing the apparel pieces in smaller sizes, hats, and things like that," he says. "We so we wanted to make something a little bit more specific and special to women. We thought we'd do a women's capsule to try it out." According to him, outerwear, including the brand's popular bomber jackets, was another category already popular among female shoppers.
Aimé Leon Dore's Santis says he can't say for sure if women were buying his designs in smaller sizes (the brand is only sold online), but says stylists were reaching out to pull items from the men's collection for women's shoots. "I obviously didn't pay any mind to it, because we wanted to build the men's line first, before I could even think of something like that," he says. "But it just came a time where it felt right."
The blurring of gender lines in fashion has contributed to this move by men's brands into womenswear. "I think society has become more open to women who are not so girly," former HighSnobiety editor Elaine YJ Lee says, adding that "girls wanting to wear men's doesn't stand out to me as a 'new' idea—there were always cool girls who wore T-shirts and boyfriend jeans." Think Katharine Hepburn, '90s Ralph Lauren women's, and Saint Laurent's iconic Le Smoking tuxedo suit (from the days when it was still known as YSL).
Nicola Fumo, Racked style and shopping editor, agrees. "I think using words like 'unisex' doesn't feel modern anymore. These are clothes. You can wear them if you want; I don't really care who you are. And to look at Jaden Smith being one of the models for Louis Vuitton womenswear, or the AG campaign that's using Daria [Werbowy] for their men's and women's campaign…It matters less what is made for men and what is made for women."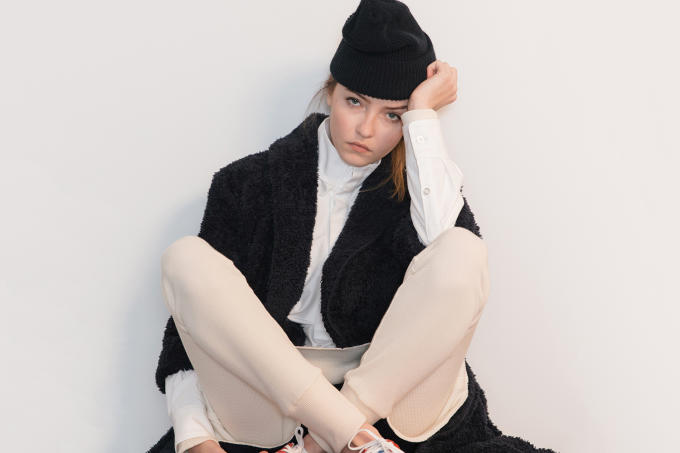 Regardless of the reason, it's a smart business move for these menswear brands to tap into their women's market. "It makes total sense to serve her," says Lawrence Schlossman, brand director at Grailed and former Four Pins editor. "If she's buying sneakers in a store and she's shopping for her boyfriend there, or telling him he looks great in a certain look, why would you not provide her with the same look, if that's what she wants?"
He adds: "If I run a successful brand that is very popular with a certain kind of guy, there is a girl that corresponds to that guy—maybe it's his friends who are female or it's his girlfriend."
But these menswear brands aren't just designing women's pieces that are borrowed from the boys. Instead, they're releasing a mix of clothing specifically for women inspired by the brand's aesthetic alongside the reinterpretations of popular men's items. In January 2014, Norse Projects' Tobia Sloth told HighSnobiety that the brand didn't want the women's line to be a literal translation of the men's collection. "We didn't want to come out and shock everyone with a very feminine expression, and instead focused on the links between the men's and women's collections."
"The idea and the aesthetic or vibe of what we do for women is just taking what we already do and reformatting and tailoring that to how it would fit on a girl," Stamp says, adding that he envisions Stampd's female customer to be the "girlfriend of the guy that's currently buying the collection." Stampd's debut women's collection includes pieces cut for women, but certainly inspired by items from the men's collection, whether that's through the color palette, graphics and branding, cuts (like a scalloped hemline), or fabrics. The popular strapped bomber jacket is now available in a cropped version for women.
Similarly, Kith's women's line reinterprets a few of the brand's key pieces, such as the Brie sweatpant, which uses a stretch binding trim at the cuff and Japanese ponte knit fabrics instead of the traditional ribbed ankle cuff and durable cotton French found on the men's Bleecker pant. There's also the Danika bomber jacket—a take on the classic flight jacket—made from French satin with cinched seams, dropped shoulders, and topstitch detailing.
Aimé Leon Dore's women's line, titled "47 Street" (a dedication to where Santis' grandparents immigrated to in Queens, NY from Greece), uses the same fabrics seen in the men's line and includes pieces cut or altered for the brand's female customer. "If I started coming out with dresses and putting girls in heels, it would be completely dishonest on my end, and it wouldn't be me being me," Santis maintains. He says that before he embarked on a women's line, he spoke to a lot of people—friends, family, and peers—and they all told him to make what he thought would best complement the brand that already existed for him. "It was the best advice ever given to me."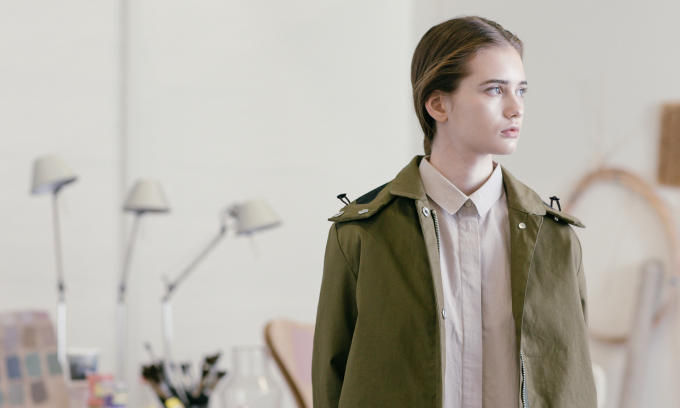 Santis admits that working on his women's line was much more difficult that his men's, in part because women have much more complex body shapes, and there are different buying patterns that affect how women's retailers pull together their own store assortment. Shooting the lookbook was also tough. "We're still going through some growing pains," he says. "You really have to figure out that consumer. I'm still learning that [Aimé Leon Dore] guy."
In the same Racked interview, Fieg told the women's site that designing for women was a challenge. "Women need softer fabrics, women have different fit needs." As a result, Fieg wisely hired a separate women's team for this project.
Nevertheless, these brands have tapped into a market that wasn't being addressed before. "Menswear brands doing womenswear is not overdone yet," says Lee. "Once everyone starts doing it, it won't be cool anymore, so brands have to hop on this trend early if they want to successfully be a part."
Stamp says he didn't always see a women's line in Stampd's future. "I kind of liked the idea of the line being unisex, where you can just size down. So it wasn't a thing where I was like, 'Yeah, I wanna do women's' from the get-go. Not by any means." But, he says, "We noticed an opportunity there." He didn't present his women's line at his New York Fashion Week debut earlier this month, but he promises to open up the women's collection in the future.
Santis is already working on Aimé Leon Dore's Spring/Summer 2016 women's collection, slated for a June release. He's thrilled about building his female customer and women's line. "This is the most exciting thing I've worked on since we started the brand," he says. "It's not sexy to be sexy anymore."
Hillary Taymour, designer of Collina Strada—​a collection that's ostensibly for women, but also used men and trans models in its most recent Fashion Week presentation—​maintains Santis' sentiments. "Non-gender is the future," she says. "I feel the most confident in a cool, unisex look than I do showing off my abs in a crop top. Tits and ass are always fun, but most times a girl just wants to be cool and comfortable."