A Gucci Explainer: Why Everyone Is Talking About the Italian Label Again
With a new creative director, celebrity fans, and rising sales, Gucci is back on top. Complex Original
Image via Complex Original "I often wonder if someone has dropped some crazy pills into my morning coffee when I read a raving Gucci review," said commenter Apple Scruff below a recent Business of Fashion article on the Italian fashion house. Despite what Apple Scruff may say, there seems to be nothing but hype and genuinely good news surrounding Gucci these days, most of it centered on the recently installed creative director, Alessandro Michele. From out of nowhere, the designer, who worked for years in relative obscurity under former Gucci designers Tom Ford and Frida Giannini, turned the image of the aging house on its heels. Shifting from his predecessors' sexed up vision to something that looks like it walked off the set of a Wes Anderson film, Michele's take on Gucci has won fans from any and all of fashion's circles—and it's been selling pretty well, too. So, while you may not have thought much about Gucci lately beyond the brand's flip flops, there's a reason fashionable guys like Harry Styles and A$AP Rocky are making bold statements in head to toe Gucci looks. And there's a reason you should pay attention, too; while Michele's menswear might fly in the face of the uber-cool minimalism in your current rotation, make no mistake: Gucci is coming for your closet, too.
Michele's Gucci takeover has a few signature touches, but it's his florals that might be most recognizable. The flared S/S 2016 Gucci suit that Harry Styles wore to the 2015 drawing American Music Awards is probably the most high-profile example of that on the red carpet; it's loud, it's different, and it's memorable. Almost as memorable as the runaway hit kangaroo slippers that seemed to single-handedly usher in the new era of Gucci. Considering that Rocky strutted around Paris Fashion Week last month with his own pair of the slippers—that were once made for the ladies only before it took off among style conscious men—it's no surprise that it's been named a "cult-status accessory." Souvenir jackets, which have recently stepped back into relevance thanks to brands like Louis Vuitton and Stussy, are also on offer from Gucci. But it isn't an example of trend humping or just another nod to vintage pieces; the souvenir jacket is perfect for Michele's penchant for old-fashioned embroidery and a pastel palette. Add in his retro styling, and all the aforementioned pieces feel old-yet-new—much like Gucci itself.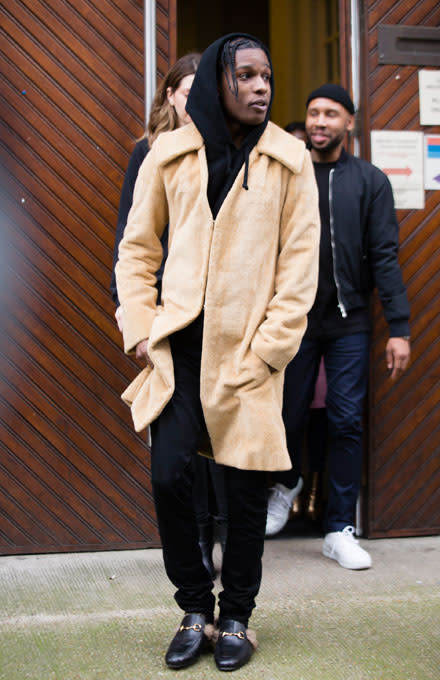 While these designs aesthetically depart from the sensuality that Tom Ford brought to Gucci during his tenure from 1994 to 2004 (and continued under Frida Giannini until her sudden departure in 2015), they don't discard the heritage of the Gucci name. And the signatures of the house are subtly tucked in—take a look at the red stripe ribbing on thrift store-chic jackets, and the horsebit accent on the toe of those kangaroo fur kicks.
For a house like Gucci, it's impossible to ignore that heritage. Its interlocking "GG" logo has been a symbol of modern luxury since the days of Dapper Dan, with plenty of celebrities adding a touch of Gucci to their wardrobes for decades. But, equally a part of the brand's recent history was the sex appeal that covered its runways, ad campaigns, and fragrances. It was a true "more is more" approach. While Michele's Gucci clearly pays homage to that lavish, eye-grabbing aesthetic, he does so with a youthfully thrifted charm, not overt, in your face sex appeal.
Sexiness is a major point for Michele's Gucci, too, but it's taken on a totally different meaning. As Lauren Indvik noted on Fashionista, pre-Michele, the brand firmly segmented its label into men's and womenswear, with "traditionally masculine, and traditionally feminine looks for each." Michele's thrown that convention out the window, embracing a level of androgyny that's not just taking over Gucci's runways, but fashion as a whole. Like his contemporaries J.W. Anderson and Nicolas Ghesquière at Louis Vuitton, genderless dressing is turning from a trend into a new way of thinking about clothing. And Gucci is right there with that, too.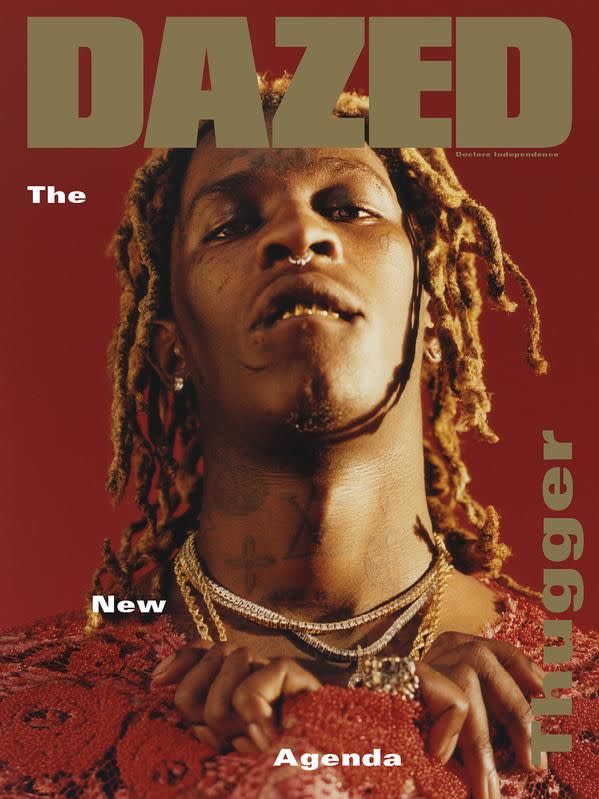 So, Gucci has hype-worthy pieces, some celebrity ambassadors, and a new, zeitgeist-y, androgynous perspective: All the makings of the next big, new old thing. It's not a surprise that both high and fast fashion labels have already launched their own attempts at replicating Michele's designs. This has mostly applied to womenswear as of late, but knowing the fast-fashion industry's propensity to copy whatever is trending on the international runways, it's only a matter of time before the guys get their own slice of the style that Gucci is currently pioneering. Whatever happens at the top always trickles down—and right now, what's happening at the top for a lot of people is whatever Michele sends down the runway. We're not saying you'll be wearing a flared floral ensemble tomorrow, but whether or not you're likely to find some piece on a shopping trip soon that's been somehow influenced by the new Gucci? That's more likely a question of "when," not "if."