San Francisco-based APEX finds inspiration in nature, architecture, calligraphy, and more. These themes might seem completely different but within his work they come together in subtle and organic ways. His work cover not only the walls of his hometown of San Francisco but also space as far away as Taipei, Taiwan.  
With each piece, APEX asks the viewer to imagine the piece in motion. Each work is just a freeze frame, a moment suspended and re-imagined. From public works to studio pieces, his dynamic aesthetic translates to a range of mediums and spaces. 
APEX remains an integral part of the San Francisco street art movement, but he also lets the two mediums inform each other. His abstractions live in multiple forms and each one carries its own story.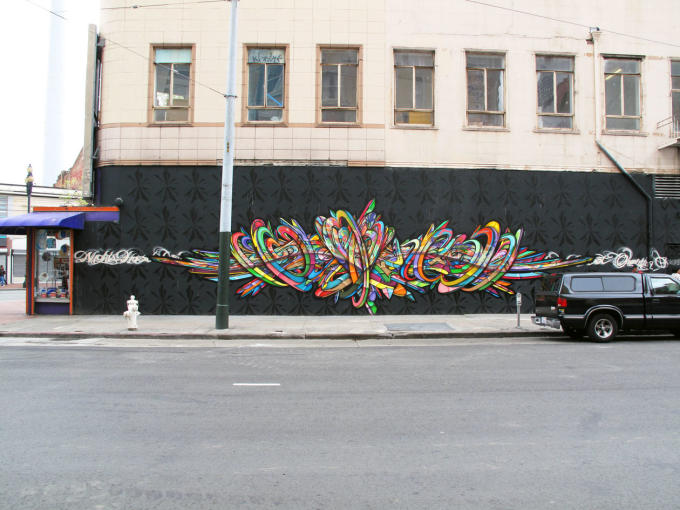 "I can give you a billion stories that would be its own article on the Tenderloin. Especially over the years. We painted this mural four times. I like to repaint my walls when I get a chance. A curator came in from big biennial and museum curatorial stuff and—actually with the [San Francisco] Art Institute—he wanted to start doing a biennial. So that mural site became a location… I got my friend Chris Birch who lives in the neighborhood and does a lot of spoken word. I said hey do you know any poets in the Tenderloin? So we got a woman poet and she said great I'm down. 
She came out, she watched us painting and she wrote a poem about us painting. And then she already had another poem and she was like oh this is so perfect for it. She gave it to us because I wanted one and that poem is called The Tenderloin and so for the graphic element, I did a super abstract script and you can kind of read it but it's not meant to be [read]. It's this kind of graphic element of the poem going down the entirety of the wall in the middle, left to right. And in the middle of the wall in silver pen I wrote the whole poem. So you can go up and read it - to this day my studio is right in that area and I can see people stopping and they'll read the poem." 
"This one I combined two different styles of mine—you can see that there are circular bars within the mural as well as more of the structural bars. I just really wanted to combine the two. There's a ton of movement there. There's actually two letters—I won't say which ones they are—but there's two letters that are interplaying with one another. That's what movement is there. And you know a lot of my work is about what if a letter could be organic and living. My murals are nothing but frozen moments of that movement. It's a painted photograph of my art dancing."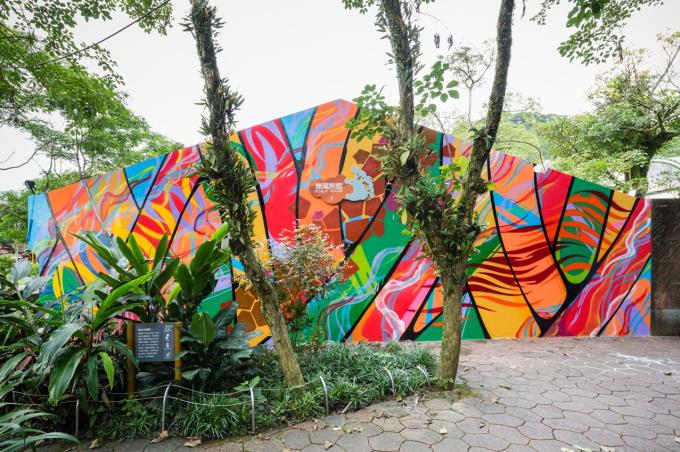 "This is in Taiwan at the Taipei Zoo for  POW WOW mural festival. And this was last year. This is on the side of the panda bear exhibition building. The idea with this mural—the organizers were like 'wow your work is really great, we think it'll really activate this area and this building and the zoo.' This is when you walk in through the main gates of the zoo, fifty yards off to the left. It's really right after guest services and what not… So I really wanted to take into consideration—which a lot of my work does—the macro view and micro. I want people to be able to enjoy it up close as well as from afar. When I was planning out the mural I really wanted it to blend in as well as pop out of the jungle. I wanted to use different patterns form different animals in the zoo and still with that abstract angle." 
"This one's on the backside of a plumber's union building off of Market and Gough street. I like the mural because it's hidden and not that many people find it. I like that element of walking through the city or driving, whatever. I'm a very curious being and I like finding things. For me this is a gift back to San Francisco, a little hidden gem. It's huge—I think its 60 to 70 feet tall and 60 wide. At the time, I'd definitely been wanting to do a mural with a deep blue background and I wanted to center it and play off of that—there's pipes going down the building that I painted over."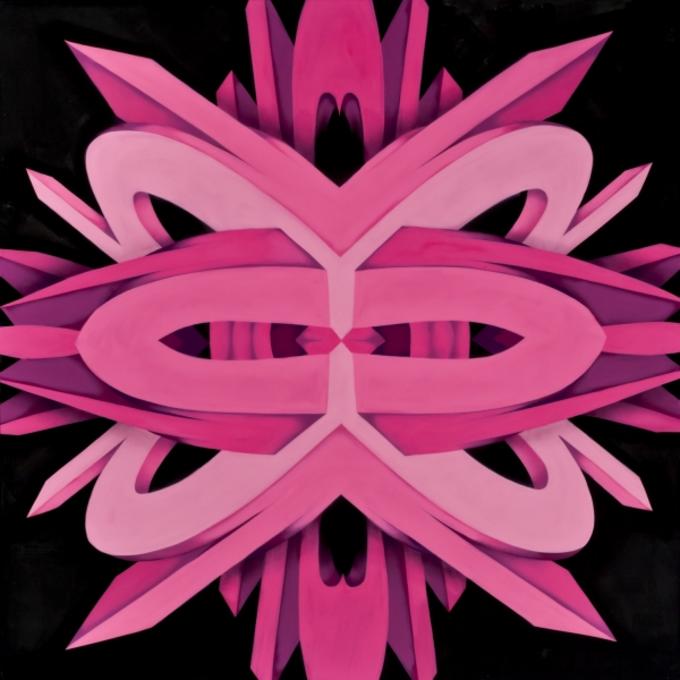 "I love playing around with technology and trying to be modern and how does it affect art? So this image was a computer-generated image. I was playing around with mirroring my original sketch in a bunch of different ways and it was a whole show of thirteen canvases and one large piece in a gallery here in the city a few years ago... So this work I projected the sketch onto a canvas and then I freehand sprayed it all on. This work was a great building lesson for me. Because I was free handing it I had to measure over and over... I had to really make sure. That was the challenge in this one for me—okay, yeah in the computer I can generate this but can I create it by hand? It's one thing to deal with a brush and it's another thing to do it with spray."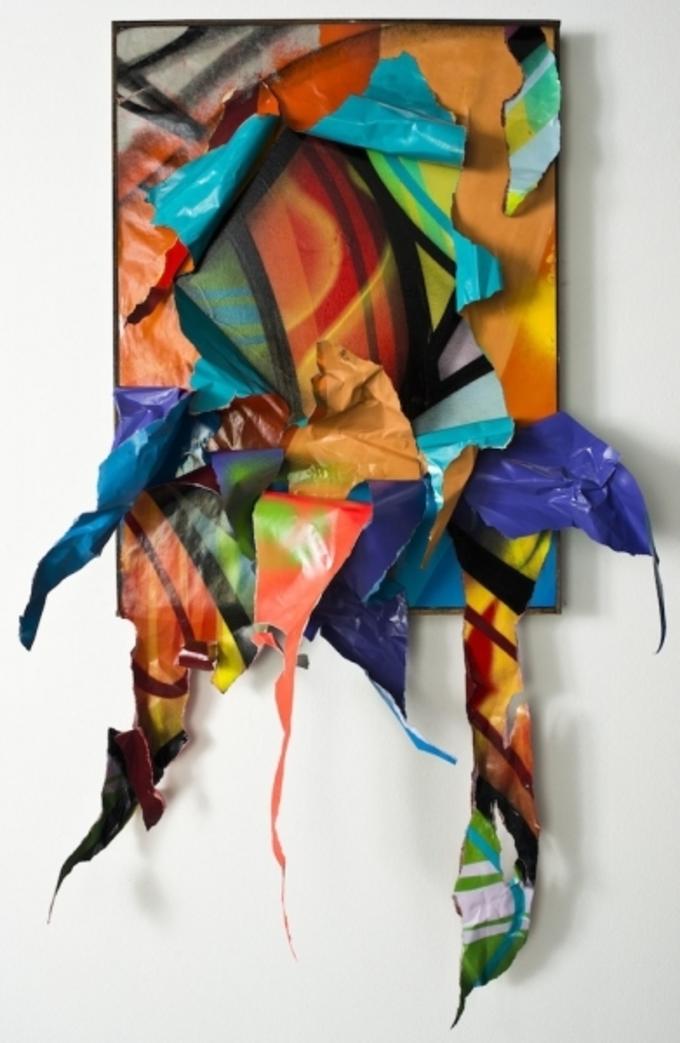 "This was for a gallery show here in San Francisco. There were three pieces like this. It was just me in the studio playing. This particular one—there's a canvas underneath and there's paper layered on top and they're ripped off. And the idea with this is playing with the different histories of the street but once it's out of the street does it have the same energy? The same environment to give it perspective? I kept some elements that you would see naturally on the street and brought in some more artistic perspective for the canvas. So it has, you know, a traditional stained wood frame on it around the canvas and then the idea of a wheat paste wall or a billboard that's weathered and stressed. Other artists are doing that as well as in its natural environment destruction due to weather—wind, rain, sun, what not. So for this canvas I was like oh well I know I'm going to paint my artwork on a different layers of paper on top. On the bottom let me kind of plan out the colors and paint the back side of the paper other colors so that when I rip it and fold it back it still plays with one another versus being a plain white."
"A lot of my studio it's completely thought out—where am I going to be, let me go sit with it, see the environment and how much space do I have. I really like to know that so that I really present a piece that fits the location. So this was in a gallery that had like 25-foot ceilings. This piece was like ten feet and it was sitting on a pedestal that was maybe two feet tall so the it was like twelve feet, this column. And then the canvas behind it was six by eight. I wanted the viewer to look up. I wanted this abstract totem pole. This oversized adult building block… These are all close-ups and just like the bits of my style—like the structure, the root is what I was playing with. And then the gradient of gray, yellow, red, pink to purple and blue. I wanted to do cool, warm, cool. The canvas was playing more with ideas of geodes, stones and gems. These inner worlds. Inner bits and pieces of the world of Apex." 
"So basically I was talking about how my studio work and my public art inform one another and once I move into the studio I thought about it and researched—it first started with I did a residency with a Japanese calligraphy artist at the Headlands center for the arts in Marin and that whole project was about how calligraphy and tagging, graffiti—how are they similar and how are they different? In calligraphy, you study the stroke of one, which is just a line to the average viewer. You can study that for the whole year. And according to their teachings, if you can master the stroke of one then you can do any letter of any style. 
And that really struck me like oh, well if the stroke of one is a building block to all letters then what would be my version of the stroke of one? Oh—just the beginning segment of a bar. And once I did that and I kind of just drew that the first time I drew another one and another one. Immediately, I thought you've always loved geodes and crystals and formations. This is where this is coming out of so all of that work—it allowed me to push that natural realm of the vines, inter-tangled to geodes and then if I'm not trying to represent that then I can go ahead and paint it with the same street aesthetic—layering a bunch of colors and so forth so that's what this piece really illustrates." 
"This is I believe two foot squared on a birch panel, acrylic. And with acrylic—it's funny you said the tones are different—I get softer. There's more control being able to actually touch the surface. There's a different world I get to explore and there are fine details… You're meant to go in and not come out. You know the nucleus, atom what not with that center piece. If somebody buys this and puts it in their home they might look up and say oh yeah let me just lose myself in it. Or maybe this is a meditation to follow this and go there but by trying to get there you're not looking at the art anymore, you're gone. I value being able to find that space within yourself."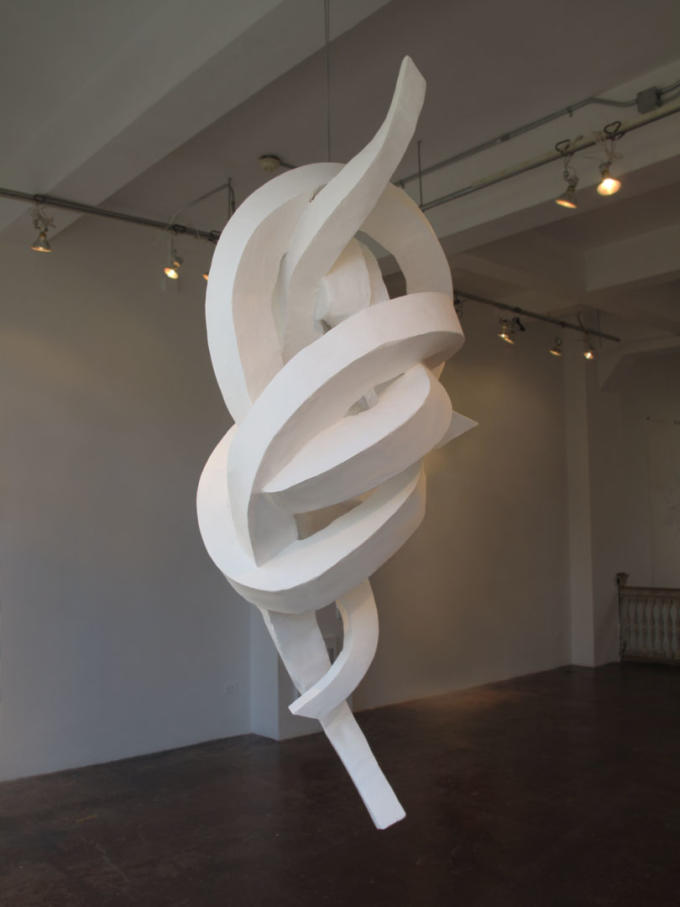 "When I was in school I did three years of sculpture and the whole time since before sculpture—there was this big movement in street art a while ago that blew up in three dimensional trompe l'oeil painting and letter form coming out of Europe and you know there's the argument of who started it but you know it started here in the states and was perfected in Europe by artists who are friends of mine now and it came back here and people were like oh you gotta paint like that. I was like no I'm not gonna paint like that, I'm not gonna copy them because it's important to me that I'm original. I call it leaving my fingerprint on the world. 
I was taking sculpture class and the whole time in sculpture class I didn't have the expertise—I didn't know how—but I had the vision of this piece that we're looking at from day one, ten years before. So I learned to carve marble, how to carve alabaster, soapstone. And it was always in my brain, I'm learning this to get to this. And I learned welding and casting and ways of casting materials, all these different things. 
It's funny to talk about this because in school these sculptures look more like…they look more like the foundation that I was just talking about the stroke of one. Just that. Because I knew, it's funny, inherently I knew that but I never thought about it to speak on it. 
It's a snapshot of what I'm painting. So for the sculptures I can actually show people the other side. They can walk around it. And for me it's kind of like there's a front to view it a "proper" front of a sculpture but at the same time if the work is abstract to begin with when you look at it from the back—win-win for me, I get to abstract the abstraction."