Anyone who has listened to a few sixteen-bar verses can tell you about the relationship between hip-hop and style (and that status that comes with it). While high-fashion houses are name-dropped nearly as much as references to Tupac and Biggie, it's the brands themselves that change over time—not hip-hop's interest in fashion. While outlets like Quartz rightly point out that rappers are dropping more luxury brands in their verses than "urbanwear" labels, this is just the latest chapter in a long-standing relationship; rather than a startling new development. 
But it has us wondering: How have tastes changed over the years? Sure, the '80s saw a cultural shift through "My Adidas", and the '90s were ruled by 'Lo Heads. But today's rapper has a far deeper well of sartorial influences, like Maison Margiela, and Saint Laurent Paris—or Rick Owens and Raf Simons (who, ironically, also work with adidas). Where do these luxury names stand compared to the Moschinos of the fashion world—a label that's been around for decades, but only recently seeing widespread acclaim? Hip-hop's names are referencing a mix-and-match of contemporary high-fashion and brands who are redefining streetwear—a pairing that's both unique to today's rappers, but still authentic to the culture's decades-old roots.
So how does this blend of brands match up? Thanks to Rap Stats, a visual tracker of how often a topic is mentioned in rap music (with data starting in 1988), breaks down not just what's getting lyrical love—but the year in which that term is dominating.
When it comes to sneakers, while adidas had dominance going into '90s (and again in the latter part of the same decade), Nike's been crushing rap mentions since around the year 2000—and hasn't looked back since.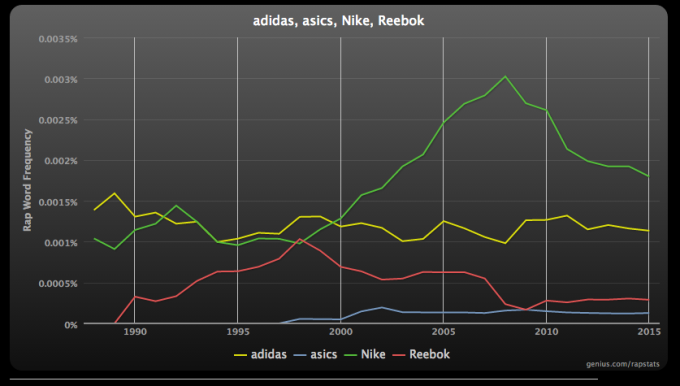 For traditional luxury brands, we may consider Ralph Lauren to be a stalwart of hip-hop heads, but when compared to other older luxury brands—like Prada, Louis Vuitton, and especially Gucci—Ralph's barely a drop in the bucket.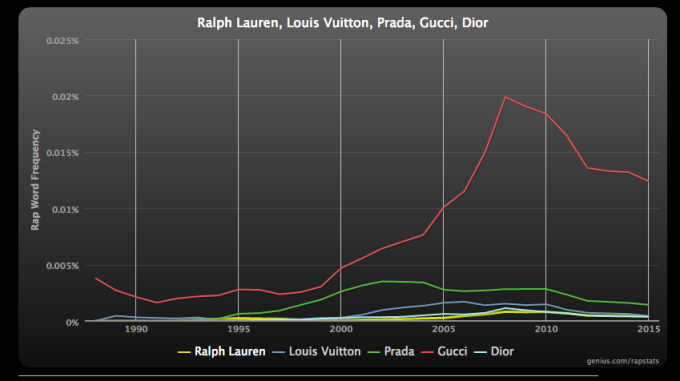 In perhaps the most rigorous grouping: some high-fashion names that have seen a revival in contemporary interest (thanks to a new designer, in the case of Moschino, Givenchy, and Balmain) along with relatively new fashion faces like Hood By Air, Raf Simons and Rick Owens, the results vary.
While Moschino has years of cultural cachet that dates back to Biggie's day, and the relative age of Raf Simons' and Rick Owens' labels is youthful compared to Givenchy's 63-year history, it's Givenchy who dominates the charts. Though there are probably several reasons for this growth over the past decade, Riccardo Tisci's appointment to creative director in 2005 is likely a major force behind it.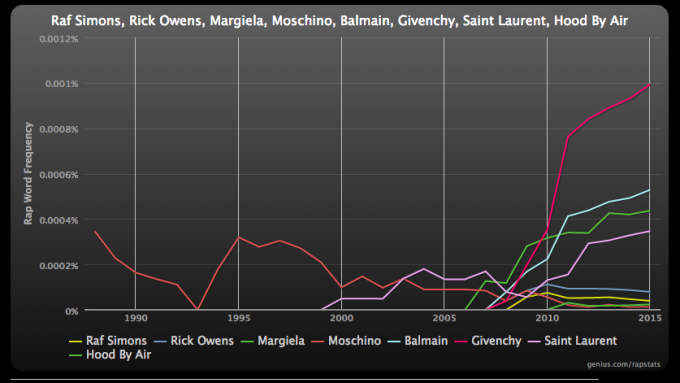 This isn't the "final word" on what rappers are really wearing and representing, but it's a reminder that what we see hyped up on the runways and street style cycle doesn't always translate directly to the studio.