If you know anything about the business side of the music industry, then you must know Lenny S[antiago]. The A&R god has been down with Jay Z and Roc-a-fella literally since the label's beginning, and now he's the SVP of A&R at Roc Nation, doing everything from managing the likes of Rihanna, to orchestrating events and putting in all the legwork involved with landing a guy like Vic Mensa. He's also known on a more niche level as a guy with very expensive, eye-catching taste and that extends from his personal style to design aesthetics. His gold-adorned office at Roc Nation's New York HQ is legendary across social media, so it's about time The Coveteur stopped by for an official visit.
The piece de resistance of Lenny's office is that luxurious couch, pictured above, which in any other hands would be a gaudy eyesore. "I bought it from a place that wouldn't sell—you can only rent the furniture for a cool event or for television," he explains. "I begged them for months and they wouldn't sell it [to me]. I was offering them double and triple the money. It's funny because when I put the couch and the chairs in my office a couple people were like, 'oh my god that's fucking hideous'. When I finished, little by little, they were all like okay, this is not bad." Clearly, gold is the man's favorite color.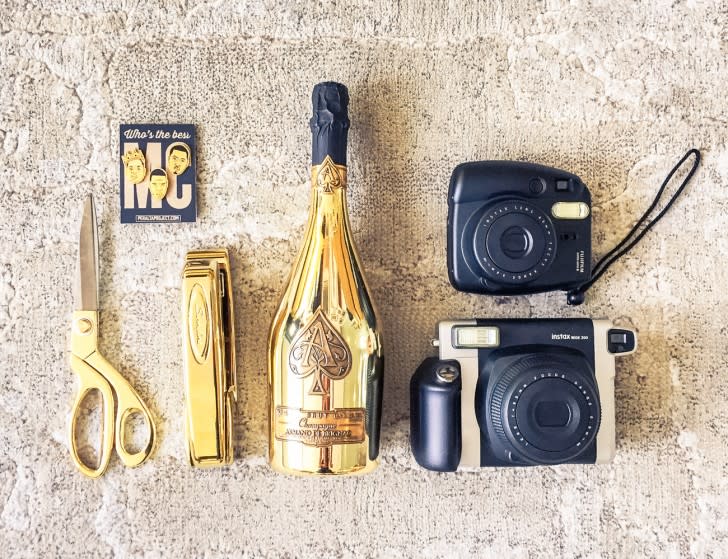 He also details his personal style goal to stand out: "I want to be an individual. If I'm gonna wear a tie—you know what? 90 out of 100 guys here are going to have ties on. I think I'm gonna go with an ascot. I think it looks great, it's sexy, and I'm least likely to find anybody else wearing it. I wear flamboyant brooches that have floral arrangements and five colors in them. I'm gonna get a couple jokes here and there, like 'oh my god, what are you wearing?' but you know what? 99% of the women and 50% of the men who are confident and understand what it is are like wow."
And of course, his kick game is just as storied. Featured below are three rare Air Jordan 1, 2 and 3s that fellow sneakerhead Justin Timberlake made for his and Jay Z's Legends of the Summer tour, pairs of which he hand-delivered to Lenny, who says "relationships" account for 98 percent of his success in the game.