Kris Van Assche announced today that he's closing down his eponymous label. While not much is known about the cause of closure, Van Assche has stated that his plans to shutter his 10 year-old brand are tied to a desire to focus more on his current role as Dior Homme's creative director.
In an email to customers, Van Assche stated that while his label became a "house with values of modernity and elegance," the "economic context" has caused the brand to pause. It goes on to mention that there will be no Spring/Summer 2016 show and that (perhaps more importantly) the brand will not be producing or delivering orders from the Fall/Winter 2015-16 collection.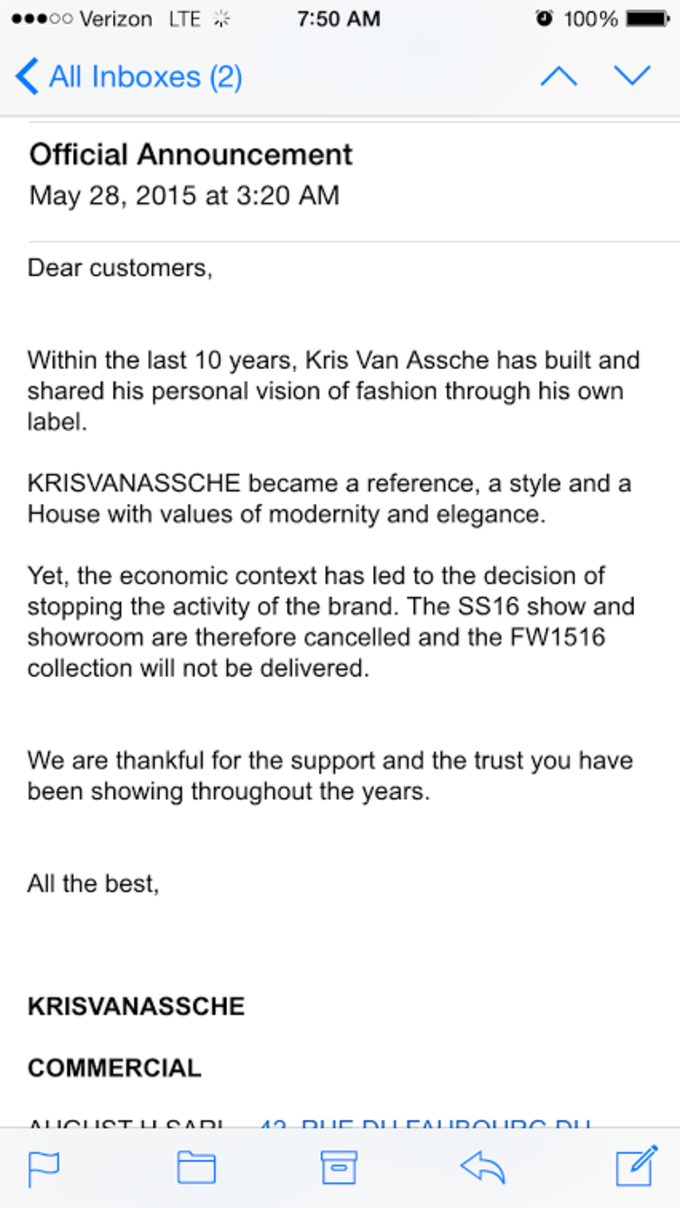 If you're unfamiliar with Van Assche's work, his style was thoroughly modern, pioneering the "luxury streetwear" aesthetic that we see so much today in brands like Public School and Off-White. The mix wasn't just for his killer runway collections (as seen in his Fall 2011 and Spring 2015 offerings), but also for his upscale, conceptual sneakers. Like fellow Belgian, and (ironically) Dior designer, Raf Simons, his collections combined a mix of subculture that could simultaneously exude expensive taste. If Kanye West felt his work was worthy of a shout out on his legendary blog Kanye UniverseCity, then you know the man is legit.
The closure seems surprising at first glance, considering the designer opened a Paris showroom less than two years ago, and has been rigorously collaborating with Union Los Angeles, and was recently included in the adidas' Ultra BOOST Collective.
But, for all the work that Van Assche has put into his personal brand, considering that fellow independent brand Band of Outsiders is rumored to shut down, we can't help but wonder what role financial (in)stability played in the decision. As Van Assche said himself, the brand was funded mainly by "the financial support of friends."
Looking back, it seems Van Assche was acutely aware of these issues from the very beginning. Especially since his brand was founded due to personal frustrations, and an interest in moving away from assisting the now-Saint Laurent, then-Dior Homme designer Hedi Slimane. As Van Assche told Business of Fashion in June 2014:
"Leaving a rather comfortable situation being an assistant in a big house to launch my own company was the scariest, biggest thing I've done so far. At 28, I was paying rent, and I had a comfortable salary, so it was definitely a gamble to drop all that and start my own company."
In the same interview, Van Assche points out that big success, doesn't necessarily translate to financial stability. As he puts it, "The more you sell, the more you are in trouble":
"Van Assche thought after his first show he would have around 15 clients. Instead, 45 retailers placed orders. 'That sounds great but it also means you have to make the stuff, buy the fabrics and finance the production. Then you send the clothes in June but people don't start paying until July and we just didn't have enough cash for all that. The bigger you become, the more money you need.'"
While Van Assche runs a private company, and doesn't share facts and figures publicly, it's snippets like these that remind us how hard it is to actually produce a collection, much less sell it in stores. Without the backing of fashion conglomerates like LVMH or Kering, most designers are left out in the cold. If you don't believe us, just ask Kanye. He's made his need for financial backing quite clear when talking about his fashion design dreams.
Van Assche said it best: "Times are tough for independent labels."