Twins Jalan and Jibril Durimel are almost like old acquaintances, you may not know them by name, but you've certainly stumbled across their work in one way or another. The pair, known by their tagline of "Born in Paris, living in Los Angeles" is as much and indication of the twin's unique aesthetic and vision, than it is a simple retelling of their geographic past.
You may have seen Jalan and Jibril modeling the wares of American Apparel via the brand's webshop. But it's not just the L.A.-based basics brand that the pair has spent time with, using their talents in front of the camera to partner with brands like AXS Folk Technology, stores like Union L.A., and the internationally respected Japanese menswear bible Popeye.
It's not all model behavior between these two either. The Durimel brand is just beginning, and while the duo has much to say about their past modeling, they're using those experiences to not just delve into their own photographic pursuits, but build a body of work that shows their aptitude in art direction that rivals (and ultimately surpasses) their modeling portfolio.
Don't let their age fool you. The brothers, whose Instagram, Facebook, and personal website demonstrate the cult following that Durimel carries with their projects, aren't interested in enjoying the spoils of a single creative lane. They're evolving into a recognized creative team in their own right.
Your tagline is "Born in Paris, living in Los Angeles." Where does that come from?
Jalan: We were born in Paris, and then we left when we were two to go to Miami. We did elementary school in Miami, and then after elementary school in Miami, we went to the Caribbean and we did high school there. After high school there we went back to Paris for a bit and then we came to college in L.A.
So, when it comes to how the transition's affected us, I mean now we've kind of studied the idea of how we think and how we create and I think it diversified our idea of creating art.
Where do you go to school?
Jalan: We go to LACC, Los Angeles City College.
Jibril: Yeah, it's like a small community college.
Jalan: We're still in school and we're trying to finish our last semester, so we're like transitioning so we can just focus on our photography and our art direction.
L.A. is obviously a major city, but New York City is arguably the country's fashion capital. Are you guys planning on staying in L.A., planning a move to New York, or even back to Paris after you graduate?
Jibril: We're definitely trying to stay in L.A. Obviously there's like a whole debate right now because we're French and staying over here after a year right now is complicated because of visas and things like that. But we definitely want to stay in L.A., because right now, we have to finish the school year. Also, the community of art and photography is deep so it's really interesting, and the people you can meet here are really nice.
It's really nice to see the people you can meet here, especially because the scene is really open to art and what you can find in it. It can be can be kind be kind of rough, I guess, but there's very creative artists and curators here.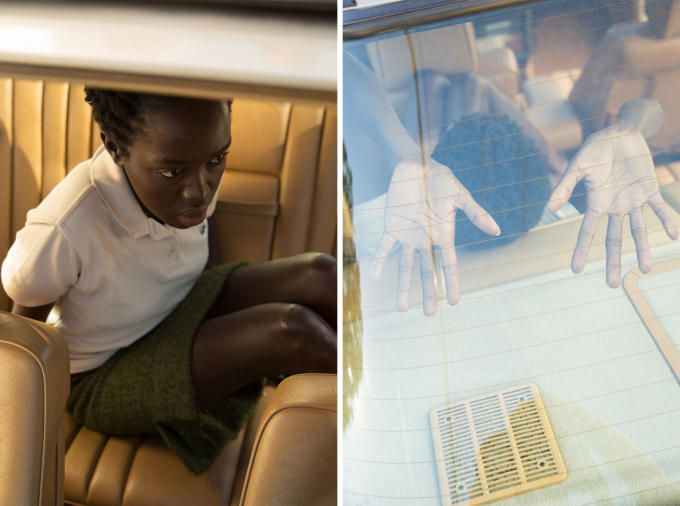 Is there anyone in L.A. within the art scene that you're pretty excited about?
Jibril: Yeah there's this guy we've collaborated with before. His name is Kyle Ng, and he's working on a brand right now called Brain Dead, and it's been doing really well. So, he works on different collections as an art collector, and he does installments of art curation. Recently, he came out with Brain Dead and it's been doing really well. After we collaborated with him before, he's become like a good friend. So we kind of like follow up with what's he's doing. And he's one of many artists in L.A. that's kind of doing cool stuff and interesting.
Speaking of L.A., one of the biggest brands that have represented the city from—at least from an outside perspective—is American Apparel. I know that you guys have had some experience modeling for them. I'm wondering how you got that gig, and what your relationship is like with American Apparel currently?
Jibril: That was a long time ago. Well, not a long time ago, but more around our starting era, I guess. That was like early 2013, and he and I just started modeling for them. I guess they liked us, but then we  stopped modeling for them around 2014. Things changed at their offices and stuff.
But yeah, we're into a new thing right now I guess; we're not really into American Apparel. I don't know, we just learned from them.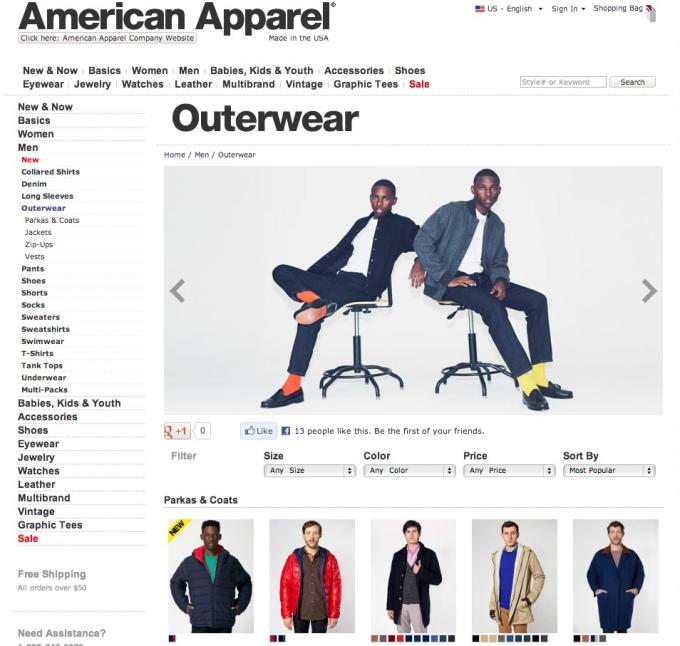 And you guys aren't aware of anything with Dov Charney, and the shake up at the company, right?
Jibril: Yeah pretty much. But like that was kind of like a turn-off too. Like, the company's in turmoil. We tried to like further our collaboration with them in a sense, but we kind of got turned off by the company. I guess because of all the controversy that was going on, it got a little hectic.
We kind of just moved on to new things. It's been great though, ever since we started thinking out of the box within that community, it's been really good actually. Right now we've just been like doing different things, we're doing different brands.
Are you still interested in modeling at all?
Jalan: When it comes to modeling we're really trying to stay away from it. In a sense we're photographers, so we have a certain pace for things that we appreciate. I don't know, I guess you can say we're picky with the the things that we do, and things that we attribute ourselves with. So, definitely if the project is current, and there are things that appeal to our taste, we would definitely be willing to do it. But seeing that we're so picky with stuff now, we'd rather be on the creative side of things rather than on the modeling side. So if the project is right it's a possibility. We've just been having more fun behind the scenes.
Jibril: It can be tricky for us, because as much as we kind of want to shy away from that stuff, it seems to always come back to us. Maybe further in the future we'll completely stop, but sometimes because of our past—the work we posted on the Internet of ourselves—it kind of always pops back up. But that's something we're really trying to avoid.
How did you break into photography and what are you looking to photograph?
Jibril: Thats a good question actually, because at a point, we had this blog that we were doing. When we were doing our blog, we started studying what we really loved about blogging. You're doing so much, you're styling, your modeling, and you're shooting. We kind of started realizing that compared to other fashion bloggers, we were really more focused on the imagery rather than the product. When you're fashion blogging it can get too into the product. You know, people are sending you things, and you have to promote it. We realized that was the part that we... I don't want to say hate, but we weren't interested in.
We started talking a lot about color and composition, like as ideas for the visuals. So we started researching other photographers, and as time went on we just found it super boring to just be taking photos of ourselves. It was honestly hard at the start, because you get sucked in the idea of getting so much buzz—like people loved seeing us in our photography or whatever. So having to throw that away is kind of hard, but at the same time, we were able to stay focused on what shows us the most. We realized what showed us the most, and that was really the imagery. So we started to focus on photography instead of modeling. It's kind of hard because [modeling] was working so well, but we needed to satisfy ourselves more than the crowd.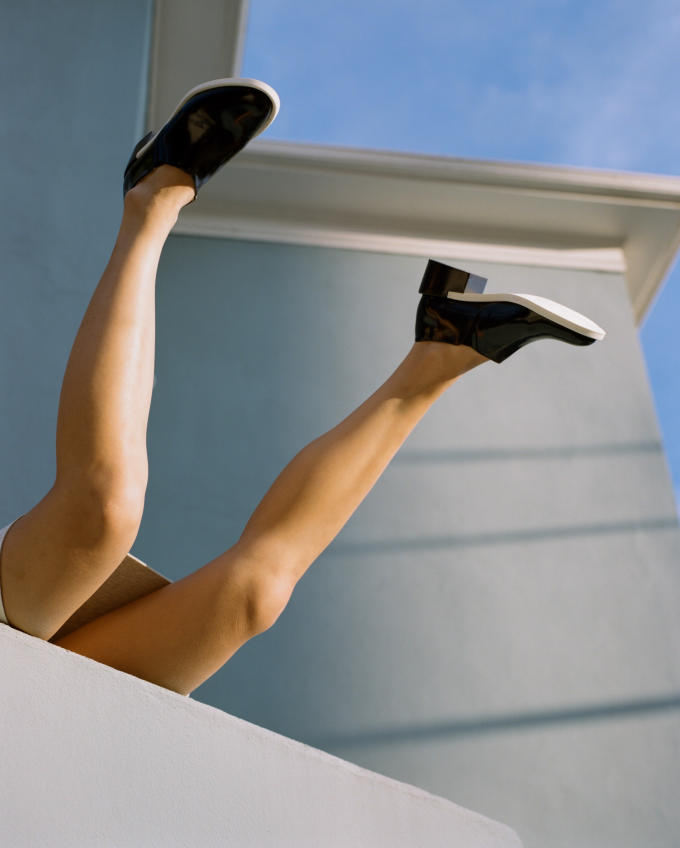 One thing that I've really noticed is your collaborations in [Japanese Men's Magazine] Popeye. How did you catch the eye of a magazine like Popeye that's based all the way out in Japan? You've also been in a couple issues at this point, so how do you guys keep that relationship consistent?
Jalan: So, before we had our blog, we started a section for street style. We were just going around L.A. out on our bikes one day and we went to the fashion neighborhood. It's Melrose, where there are more of the luxury stores. We were riding around looking for style that day, and we saw a group of Asian guys. One of the guys looked super cool and relaxed, and we asked to shoot him. He didn't speak English, but the group he was with happened to be the Popeye group. They were in L.A., and they were actually looking for models. While we were shooting him, he kind of wanted to shoot us, so he asked to take our picture. We got together, and we got along really really well. They're still some of our favorite people to collaborate with because they are simply really, really nice.
After  we met him that first time, apparently he went back to Japan, and I think the Editor in Chief really liked the photos of us, because they did a little story on us. But it was, like super small, they asked us maybe—one question. Later, I think the editor-in-chief was interested in having a bigger story on us, so for the February—I think the February 2015 issue—they did a full on interview on us; asking us what our projects are about. Now when we're collabing for Popeye, there's this coordinator that we're in contact with. She's in L.A., and she's like, the coordinator for Japanese menswear magazines. We get along really well with her, and we even have pitched other models that we think will have be a good fit in Popeye. But yeah, when the Popeye team come into town, they hit us up and we talk and get together. It's really cool.
What is it like to work with Popeye, and what are those editorials like? What is that process like? Are you guys collaborating with them when they are shooting with you?
Jibril: So that's a good question. We really love collaborating with them; especially that first time we collaborated with Popeye. We kind of learned a lot from them in a sense, not technically but culturally. The way that they act with people, it's super respectful. They're never pretentious, they were super humble about everything. Their attitude really reflects on the magazine in a sense, not the exact attitude, but like in Popeye: nothing is super loud. None of them were loud, they were all pretty big into styling; working behind the scenes, putting together the look or the editorial. We didn't really help creatively, in a particular way. We didn't really pitch ideas either because they are really particular—they really know what they are doing. It was interesting to see them work. You can feel their respect for your work, and vice-versa. So it was like a nice experience, those three days that we had spent with them the first time.
They're super respectful, and super nice. They act as if they had no idea to how powerful or how big Popeye magazine really is, you know what I mean? We learned a lot from them in terms of their culture, and what it's like to respect people on a larger scale, even if you can't particularly communicate with them. Obviously we knew how to do that, but the way they handled the our collaboration with them was really smart, and nice.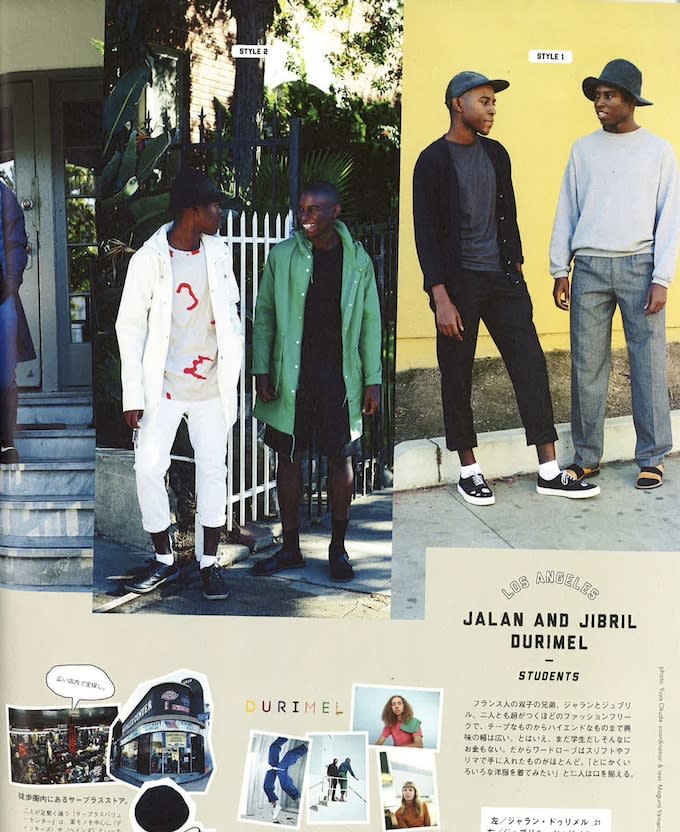 When you're doing editorial with somebody like Popeye or with a brand, do you style those photoshoots? How involved are you in the creative process?
Jalan: We've grown over time, like now I say we're really picky. We've grown to be creative control freaks in sense, in a good way. In the nicest way possible, I guess. We try to really control all aspects of what we do, as much as we can. But, if we do collaborate with people, we do have open doors so that they can give opinions, and figure out what it is that they want to portray. When we collaborate with someone we do let them know that we are really picky so we can start at good place. So they know that we're not nagging, and that the intention is to make the project come out as best it can.
if we could choose one thing out of art, and reject everything else—we would have to keep color, because color is like the melody of our visuals.  — Jalan durimel
When it comes to styling, hair, editing, we try to do as much as we can. If it's a video, we like to handle the editing. If it's pictures, we edit the pictures together. Honestly we would develop our own film if we could, and we're trying to learn. We like to control every aspect of how an image comes about. We have some sort of built-in dynamic between ourselves, so I'll tell him, or he'll tell me and we'll figure out what can or can't be done. But at the same time, we don't want to overpower the person's initial idea.
Obviously, you two have a clear vision, and understanding of what you are doing in collaborations. It's a two-way process. Speaking of two-way processes, why go into business professionally with your twin brother?
Jalan: We get that question a lot, like: "Why did we decide to first take up Durimel and work together and collaborate?" But that's something that's always been like that naturally, everything we've ever done, we did it together.
We always say that we're really in sync with each other. Honestly at this point, you can say we argue a lot about things when we don't agree. We argue, and figure out what we want to do because we're really in sync with each other. We don't have a setup like, "oh you do the styling, you do this, I do that" or whatever. As we grow, we're starting to realize now—as Durimel gets bigger—we realize the more clients we get, we might have to eventually start splitting things up. But at the moment, if we get a client one day, then we go home and figure out the mood board, or do the mood board together. Or, if one of us does a job alone the next day, we'll wake up in the morning and we talk about it. We're just always together, or producing everything together.
Your Instagram describes you guys as an art direction team. What are the projects that you guys are trying to sink your teeth into?
Jibril: Right now we do more in terms of digital art direction, so we're looking to continue doing art direction—but more from a physical standpoint. We're interested in doing art curation for gallery exhibitions and stuff like that. Something like installments with other artists, but at the same time doing some stuff for ourselves.
In terms of collaborations, we're definitely looking to do more designs with fashion labels, like capsule collections, and stuff like that. It's something that we're trying to move towards in the coming year.  
You mentioned capsule collections, what brands are you looking to do that with and aside from that  what brands are you personally into in general?
Jibril: Right now, we've been speaking about collaborating with brands that are not based in fashion, so it maybe just apparel overall. We looked at collaborating with brands like Dickie's because they're so not into the fashion industry, there's kinda, like, there. But on the other side, there's also fashion labels that are more "fashion forward." We'd really like to make a shoe too.
You guys are quite well-traveled, and you have a diverse perspective on clothing and art. What are the places for you guys that are the biggest inspirations?
Jibril: We haven't been to Japan, but it's definitely a place that—especially in terms of style and fashion—one of the places that inspires us the most. They have this idea of mixing workwear, and streetwear. Popeye actually does this so well, they just blend the ideas; they don't make things super loud, but they make them kind of distinctive, in a sense.
Right now we're super inspired by Jamaican Rastafarian culture, and that's like a huge thing right now for us. That's all we've been listening to, like reggae, and watching reggae documentaries. Rasta has been really inspiring us, so that's something we've been looking into.
So, Japanese city streetwear is really cool to us, their idea of "casual on the go." It's slightly fashion forward, and that's inspiring. Add in the Rastafarian culture and their state of mind as well and that's what we're inspired by right now.
You guys have quite a colorful wardrobe, and a lot of what you photograph is very colorful as well; there's a distinct color direction. Is this attention to color intentional, or just by coincidence?
Jalan: So let me start by saying we're big on music, we really like music. We're not trying to create music right now, but we do notice something that always makes a good song: the melody. I think, for us, we look for a song that has a good melody before anything. Color is, that idea in our own words: it's the same thing. We look for color over anything, it's the like the "melody."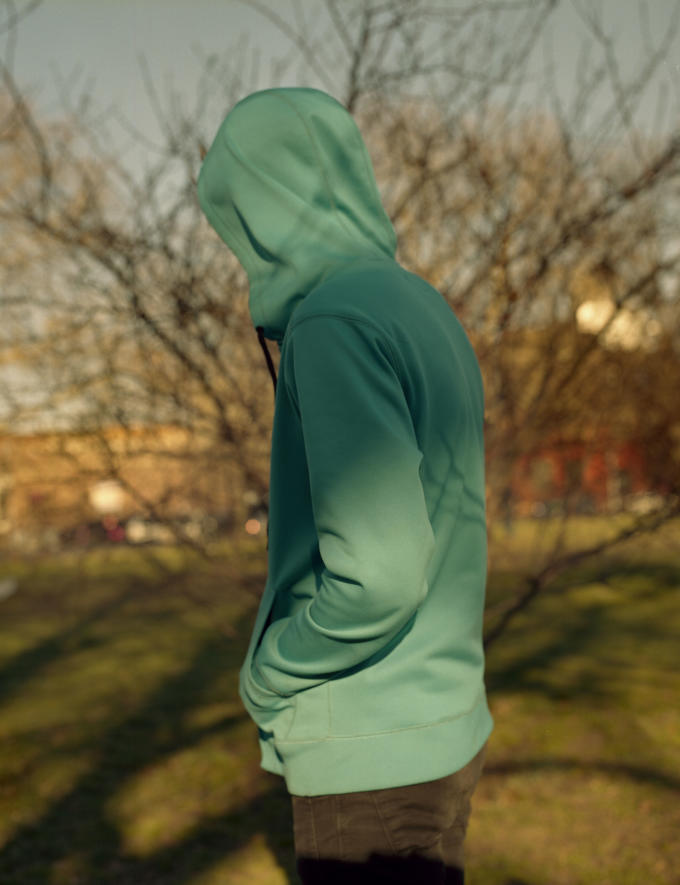 Before we make an outfit, a shape, or whatever clothing we have on, the colors are the most important thing to us. At least, if you have to choose one thing—if we could choose one thing out of art, and reject everything else—we would have to keep the color, because the color is like the melody of our visuals. So when it comes to a picture, no matter how it's taken—whether it's done with a film camera or iPhone—we're definitely going to look at the colors to start, because like i said, the color is the melody of our visuals.
Speaking of colorful photography and curated clothing, I know you guys must have a fantastic closet, is there a particular piece right now in your closet that you are constantly looking at or being inspired by?
Jalan: Well in our closet right now, there's a lot of thrifted stuff. Recently we went to thrift stores again. We haven't  bought a lot of vintage clothes in a while, but now we've started to buy vintage again; but differently. In a sense, we don't look for anything that's low quality made or old school looking, but for stuff that's more precious.
I actually found this hat that I bought a while back that I didn't really know how to wear. This knitted red cap, and just the idea of, like, being really into Rasta culture and stuff lately—the cap really inspired me. It's so careless, and cool, but it's bold at the same time; it has a good color.  Looking at it, I got inspired to use the color red in other projects, but I also just like the way the hat looks. It's funny because it had been sitting there in the back of our closet, and I just found it the other day, yesterday actually. Now I really want to wear it, I guess it caught on to us and to our interests, especially now with the Rasta culture. [Laughs]
Is there anything you guys are setting up in the next couple months that you guys are really excited about?
Jibril: We're kind of like the in-house photographers for Union Los Angeles. So we're kind of based out of their office right now, and they got a new office which is pretty nice.
How did that relationship come about?
Jibril: They've been great. It's a couple, they're a couple actually, the Gibbs. They're a married couple. We were at the Comme des Garçons show in Paris just shooting outside, and when it let out, we were about to leave. However, we saw this older lady in a super cool outfit, so we asked if we take a photo of her. This was in Paris, like, summer of 2014. So we asked her, "Hey can we take a photo of you? You look so cool."
So we took her picture, and we got to talking, and they said they lived in Los Angeles, and we found out that they happened to own Union. After we talked for a bit they said they'd get back to us in L.A., and they did. We've been shooting for them ever since. That's been, like, a really great relationship actually. We're looking forward to the future with them, maybe doing bigger things with them.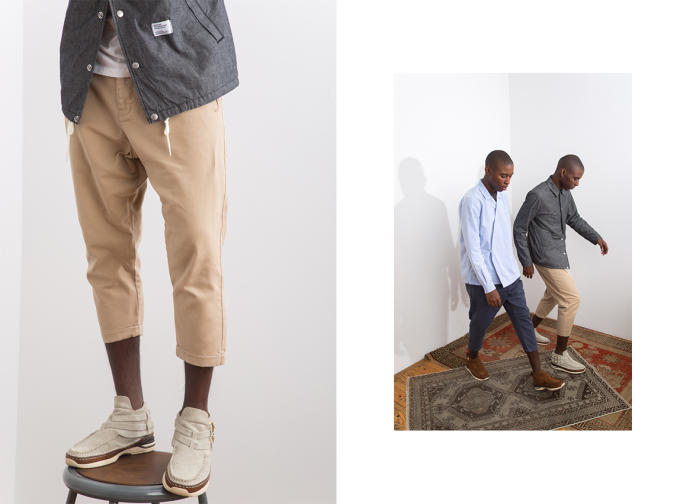 But you guys aren't just looking in menswear, you guys are working to combine your fashion experience with your art experience to create the Durimel aesthetic?
Jalan: Definitely. Right now we're still looking to develop—to be honest there's something kind of like getting molded at the moment, but I don't think we have a concrete aesthetic that's down pat right now. But we definitely like cool, careless, vibrant colors, and that's what we know for now. We love good composition on the images, but right now we're trying to get our aesthetic down pat.
Once we get that together, we're definitely looking forward to having our own art show. We had an art show before, but it was based on the street style images we shot—it wasn't focused on fine art, and it wasn't too conceptual. So now, we're definitely looking to mold our aesthetic, and have an art show that we can present to the public—something that speaks to what we've been up to in the past months.