Early this morning, a group of artists dressed in construction gear installed a 4-foot-tall bust of NSA leaker Edward Snowden on the top of a monument for Revolutionary War soldiers in Brooklyn's Fort Greene Park.
According to ANIMAL, the artists carried the 100-lb sculpture up the hill and installed it on the monument just before dawn on Monday morning. The tribute was conceived a year or two ago by "two New York City-based artists with a history of pulling off notable public interventions," who eventually connected with a West Coast sculptor to create the sculpture in Snowden's image.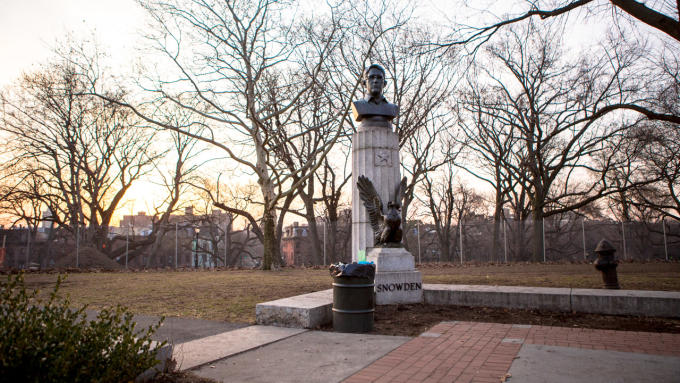 In a statement about the project, which they have named Prison Ship Martyrs Monument 2.0​ (after the original Prison Ship Martyrs Monument where the bust was installed), the artists explained that they have "updated this monument to highlight those who sacrifice their safety in the fight against modern-day tyrannies. It would be a dishonor to those memorialized here to not laud those who protect the ideals they fought for, as Edward Snowden has by bringing the NSA's 4th-Amendment-violating surveillance programs to light​."
Crowds began to form in the park as news about the sculpture hit social media, and authorities have since covered the sculpture with blue tarp until they decide what to do with it.
Head over to ANIMAL to learn more about the project, and keep it locked to Complex for updates on the fate of the sculpture.
[via ANIMAL]