The luxury leather goods market has become an ever more crowded one in the fashion world, with the European power players like Louis Vuitton sitting at the top end of the market and the Americans, like Coach, occupying the more affordable luxury accessories market. But both play up the notion of conspicuous consumption as integral to luxury; they both love a good monogram print.  This of course leaves a natural void in the middle, a fertile ground for minimalist luxury. Enter the Canadians.
Sure, we don't normally think of Canada when it comes to luxury goods but we certainly do when it comes to being understated. Enter WANT: Les Essentiels de la Vie, a luxury leather goods brand founded (2006) and still based in Montreal, Canada.  The WANT brand had humble beginnings and their share of ups and downs while navigating the international market before they became a fashion insider's secret. The brand is now carried in hundreds of stores all over the world including the undisputed arbiters of luxury, Bergdorf Goodman, and the purveyors of all things cool, Colette. Having recently launched a shoe collection this spring, we sat down with the Pert brothers, Dexter and Byron, to talk about how they successfully launched a brand with such a cool, and understated, cachet.
Why did you decide to first launch WANT? And what would you consider your big break? Was there a specific moment or order?
Dexter:  We co-founded WANT Les Essentiels de la Vie, from a void we observed in the global retail market--there was a need for luxury leather accessories purposefully designed for the modern traveler. We were traveling all the time and struggled to find accessories that didn't force us to choose between what looked good and what worked well.
Byron: There was not one 'big break' for us, but several turning points in our career, such as our one-off collaboration with J.Crew (Holiday Season 2009) and a Vogue magazine feature on WANT, which brought us far wider brand recognition.
What is it like to launch a brand of luxury bags from a city like Montreal rather than one of the big hubs of fashion (NYC, Paris, London, Milan)?
Byron: We are originally from Ottawa, Canada, and we relocated to Montreal after graduating from university. Montreal is just so full of life and culturally rich. It's also very much a local scene, where we support each other. This fosters an environment where people feel comfortable taking more chances... like launching an accessories brand! Montreal is home, and will always be a special city to us.
And why do you choose to stay in Montreal when you could be based anywhere with the success you have had so far?
Dexter: We've made Montreal our hub--we love the fashion, culture and quality of life it represents--but our market is the world.  Fortunately, in this day and age you don't have to come from one of the key hubs to establish something great and make an impact.
Byron: Although we're very rooted here, we have a borderless vision for our brand and our business.
What inspires your collections? Other designers? Other fields?
Dexter: It's no secret that we're heavily inspired by industrial, interior and architectural design. We're huge fans of design concepts that stand the test of time, such as the Habitat 67 building complex, where we both live, designed by Moshe Safdie for the World's Fair in 1967. As we design our products, we often revisit groundbreaking design icons, and consider what makes these concepts timeless and yet extremely relevant. 
Byron: We're also very inspired by the places we travel to and the cultures we experience. For Spring 2015, we drew a lot of inspiration from our Jamaican heritage and life at sea. Last season, we sourced our inspiration from Japan. Being able to witness various cultures, style and customs firsthand greatly affects our outlook on designing and on life as a whole.
What guiding principles drive your brand?
Dexter: "Always consistent, always essential" is our philosophy. With this in mind, we make sure that each detail is purposeful and each design is relevant and sustainable over time. The idea that our products can be used by anyone, regardless of their lifestyle, is a very exciting and revolutionary idea that we use to guide our brand.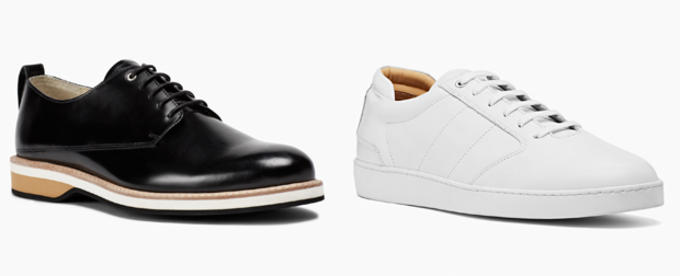 So why shoes now?
Byron: The impetus for developing footwear was a natural evolution of what first inspired us. Much like our inspiration for designing bags, we wanted to engineer footwear that provides a perfect blend of form, function and value. And perhaps a little selfishly, wanted to have footwear in our wardrobe that we could return to almost daily and have it not only perform but also evolve with our style.
The premise of WANT is all about the essential luxuries in life - what are some essential luxuries you both can't live without?
Byron: Definitely our iPads. We travel extensively and take them with us everywhere. We'd probably be lost without them!
Want: Les Essentiels de la Vie products are available around the world at such notable stores as Holt Renfrew, Opening Ceremony, Barneys New York and online through Mr. Porter.