Street artist Banksy has posted a new piece on his Instagram, which had been inactive since Oct. 31, 2013.
In typical Banksy fashion, the piece comes without any sort of explanation or caption, and also marks a changeover from the account @banksyny, which the artist used during his New York residency. Now Banksy is using the handle @banksy.co.uk, which the artist's publicist, Jo Brooks, confirmed as being "the only official account." 
The new piece has a strong resemblance to Auguste Rodin's famous sculpture, The Thinker, with the hand moved from the subject's chin to over his face.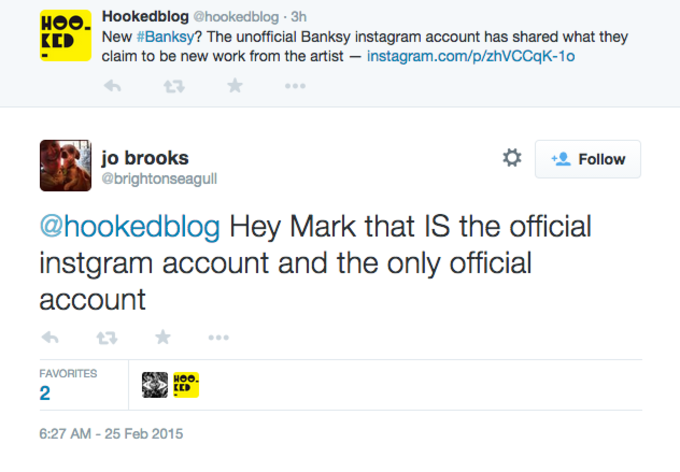 UPDATE: After sharing the first image on Instagram, the artist updated his website with more photos: there is another image of the "Bomb Damage" piece from before, two photos of another piece that features people on swings attached to a police watchtower, and a giant kitten playing with a mangled ball of metal. The new photos include captions, which is rare for Banksy who usually shares photos and lets the world figure things out. The text reveals that the murals are painted in Gaza. They read as follows: 
"Gaza is often described as 'the world's largest open air prison' because no-one is allowed to enter or leave. But that seems a bit unfair to prisons - they don't have their electricity and drinking water cut off randomly almost everyday."
"A local man came up and said 'Please - what does this mean?' I explained I wanted to highlight the destruction in Gaza by posting photos on my website – but on the internet people only look at pictures of kittens."
There is also a video on the website that invites people to visit Gaza, set to the instrumental from the East Flatbush Project track "Tried by 12" (also known as the Shady 2.0 Cypher beat):
[via Instagram / Twitter / StreetArtNews]