Between his flowing locks, fancy manicures, and inflating bust, Bruce Jenner has been faced with several rumors regarding a sex change. Now, In Touch magazine is reinforcing those speculations in its latest issue, which depicts the former Olympic athlete in woman's clothes and a full face of makeup.
As expected, Kris Jenner is pissed. Allegedly, the Kardashian matriarch is outraged that the publication decided to Photoshop an image of her ex-husband, and even more appalled that it jumped to conclusions. TMZ reports she has told close friends that the cover is "just mean [...] whether or not it's true."
Though Bruce has never publicly announced his plans to transition into a woman, the magazine is suggesting he's very close to doing so. Regardless of the rumor's validity, this is definitely a cover you'll want to check out.
[via TMZ]
UPDATE: According to Page Six, the shameless crew at In Touch magazine not only Photoshopped makeup onto Bruce's face, but also placed his head on the body of "Dynasty" star Stephanie Beacham.
The original picture shows the then 66-year-old actress wearing the same scarf and red top during a 2013 BARREtoned Studio launch party in London. The article states sources revealed "what Bruce wants to look like when his transformation is complete, and their inside knowledge was used for our photo recreation."
Check out the side-by-side comparison below.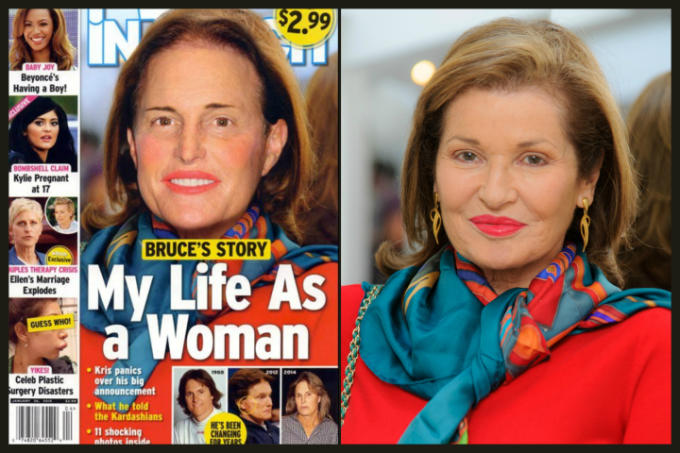 [via Bossip]