Thanks to a self-proclaimed professional drinker, we will soon have the ultimate booze-related garment.
TV personality Zane Lamprey, who hosts CHUG on the National Geographic Channel, channeled his passions for beer and entrepreneurship to create the Drinking Jacket: a zip-up hoodie that assists with your alcohol-consuming activities.
Funded through a Kickstarter campaign, the project has raised over $500,000 with an initial goal of only $50,000, meaning we'll be able to get our hands on one of these bad boys sooner than we thought.
As Lamprey explains in the promo video above, the hoodie is intended to keep your drinks cold, body warm, and hands free through a slew of "drink-tacular" features, like a neoprene-lined breast pocket, slip-resistant mitts, a bottle opener on the zipper, and a hidden pocket designed to conceal your flask. The design comes in charcoal, charred oak, and merlot colorways and is available in sizes small to XXXXL, as well as a "big and tall" version.
To learn more about the hoodie and how you can support the product, head over to the Drinking Jacket's Kickstarter page.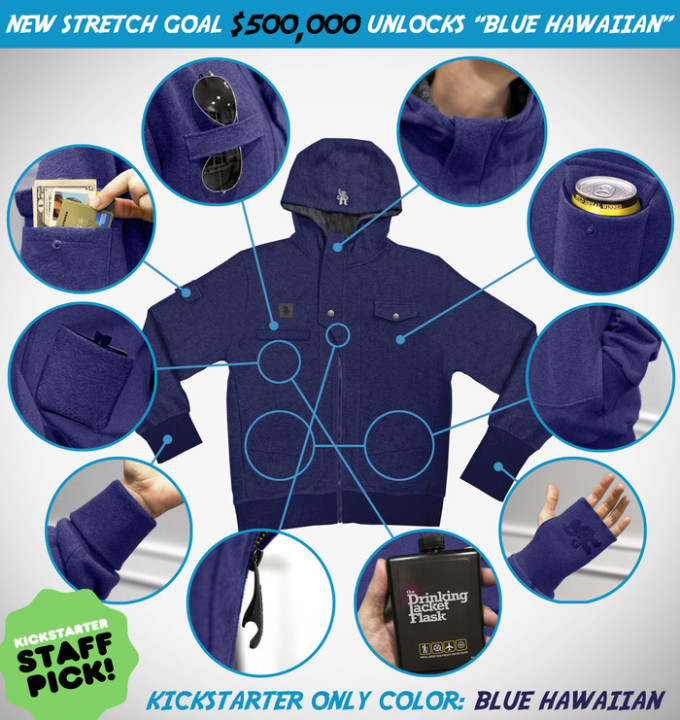 [via Elite Daily]