This feature is part of our week-long coverage of Frieze London art fair 2014, which runs from October 15-18 at Regent's Park and contains art from over 160 of the world's​ most exciting contemporary art galleries.
The Kinetica Art Fair returned to London for its sixth year but changed its dates and location to tie in with Frieze London. This year saw its base at the Truman Brewery, an edgier location in London's East End, which also hosted the Moniker Art Fair, the Other Art Fair, and the Contra Art Fair.
But the Kinetica Art Fair is not your typical fair—this is all about interacting with the works, which basically means getting to play with art. It's also a fair that is better seen in the flesh than viewed in photographs, but we wanted to give you a look at some of the incredible works that were on view at the fair this year.
The fair ran until Sunday, October 19 and featured over 50 exhibitors, as well as a number of performance pieces. Here's our pick of what you missed:
Karolina Halatek's Enter me offers a clear instruction to the viewer—enter the work to become part of it. The proportions of the arc mimic Leonardo da Vinci's famous work, the Vitruvian Man, and the arc rotates around the viewer.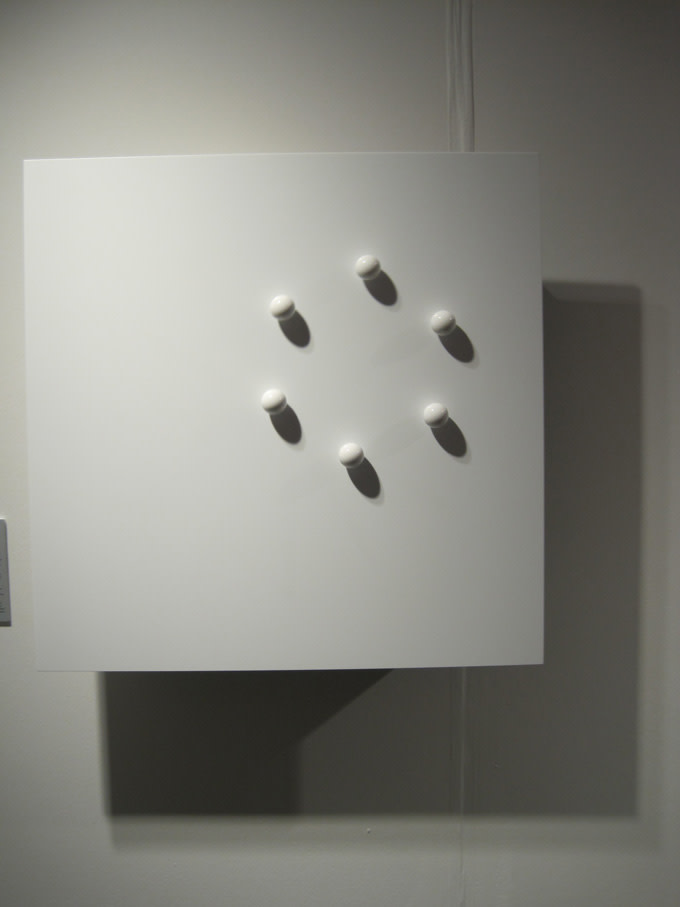 Tusi Couple by Daniel Gabana Arellano appears to show six white balls in circular formation, moving as a circle around a board. However, it's an optical illusion. When you focus on a single ball, you realize that the ball just moves in a straight path, up and down, and that all the balls follow a set path and aren't following each other around.
63|3D was created by Barry Hale, part of the artist-led organization Threshold. The work uses Abraham Zapruder's 8mm footage of the Kennedy assassination in 1963 and converts it into stereoscopic 3D, without the aid of computer manipulation.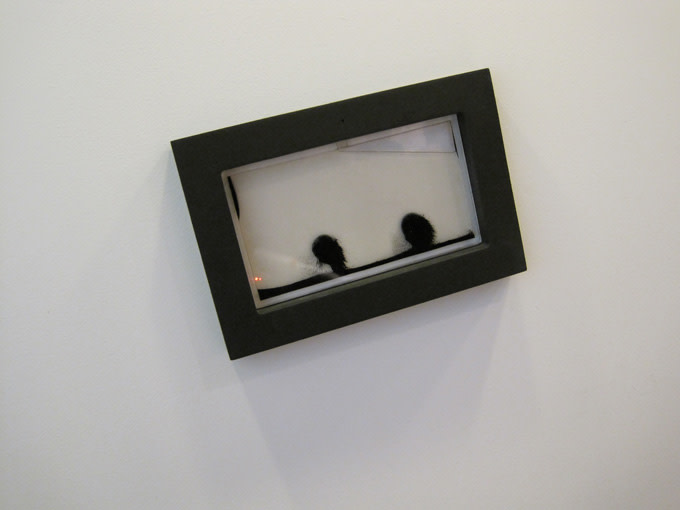 This work was created by the Interactive Architecture Lab, part of the Bartlett School of Architecture at University College London. As you approach the piece, its sensors detect your presence, and it moves around the wall.
Mari Prichard's Celestial Drawing features a suspended pendulum holding a bag of salt, which spins with a gentle rhythm, spilling salt on the floor below in a spiral. The work is inspired by Robert Hooke, a 17th Century polymath who used pendulums to model planetary movements.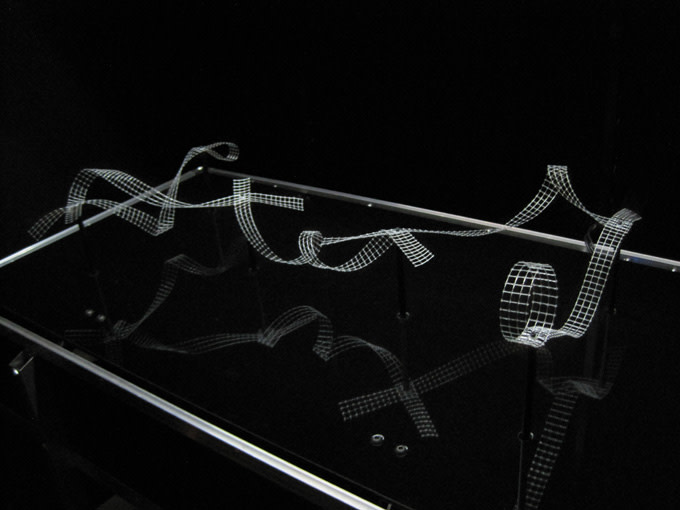 Quebec artist Maxime Damecour created a delicate sculpture called Temporeal. It is a surreal bending metal sculpture that uses strobe lighting to create the wagon wheel effect, making it hard to tell which way the piece is moving.
Mechanical Crow is a simple, yet beautiful wind-up bird made by the American artist Aaron Kramer, from wood and metal. If you look closely, you can see the handle you need to turn to make it move. The artist has had a long fascination with mechanical contraptions, sketching them since he was nine years old.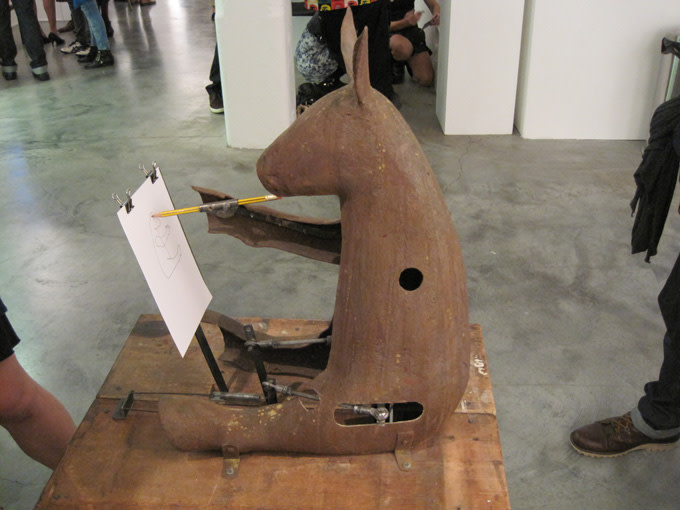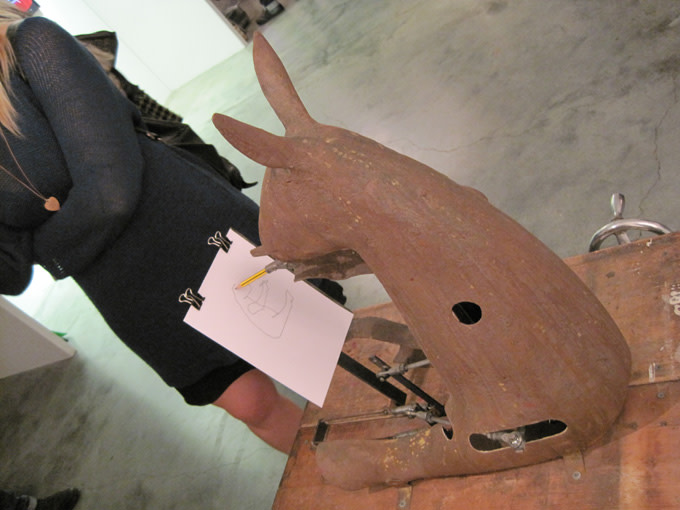 Tim Lewis' Mule make mule is another mechanical work, but in this piece, the mule draws a self portrait as you crank the handle. And it produces a pretty good drawing, too!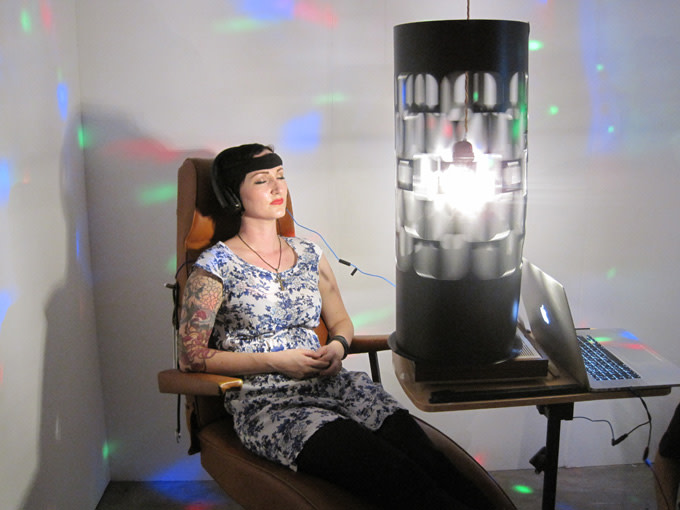 Digital artist Luciana Haill contracted viral meningitis as a teenager. Although she recovered, she was left with a newfound interest in the brain and how it works. For the fair, she has brought her piece Phrontirsterion for visitors to interact with. It uses a dream machine to provide an immersive experience for the viewer.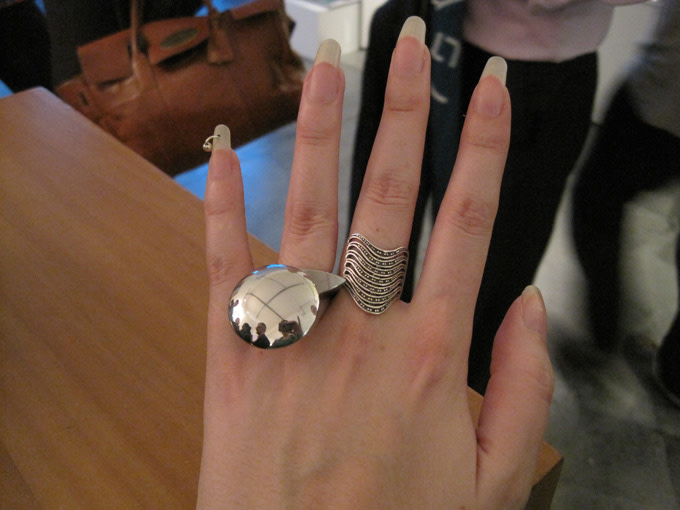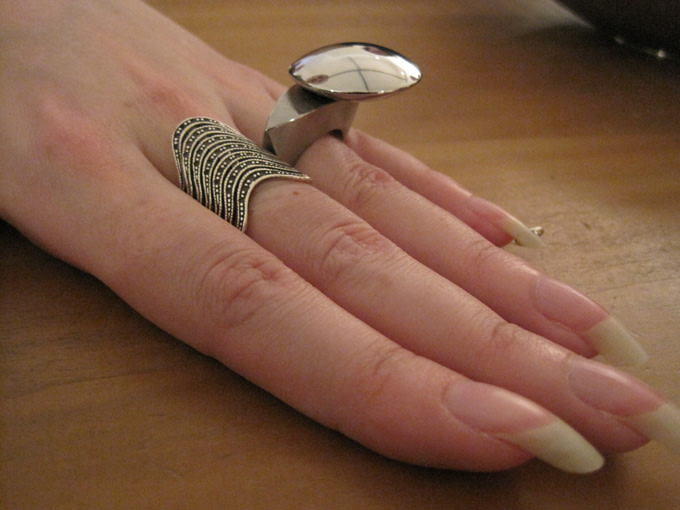 Many of the works at this fair were extremely large, and probably quite tricky to install in one's apartment. Luckily Düsseldorf-based Michael Berger came to the rescue with handmade art you can wear. His kinetic rings spin around as you move your hands, creating beautiful, and extremely portable, works of art.