The Smallest House in the World Is on Sale for $450,000
You could own the world's tiniest house for a not-so-small sum: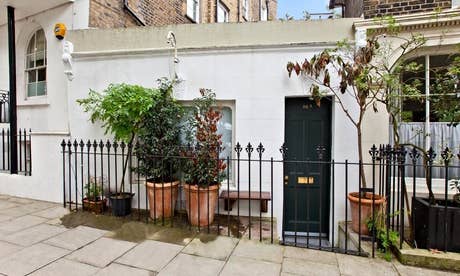 For $450,000, you can ome home every night, bathe while you pee at the same time in the toilet/shower, and crawl over your kitchen counter into your bed. Cozy.
The smallest house in the world is on the market for over four hundred grand. The 188-square-foot space is located in London's Barnsbury neighborhood and comes with the tiniest bathroom known to man, a lofted bed, and a raised living area for storage. Realtors might describe it as "charming."
"It's possibly the smallest house in the world," the real estate agent selling the house told The Guardian. "It's just been developed and put on the market. I think it will probably sell to an investor who'll let it as a short-let on Airbnb. It's a great crash pad for the area. It's got everything a house would have and the space is cleverly used. There's storage under the raised part of the living area, a patio out the front and a window. I've been to the property, and it's a really sweet house—it works."
The most expensive apartment in the world, a five-floor penthouse in Monaco, spans 35,000 square feet. That's about 189 times bigger than this tiny London flat, but it's also 860 times more expensive. $450,000 is starting to look like a good deal...
[via Gawker]