Wu-Tang's very own Raekwon performed live in London for Alife's Sessions series. To honor the rapper's performance, the NY-based streetwear label whipped up a shirt just for the occasion.
Alife's Session series began in 2012 as a spotlight for a variety of acts that are well known in their field, and in particular the realm of hip-hop. With former sessions including the likes of ScHoolboy Q, BADBADNOTGOOD, and (fellow Wu-Tang member) Ghostface Killah, it comes as no surprise that the legendary Raekwon was asked to head across the pond to participate in the newest Alife Session. The concert was held on August 23 in partnership with London's Foot Patrol, and was Alife's first Sessions event overseas.
Of many aliases, one of Raekwon's better known is his moniker as "Raekwon the Chef." The t-shirt plays on this nickname by featuring an image of feast, comprised of lima beans, carrots, a roast turkey, and pie, across the front of the shirt. Much like the other Session tees, the shirt features information on the show's location on the sleeves, and the event's sponsors on the chest.
The show may have already happened, but if you're interested in getting your piece of the concert, hit up Alife New York or Foot Patrol's shop in London.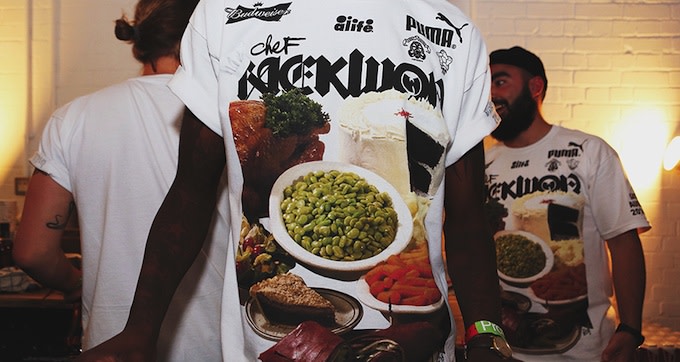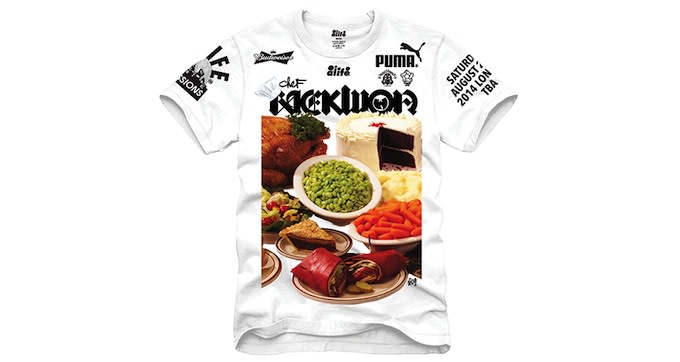 [via SlamXHype]