The double-sided Crack Is Wack mural in New York is one of the most famous Keith Haring works of all time. Completed in the summer of 1986, the priceless handball court mural still greets drivers on the FDR nearly three decades later, and while most people can identify it as a Haring piece, not many people know the story behind the very important art. 
Matthew Israel, director of Artsy's Art Genome Project, wrote an article for Huffington Post about the inspiration for the mural, how Haring managed to create it without permission, and how the imagery has changed from its original version. According to Israel, Haring's studio assistant Benny became addicted to crack cocaine in the mid-1980s, and it was difficult for his friends and family to help him kick the habit without insurance or assistance from hospitals. Haring drove by an unused handball court one day and decided that the wall would be the perfect billboard for a mural. Israel quotes the artist as saying that he was "inspired by Benny, and appalled by what was happening in the country, but especially New York, and seeing the slow reaction (as usual) of the government to respond, I decided I had to do an anti-crack painting."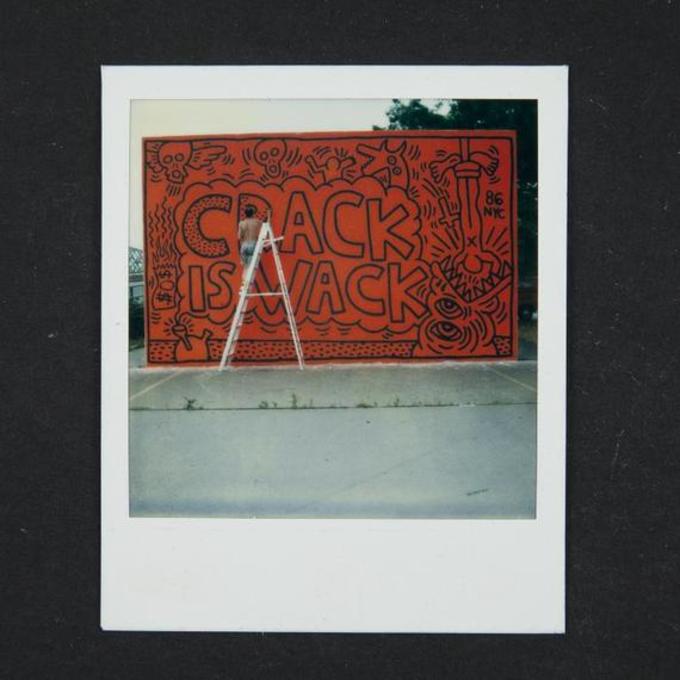 Without permission, Haring rented a van and drove to Harlem with his materials and finished the entire mural in one day. "When you have a van, ladders, and paint, policemen don't even consider asking whether you have any permission, they just assume you do," said Haring. While he and his friends were smoking and taking pictures of the wall, a cop showed up and arrested Haring for painting illegally. He was facing up to a year in jail, but the popularity of his art saved him. Crack was a major issue in the United States at the time and the message of the mural spoke to people. Haring's mural was seen on television and in print media whenever the topic was discussed, and the attention resulted in a reduced fine and zero jail time for the artist. 
Israel also explains how and why the original mural changed into what New Yorkers are familiar with today. "Someone in the neighborhood turned it into a pro-crack mural," he writes. The vandalism resulted in a full buff by a worker in the Parks Department, and Haring was asked to start the mural again. Save for restoration work in 2007, the piece has remained the same ever since and is still one of the most important public murals in New York, maybe even the world.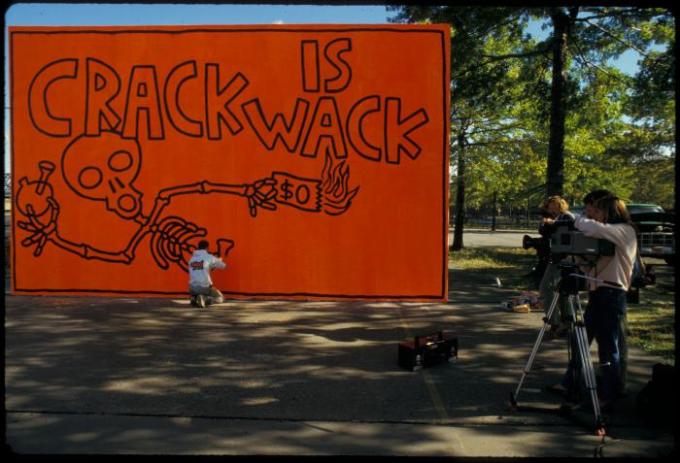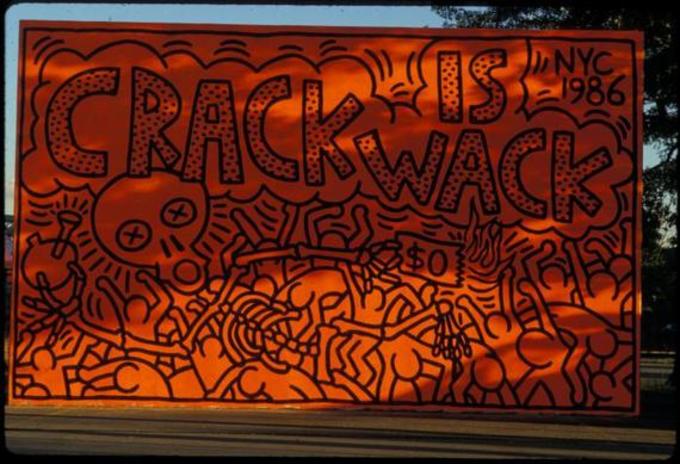 [via Huffington Post]