Since 2005, Gourmet have set out to further blur the lines between fashion and streetwear, not just from an aesthetic viewpoint, but on a performance level also. From the beginning, function and style were paramount for all three facets of the brand, whether that was found in the now-defunct made in Italy clothing line, or the $45,000 handmade jewellery, right up to the footwear line for which they are internationally known. 
From humble beginnings running a skate store on the US West Coast, co-founder Greg Lucci has been trying to imprint his Italian-American swagger on streetwear forever. There is no doubting his influence on the sub-genre, with Lucci working with adidas Originals in the late 90s, and as a buyer for Fred Segal during the same period, right up to collaborations with brands like Crooks & Castles, Black Scale and Pepsi. Complex caught up with Mr. Lucci on a recent trip to the UK for Jacket Required, London's biggest menswear trade show, where, with an eye on next year's 10th anniversary of the brand, he talked us through Gourmet's history.
Tell us a bit about the store you had back in the early 90s. 
I had a store a skate shop called Chaos in Santa Monica. It was the beginning of that counterculture—it was a skate shop before skating was popular. It was the beginning, I guess, of modern-day streetwear.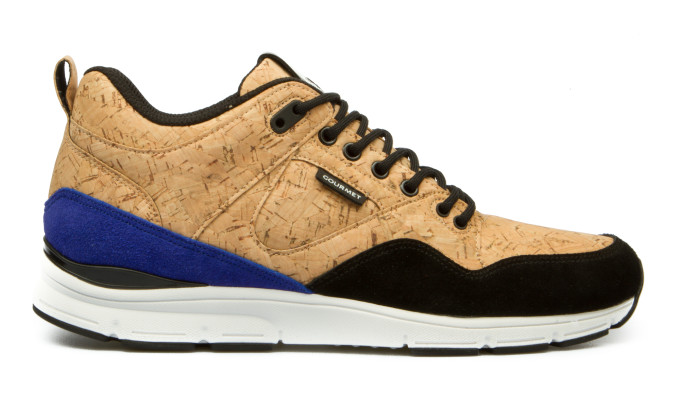 You're saying skatewear is the original streetwear?
Exactly. Rodney Smith started Zoo York back east and I distributed it on the West Coast as an East Coast kid. It was basically after the era of East Coast kids buying into West Coast counterculture brands. West Coast kids were starting to see things come outta the east and I basically set that shop up as a blend of both, but it was heavy with the East Coast stuff that kids out in Cali had never seen before. It was eastern, darker, more city-based stuff and skateboarding at the time, and all those counterculture brands, were so fluffy and Cali. There was a big surf influence on the West, whereas New York was straight city, straight skateboarding, but it had more of an eclectic edge to it. It was just a different lifestyle and the product reflected that.
Were you always into shoes back then?
Yeah, absolutely. You skated in the Jordan I, the Dr J, all the cup-soled suede stuff like adidas, Puma, etc. That's when the burst of skate shoe companies happened—etnies, DC, etc. It was a frenzy of skate-shoes that were all based off those classic shoes. It was independent, but it was definitely a counterculture thing as those alternative sports weren't about supporting the big corporate thing, it was like, 'Oh shit, this is for us.'
All those counterculture footwear companies took off, through that platform and that spirit of skateboarding, but then all the big boys tried to jump in the pool, and the first time they all did it they got rejected by the scene. I even remember Reebok during that time in the 90s, running an ad in a skate mag, saying "They Tried, They Failed", it was fucking insane, ha ha. Now it's not a counterculture any more, it's not a trend that passes—this shit is here to stay.
So, when did the idea for Gourmet come around?
When I moved back to New York, I decided to do something that related to my culture growing up on the East Coast. Something that wasn't rooted in sport necessarily, but something that was more of a reflection of who I am, an American-Italian-spirited thing. It was about taking the beautiful things from the cheapest things in life, and the beautiful things from the most luxurious things in life, and from a style perspective looking at where those two things meet in the middle.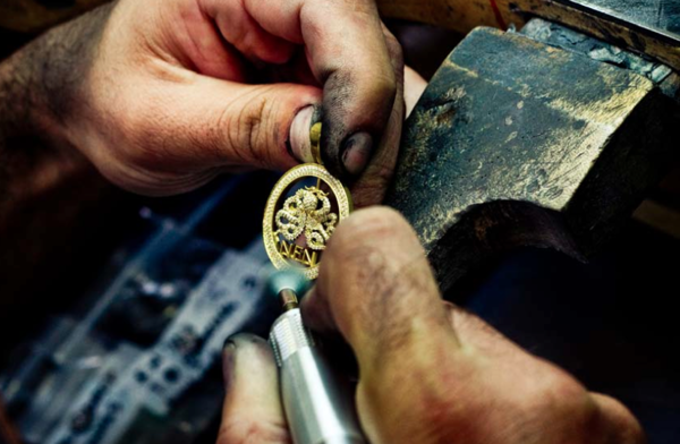 So, you wanted things to be functional, but at the same time have style and a bit of class?
Absolutely. I never understood from an early age, as somebody who was athletic, why the best functional things looked so god-awful. It was like the two worlds had never really met. The pursuit of making something that works, and also having it look good, was a big quest of mine. 
So, when we started out we made apparel in Italy. The concept was to make classic American sportswear, but executed by the finest factories in Italy. We did a high-end jewellery line, and we made sneakers, all at the same time. We had the Dior knit factory, the Missoni yarn factory, and I'm over there making sweatpants with them and hoodies out of Missoni bikini yarn; baseball and basketball jerseys that are Thinsulate-filled like windbreakers, made out of Moncler nylon. It was literally American sportswear but executed on an Italian luxury level.
So it was about the highs and the lows. The aesthetic was cheap American sportswear, but the execution was Dior, high-fashion. The shoes were just cheap and canvas, but the jewellery was the best you could do. That's what Gourmet was about, the high and the low, and how you put that together. It was an aggressive vision, that I think we did very early. Where we went wrong, was presenting Gourmet in divisions. But, through the success of the footwear we kept doing those lines for a number of seasons, but we never lost track of our vision. We just took it and we narrowed it into one product—footwear. 
So, from the three lines, we're fairly sure you're happy you stuck with footwear?
Absolutely. Footwear makes me happy—it all makes me happy. I'm just intrigued by the industry. Through the journey of all this you realise this is not about you, this industry truly is all about your people. None of this could be accomplished without the right people and the right team. Careers may start out as individual things but to really put your thing out there it takes family.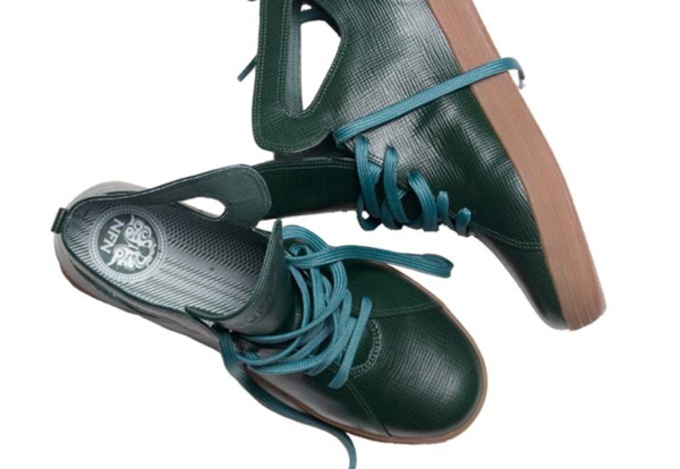 And one of the first models was kind of an Air Jordan homage, right?
Yeah, the original sneakers were obscure pulls from the Jordan line, but re-lasted on an Italian dress-shoe last. [Re-lasting is the term used when taking an old shoe style and applying a different shape using a different last—the object that shoes are built around.] They were made in China, but the fit was more bespoke. We took the bulky basketball silhouette and we refined it. The entire thing was canvas, and it looked like an obscure Jordan, but it was just block-coloured canvas, sat atop of a white sole. It was  afashion play and I think it struck a chord with people, not as a knock-off of Jordan, but a different way to look at a certain culture and bring it into a different arena. That's what we were trying to accomplish and I think that resonated. You recognised it, but when you put it on it was different, and it was more fashionable than an actual basketball shoe.
It was almost the dumbest form of the concept, like take something that looks like an iconic sports shoe, but refine it into something that's fashionable. Imagine the idea of a running trainer that you can run in, but it's made out of Chanel handbag patent croc from Italy, and that's where our mind's starting going to. I grew up in New England, and the duckboot is an iconic rain shoe, and it was like, what if that was a mid-top and you can wear it with some pants, add an airbag to it with a turf cleat bottom to show athleticism, you know? What if we took Horween dress-shoe leather for the uppers. That's where we went with the evolution of that basic idea and building a complete footwear line with that ideology.
And people got it?
People got it right away, which I was surprised about. I think the first season we made 1000 pairs of shoes, just to see what would happen, only at a handful of accounts, some of which sold out in a couple of hours. Season two we made 13,000. So yeah, people got it, ha ha.
Do you think people get Gourmet here in the UK?
I love the way it works in London, I love the way it works in Europe. I've been working with the a number of names* guys since day one. It's different here. I think the consumer is a little more educated, there's more of a fashion IQ here. They're educated about the brand. When you walk into an account here, whether it's size? or Harvey Nichols, the breadth of the brand is available. So, you can understand what the brand is all about.
Let's talk a bit more about that clothing line that was made in Italy.
I remember going to Italy with my partner, with all these tech packs—full China-ready-style, all overly detailed. Tech packs tell the factory how to put the pieces together. When I showed up at the first factory—a multi-generational family-run business that do a lot of runway pieces—and the mother of the kids who run the factory is there and she is going wild, speaking in Italian and I'm like, 'what is she saying? Is something wrong?' And they look at me and say, 'My mother wants to know what is this shit she's looking at?' And I'm like 'This is a tech pack!' They're just waving their finger at me. Literally at that moment, the fax machine went off in the office and it was a piece that got faxed from Dior and it was the most horrible pencil sketch of a jacket and they put it on the table, 'Can you do that?' And I'm, 'Yeah, that's all you need?', I was thinking like HALLELUJAH. Then I could go to Italy and have a pencil with me and create there. That was amazing to me, not so amazing that nobody understood the collection back then, but amazing to have that opportunity.
What can you tell me about your distinctive logo.
I think the creation of our icon and our logo was one of the best things for me. A friend of mine, Omar, in New York did it. We had the idea of the octopus, we wanted it to be very timeless, we wanted it to be hand-drawn, we really took our time with it. NFN was the name of the first corporation we ran the Gourmet business under. It stands for Not for Nothin'.
Read more from Dylan Hughes at The Oracle