Nearly 45 years ago, legendary architect Frank Gehry designed an office building in Columbia, Maryland to serve as the new headquarters of the Rouse Company. Gehry once referred to the 150,000-square-foot lake shore building as an "elegant warehouse" with its redwood trellises, four levels, and steel frame. When the company left the space, it was neglected for many years until the new owners, the Howard Hughes Company, stepped in and announced that the space would be renovated and transformed into a Whole Foods Store.
According to the Architect's Paper, the project cost an estimated $25 million to complete. Cho Benn Holback + Associates removed the third floor so that the second level could house a much taller grocery store, while the first level will become the site of a "wellness center and retreat," and the fourth will feature office spaces and a Howard Hughes exhibit space. A new main entrance had to be created, as well as another secondary entrance and elevators for shoppers. Hughes reportedly tried to find a company that wanted to use the entire space for their operations so that most of Gehry's design could be saved, but that didn't work out.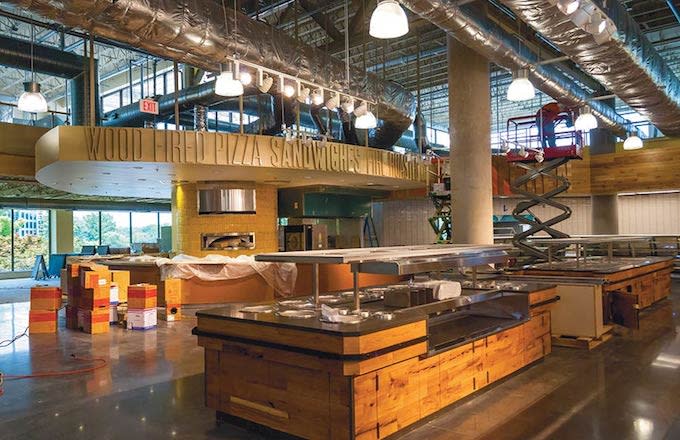 "The development efforts by The Howard Hughes Corporation will transform Downtown Columbia, and landing Whole Foods as an anchor is akin to leading off the game with a home run," said county executive Ken Ulman to Dezeen. "Having Whole Foods at the Rouse Building also achieves our objective of preserving and highlighting this Frank Gehry original."
Check out the video below of the building before the conversion and compare it to the images above of the newly designed space.
[via Dezeen]