Gus Kenworthy Is Living His Truth
The first openly gay action sports athlete speaks on his struggles in the closet, the liberation of coming out, inspiring the LGBT community, and capturing gold in Pyeongchang
By Macklin Stern
---
Diaries From A Parked Car
The year is 2011. Gus Kenworthy sits in his car on the side of a road in Park City, Utah. The U.S. Olympic skier needs to be away from everything: the judgments, the voices, and the pressures of the outside world. Tears stream down his face as he hunches over the steering wheel, hands clasped around the cold leather. He slowly lifts his head, takes a deep breath, and turns to the man in the passenger seat.
"I'm gay."
For the first time in his life, the then-18-year-old utters the two words he had always been terrified to say. His audience? Michael Spencer: Gus' agent, friend, confidant, and "second dad."
"I love you no matter what," the Wasserman agent replies. "You're my guy. However you want to handle this, I'm here for you. I'm in your corner."
Fast-forward to today, the now-26-year-old sits in an industrial freezer near downtown Denver where he prepares to open up about his unprecedented journey. Enduring the subarctic temperature after shooting a mini doc for Complex, Gus holds a cup of chamomile tea near his lips.
He takes a sip, rests it gently on the ground, looks up, and confidently says: "I'm ready."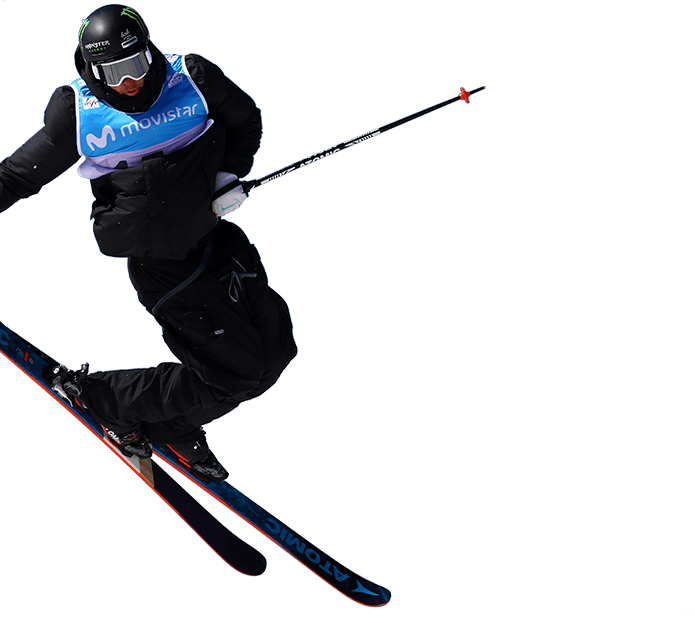 The Come Up
Born in Chelmsford, England, and raised in Telluride, Colorado, Gus Kenworthy spent most of his childhood immersed in the snow. It's not often a parent and child learn how to do something for the first time together, but Gus and his mom fell in love with skiing when he was 3 years old and she was 40.
"Our ability level was about the same," Gus remembers. "She would sing to me on the chair lift, I would fall asleep, and she would wake me at the top… It was kind of our special bonding time."
Before long, Gus attended his first X Games as a spectator—appropriately, with his mom—and credits the experience as the moment he realized he "needed" to ski for the rest of his life.
The path to the pros in America's major sports, while difficult, is uniform. Play AAU or travel ball as a teen, get recruited by Division 1 schools, enter the draft, be selected, and the rest is history. To become a professional skier, the journey isn't so stipulated.
In high school, Gus submitted a video of himself nailing jumps for a competition in Sweden. It garnered thousands of views online, putting him on the map and landing him several sponsorships. Michael Spencer caught wind of Gus' talent and approached him at a trampoline park at Copper Mountain (Colorado) in 2006.
"Obviously I knew about him," Michael reflects. "He was an amazing halfpipe and slopestyle athlete. You don't get those very often. There's been few that have been able to do both at the highest level."
Michael signed Gus shortly after. While they jelled from the jump, Michael remembers when their bond really began to tighten. Gus twisted his ankle badly that summer and crashed at Michael's place in Utah to get it checked out.
"[He] stayed with me for five days over July 4th weekend. My kids were there, he fell in love with my dog," Michael says with a smile. "He loved the dog."
The recuperation weekend transformed into a retreat. It allowed Gus and Michael to spend time outside of the competitive skiing world, building the foundation for a relationship that would prove its durability upon Gus' revelation.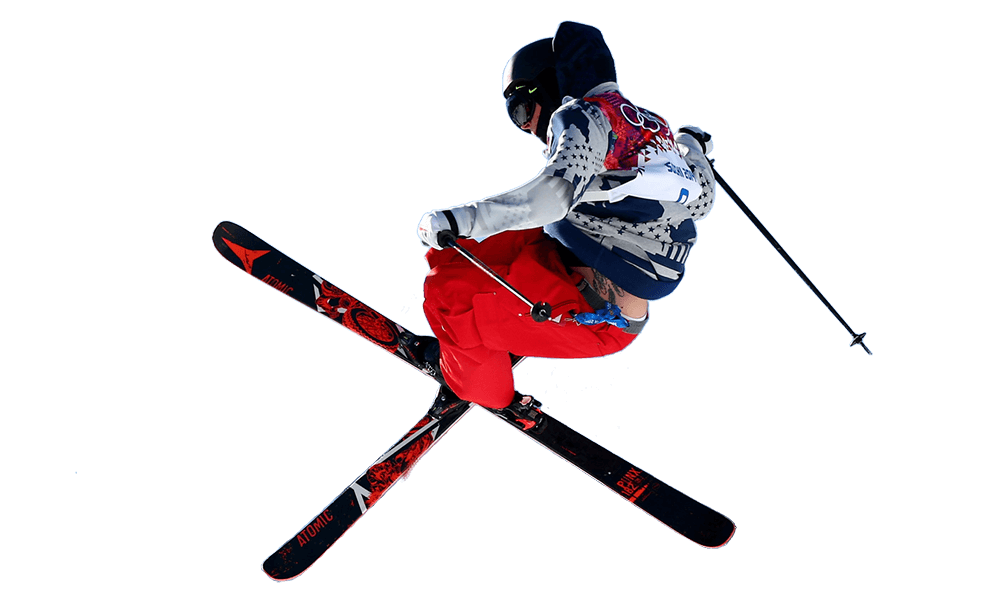 "I was really scared for anybody to find out [I was gay]. I didn't know what it would mean for my position in the industry, and I just didn't know what it meant in general."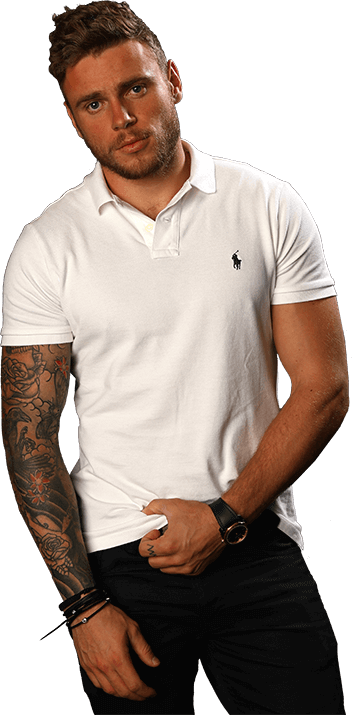 Gus' Truth
Dating back to elementary school, Gus was cognizant of his sexual identity. He remembers effeminate kids getting picked on in hallways and classrooms, and the treatment led him to believe that being gay was some type of "shortcoming."
The slopes didn't present much of a safe haven either. No skier had openly come out as gay. Not a single one. And that held true across all action sports (surfing, snowboarding, BMX biking). So, Gus feared rejection.
"I was really scared for anybody to find out [I was gay]," Gus admits. "I didn't know what it would mean for my position in the industry, and I just didn't know what it meant in general."
Gus also explained the expectation for young male skiers to hook up with girls. That air of masculinity, coupled with his fear of rejection, forced Gus to sit on his truth.
"I have great memories from my childhood and teenage years, but I think there was a lot of pain [surrounding] them. I had a lot of pressure on my shoulders, and a lot of it was internalized from being in the closet."
Compartmentalizing skiing, school, and his identity crisis was necessary. It even worked to a degree. Gus was a tremendous student and an Olympic-caliber athlete, but the inner turmoil began manifesting itself in his performance and preparation.
"Every athlete has their nervousness, but there were certain events where it would get to an extreme with Gus, beyond anything I've ever seen," Michael recalls. "Throwing up, shivering. Not because he was cold, but because he was anxious."
Michael noticed Gus' lack of focus and erratic behavior during the 2011 European Olympics. Shortly after the poor showing, the two had their roadside chat in Park City.
Gus expressed anger about homophobic comments made by employees at a company that wanted to sign him to an endorsement deal. That's when he broke down.
"I just started crying, and I came out to [Michael], and he was so supportive… He kept the secret for five years, until I was ready to come out to the world."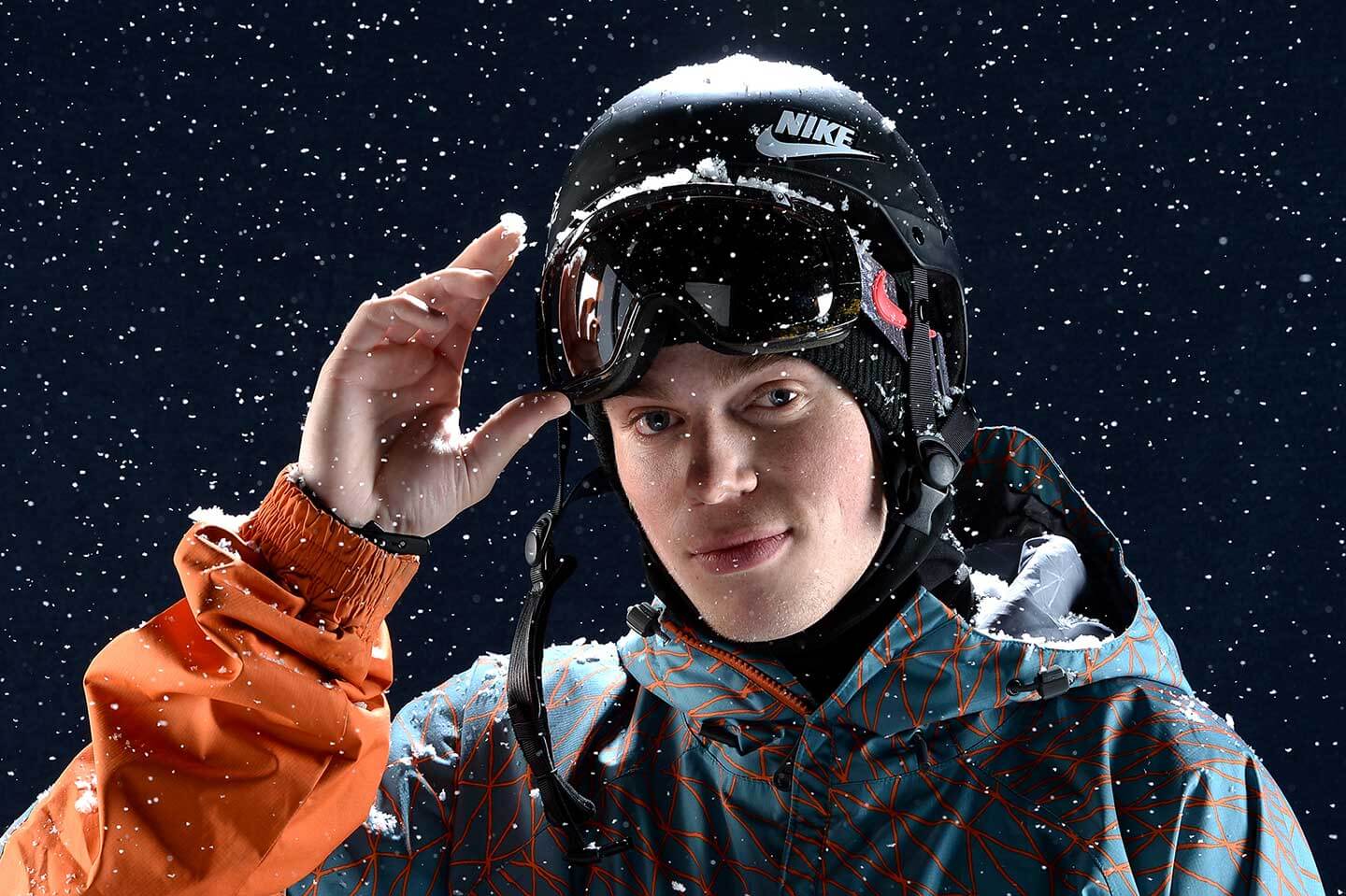 The Bland Taste of Silver
Gus qualified for the Winter Olympics for the first time in 2014, three-and-a-half years after coming out to Michael. Although the then 22-year-old wasn't favored to medal in Sochi, the Olympics was still an intimidating beast.
"I feel pressure [at] every competition, but with the Olympics, it's a different kind of pressure," Gus says. "You're competing for yourself, your sponsors, your family, your country. You don't want to waste an opportunity that comes only once every four years."
Gus seized the moment, taking home the silver medal in the slopestyle event, which instantly turned him from unknown to national hero. But for someone hiding a significant piece of his identity, the overnight fame brought just as much stress as it did elation.
"I would get asked who my celebrity crush was," Gus recalls. "Instead of being out, having the courage to say, 'No, I have a boyfriend,' [I'd respond] 'My celebrity crush is Miley Cyrus.'"
The more interviews he conducted, the more he had to conceal certain aspects of himself. This would affect his relationship with his then-boyfriend, whom no one knew existed.
Also complicated by Gus' hidden homosexuality were his efforts to rescue stray dogs in Sochi. His photos with the dogs went viral during the Olympics, and he later made the cover of People, where he was heralded as a puppy savior. However, it was his ex who did much of the legwork—figuring out how to bring the dogs home, taking the initial IG photo—while Gus focused on the slopes. To prevent suspicion regarding this mysterious man, Gus accepted the credit, which generated a lot of resentment.
The biggest blow for Gus came after he and his ex devised a plan to protest controversial anti-gay legislation in Russia. Gus would finish his slopestyle run and meet his ex at the bottom of the mountain, where they would kiss. Not only would Gus flip the proverbial middle finger to the Russian government, but he would also come out for the first time. The Hollywood-worthy kiss never happened.
"It all just caused a huge rift between us," Gus says. "Because of that, I don't think I really appreciated the silver medal. I wasn't able to talk to anybody about how I was feeling, and I felt horrible about myself."
The skier's personal and professional lives intertwined to an extent they never had before. As hard as he had tried to maintain a separation between the two, his Olympic success rendered that impossible.
The dilemma weighed heavily on Gus for the next year, and it came to a head after the 2015 Winter X Games. He was all-but-guaranteed to medal in at least one of the three disciplines he competed in. But instead of standing atop the podium at the weekend's close, he watched from a distance. Empty-handed.
"I don't want to ski anymore," Gus recalls telling Michael. "I am over getting judged and not getting to be myself and not getting to open up to people about who I am."
Even Michael, the man who knew Gus better than anyone, couldn't believe how dejected he was.
"For the first time through all the years I had known him, I was actually kind of nervous for Gus," Michael explains. "I was afraid he was going to do something drastic."
So Michael responded with compassion. He supported Gus' decision to quit, but encouraged him to do so on his own terms. Moreover, he viewed the crisis as an opportunity for Gus to lower his guard and compete without boundaries. What did Gus have to lose at that point? The pep talk inspired him.
"My goal became to give the [rest of the] season 110 percent, and then at the end of the year, be ranked No. 1… and I would come out then."
Months later, Gus snagged the No. 1 ranking. There was only one thing left to do.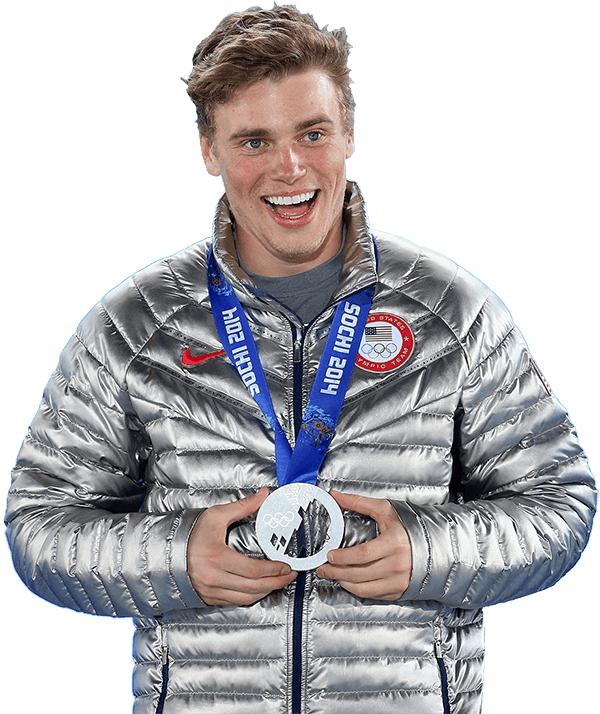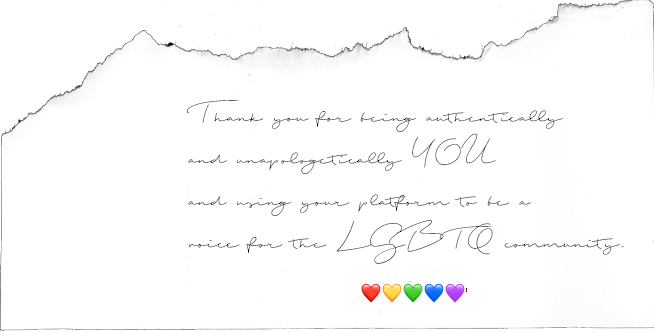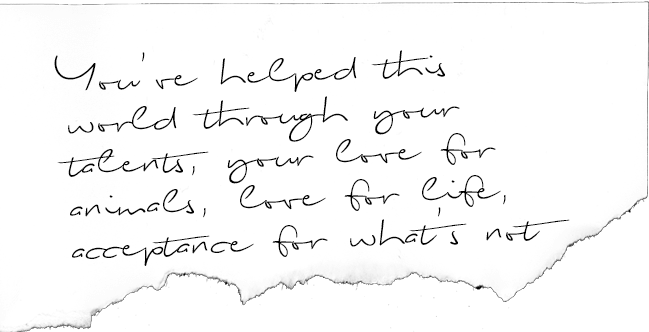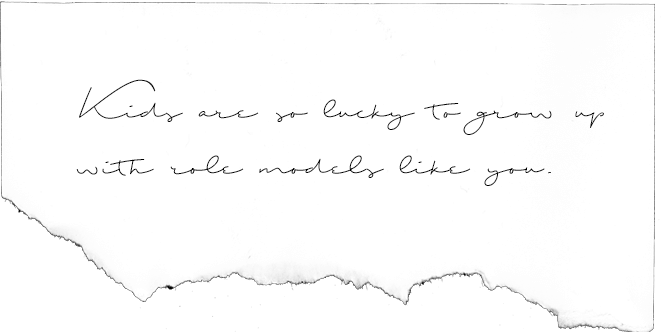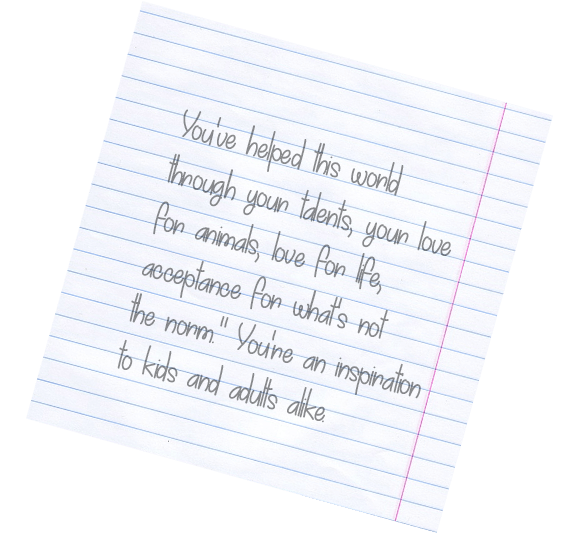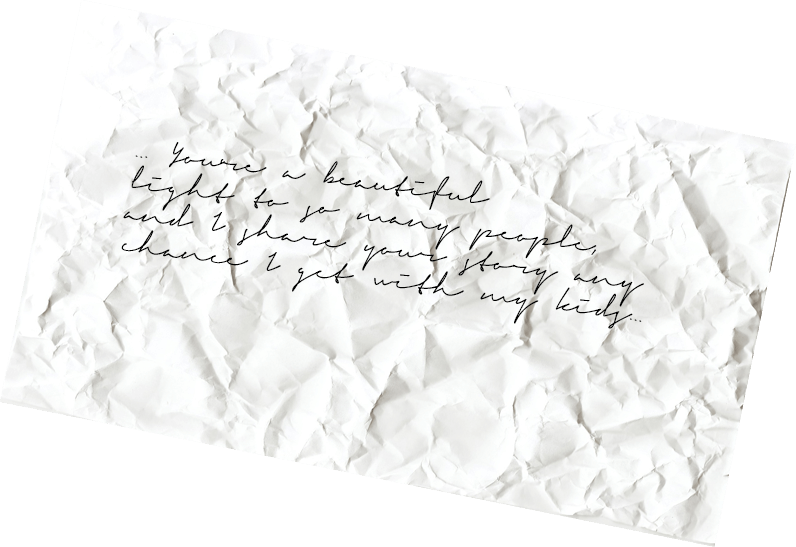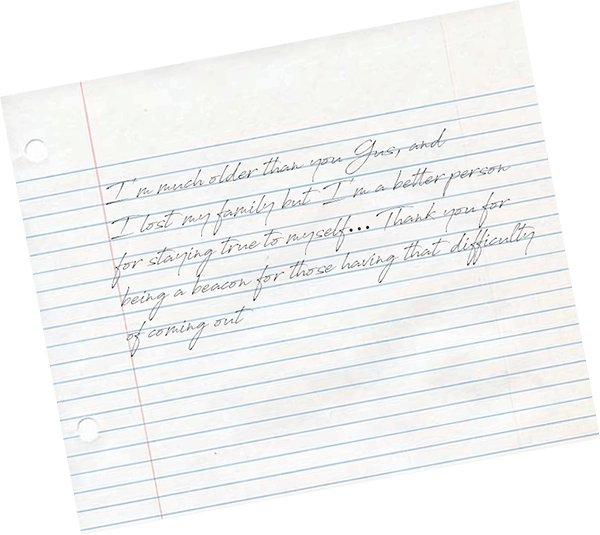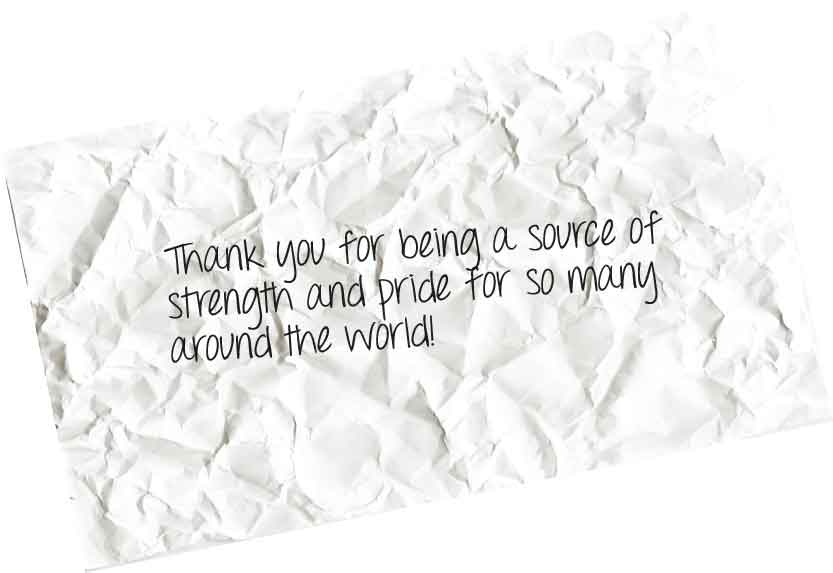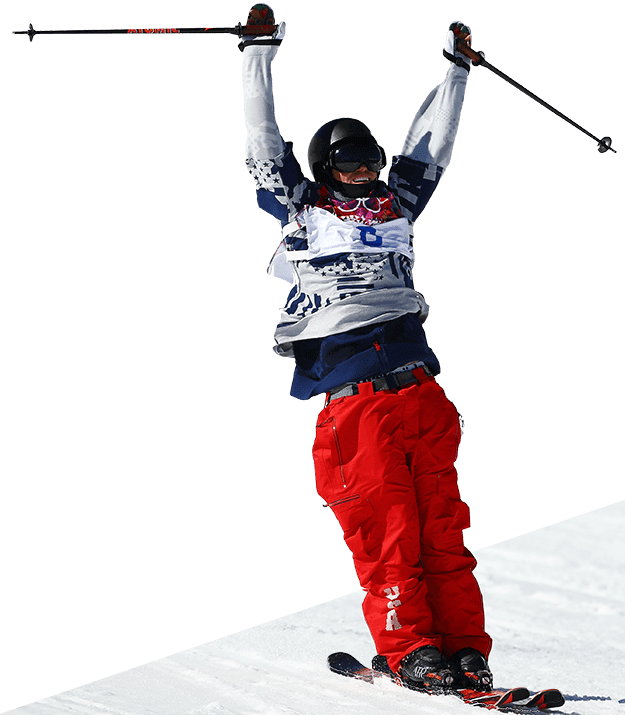 The Power of a Story
On October 22, 2015, 23-year-old Gus Kenworthy conquered his deepest fear and came out to the world in ESPN The Magazine. "I am gay… Wow, it feels good to write those words," Gus wrote in an Instagram post when the cover dropped.
A few months later, Gus avenged his 2015 Winter X Games disappointment by taking home two silver medals.
"I've just felt so free and liberated [since coming out]," he beams. "I think the sooner you can love and embrace yourself, the sooner the world can love you and accept you for who you are.
"I've always been the gay skier, I just wasn't the out gay skier… This is the Gus I hoped I could be one day—my true self."
With action sports finally having its first openly gay athlete at the forefront, there is now a model for kids and adults. One that Gus did not have growing up, and one that he believes would have encouraged him to come out sooner.
Of course, Gus is thrilled he's inspiring so many others to follow along the trail he's blazed. Since his revelation, people have flooded his mailbox and social accounts with thousands of messages of support. That includes 44-year-old newspaper columnist Wendle Whiting, whose personal essay "I am Gus" from 2016 cited Gus' bravery as the catalyst for his coming out—which Whiting did publicly for the first time in that same Aspen Daily News article.
Gus himself frequently posts messages on Instagram and Twitter to remind people struggling with their identity that they are not alone, and to empower them to speak their truth when they're ready.
"Competing in the Olympics as an out, proud gay man, and to compete for the LGBT community— that is my biggest goal right now."
2018 and Beyond
As the freezer room chat was about to begin, Gus sat in silence. He scratched his face, tugged his collar. He was nervous. The Olympian had already come out, but that didn't mean talking about his sexuality to a bunch of strangers would be anxiety-free. He programmed himself to hide it for 23 years of his life, after all.
"Gus, what's your favorite movie?" a producer asked to gently knock down his guard. "Mean Girls," Gus replied. A fan myself, I jumped in. "Who's your favorite character?" He looked at me sideways and responded, "Cady." Judging from his tone and expression, "duh" was also implied.
Why that character from that movie? And why was he so matter of fact about it? Well, they both had inherent, secret "differences" baked into their high-school experiences (Cady being a nerdy math geek from Africa, Gus a gay teen), the revelation of which would threaten "social suicide."
It wasn't until they both said "F*** it," and embraced their differences that they started living their truths. And became happier, in the process.
It makes sense Gus identifies with this character so much. Of course, his movie isn't finished. He will represent Team USA in the slopestyle event at the Winter Olympics in Pyeongchang, and attempt to win his first gold medal. This time, Gus isn't letting the moment slip away.
"Competing in the Olympics as an out, proud gay man, and to compete for the LGBT community—that is my biggest goal right now," he says. "[I want] to show people that nobody should be crippled by fear in the closet because it's a lot brighter on the other side."
Michael Spencer, as always, will be in Gus' corner.
"Something tells me that what he does for the rest of his life may be more impactful than anything he's done to date," Michael says.
Olympics aside, Gus has made cameo appearances in ABC's The Real O'Neals and the cult-classic Sharknado series; stripped down for ESPN The Magazine's Body Issue; received an HRC Visibility Award as a prominent voice in the LGBT community; and more. To say the sky's the limit for Gus would be cliché, but based on his resume, it wouldn't be a stretch of the imagination.
"Gus is such a thinker, and he's so smart," Michael says. "To be such an intellect, to have his heart, and to be that genuine. I think the story is still being written on Gus Kenworthy."