EXCLUSIVE: Mookie Betts Tops the 2021 MLB Jersey Rankings
The Dodgers' right fielder owns the most popular jersey in baseball as we approach Opening Day. See which stars finished behind Betts in the annual rankings.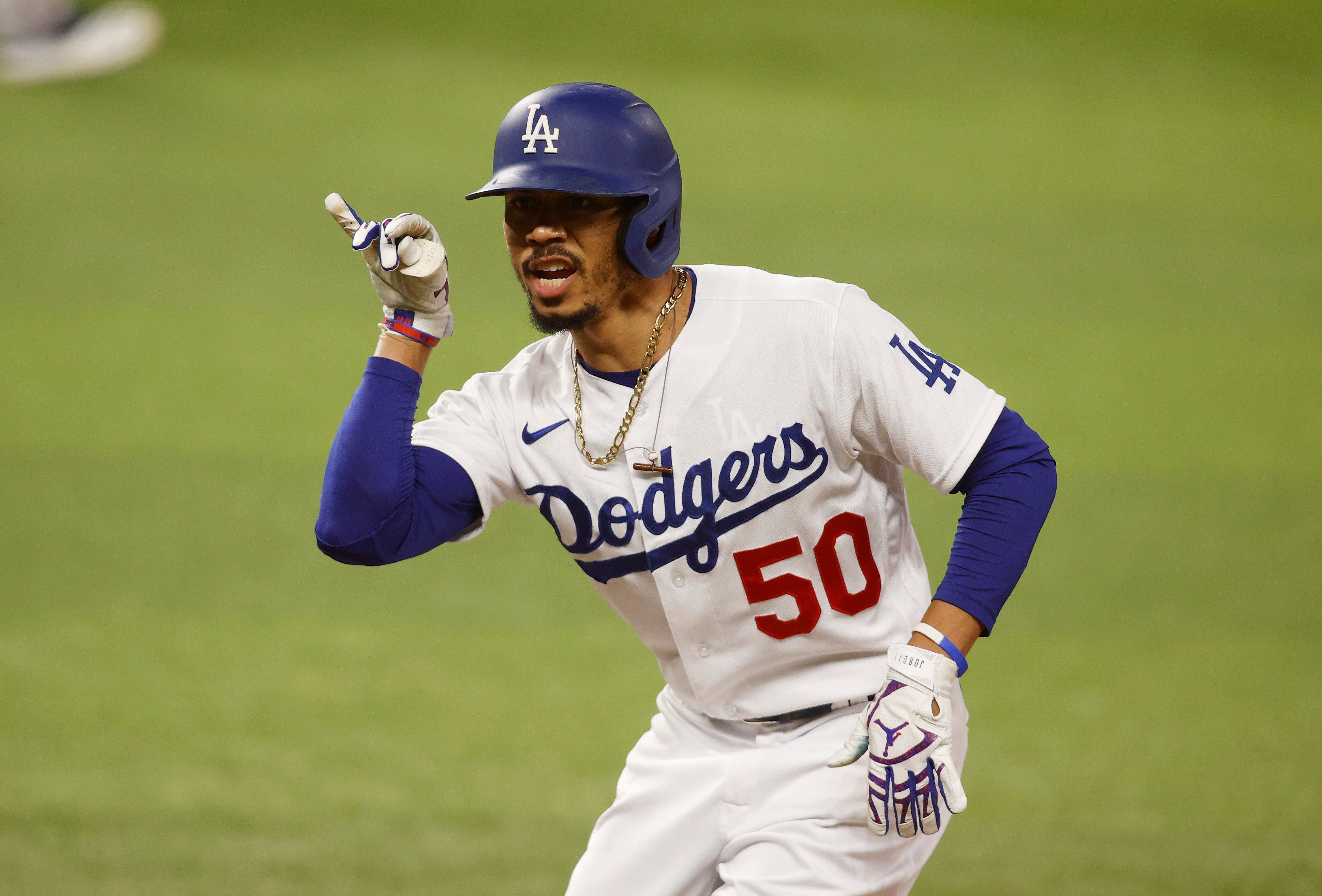 USA Today Sports
Oct 18, 2020; Arlington, Texas, USA; Los Angeles Dodgers right fielder Mookie Betts (50) reacts after hitting a single in the first inning against the Atlanta Braves during game seven of the 2020 NLCS at Globe Life Field. Mandatory Credit: Tim Heitman-USA TODAY Sports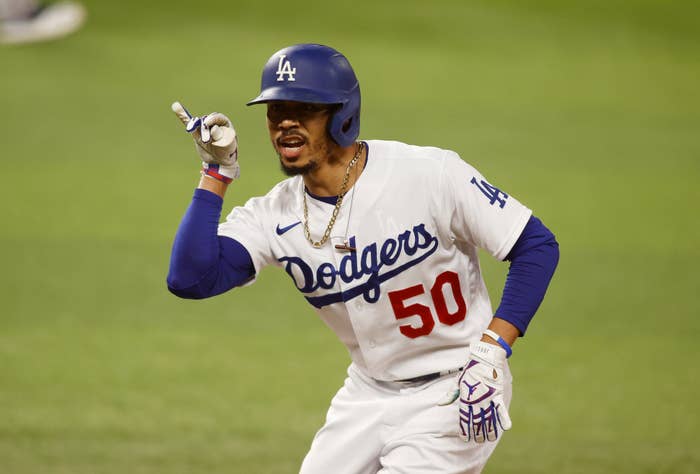 Mookie Betts ended the 2020 season head and shoulders above everyone else in baseball. Ain't much changed six months later. 
Cementing a universal appeal that makes him one of the most enjoyable players to watch on top of his status as arguably the sport's most dynamic superstar, the celebrated Betts gets to add another accolade to his stacked resume as Complex Sports exclusively reveals that his No. 50 Dodgers jersey is baseball's most popular.
Betts, entering his second season in Los Angeles, beat out his Dodgers teammate Cody Bellinger and stud Padres shortstop Fernando Tatis for the top honor.
The annual jersey rankings, released jointly by MLB and the Major League Baseball Players Association, are calculated from mlbshop.com sales following the end of the 2020 World Series that the Dodgers won in six games over the Rays. Betts, you'll remember, completed an epic first season in LA after the Dodgers acquired the right fielder in a trade with the Red Sox. He lived up to the hype and then some—hitting .296 during the postseason and clubbing a pair of homers in the Fall Classic, Betts helped deliver the Dodgers their first championship since 1988 and completed some unique history. According to the Elias Sports Bureau, Betts became the first player in baseball history last season to win an MVP and a World Series with two teams before the age of 30. He was the 2018 AL MVP with the Red Sox who defeated the Dodgers in the World Series that season.
Baseball fans know his stats are scintillating (Google 'em for confirmation) and if he didn't produce in a big market he obviously wouldn't be as popular as he is. But Betts' magnetic personality on the diamond is a big reason why he sits atop the MLB jersey rankings. Flashing his trademark 1,000-watt smile, a gold chain that complements the plastic baseball and bat necklace he's worn since his Boston days, and a fresh pair of Jordan 1 baseball spikes, Betts possesses a swagger few ballplayers can match. Is the 28-year-old, who was recently featured in GQ, the coolest player in baseball right now?
"He might be, man," Bellinger told Complex Sports last week.
While you can debate how cool he is, a little more than 24 hours before the defending champs open the 2021 regular-season against the Rockies in Colorado you can't deny the popularity of Betts, who was unavailable for comment. Here are the 2021 top 20 jersey rankings:
1. Mookie Betts, Dodgers*
2. Cody Bellinger, Dodgers
3. Fernando Tatis Jr., Padres
4. Bryce Harper, Phillies*
5. Clayton Kershaw, Dodgers
6. Aaron Judge, Yankees
7. Ronald Acuña Jr., Braves
8. Francisco Lindor, Mets*
9. Kiké Hernández, Red Sox*
10. Mike Trout, Angels
11. Nolan Arenado, Cardinals*
12. Javier Báez, Cubs
13. Corey Seager, Dodgers
14. Gerrit Cole, Yankees*
15. Yadier Molina, Cardinals
16. Christian Yelich, Brewers
17. Freddie Freeman, Braves
18. Jacob deGrom, Mets
19. Jose Altuve, Astros
20. Pete Alonso, Mets
* Numbers combined for players that switched teams during the offseason.