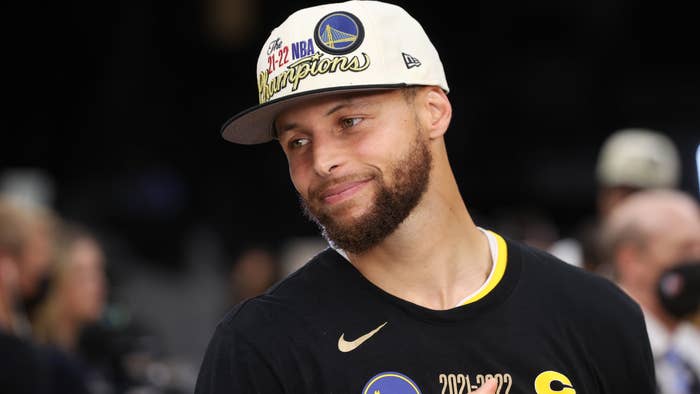 There's absolutely nothing left for Steph Curry to accomplish in his career. He's coming off a season where he broke the all-time 3-point record, collected All-Star Game MVP, Western Conference Finals MVP, and Finals MVP in addition to winning his fourth championship. He's won titles, he's won multiple league MVPs, he's the greatest shooter to ever to live and he can finally call himself a Finals MVP. In the words of Steph, 'what are they gon' say now?' With Steph hitting pretty much every box on the checklist on the court, he's now venturing into a new role in his illustrious career. Steph Curry will host the 2022 ESPYs, becoming the first NBA player to host since LeBron James in 2007. 
"When it comes to the hosting gig, obviously I'm nervous and excited," Steph Curry told Complex. "I don't really know what to expect. I actually tapped into Drake and Peyton Manning on what it's like but I think once I get out there, I'm just going to have fun."
We saw LeBron on stage put on his best Bobby Brown impression when he sang "My Prerogative" in 2007 and Steph hinted that he'll have some tricks up his sleeve for his hosting debut. We caught up with the now four-time NBA champion briefly to talk about his ESPYs gig, the "Night Night" celebration, the 2017 Warriors against the 2001 Lakers, the Warriors running it back next season and more.  
(This interview has been edited and condensed for clarity.)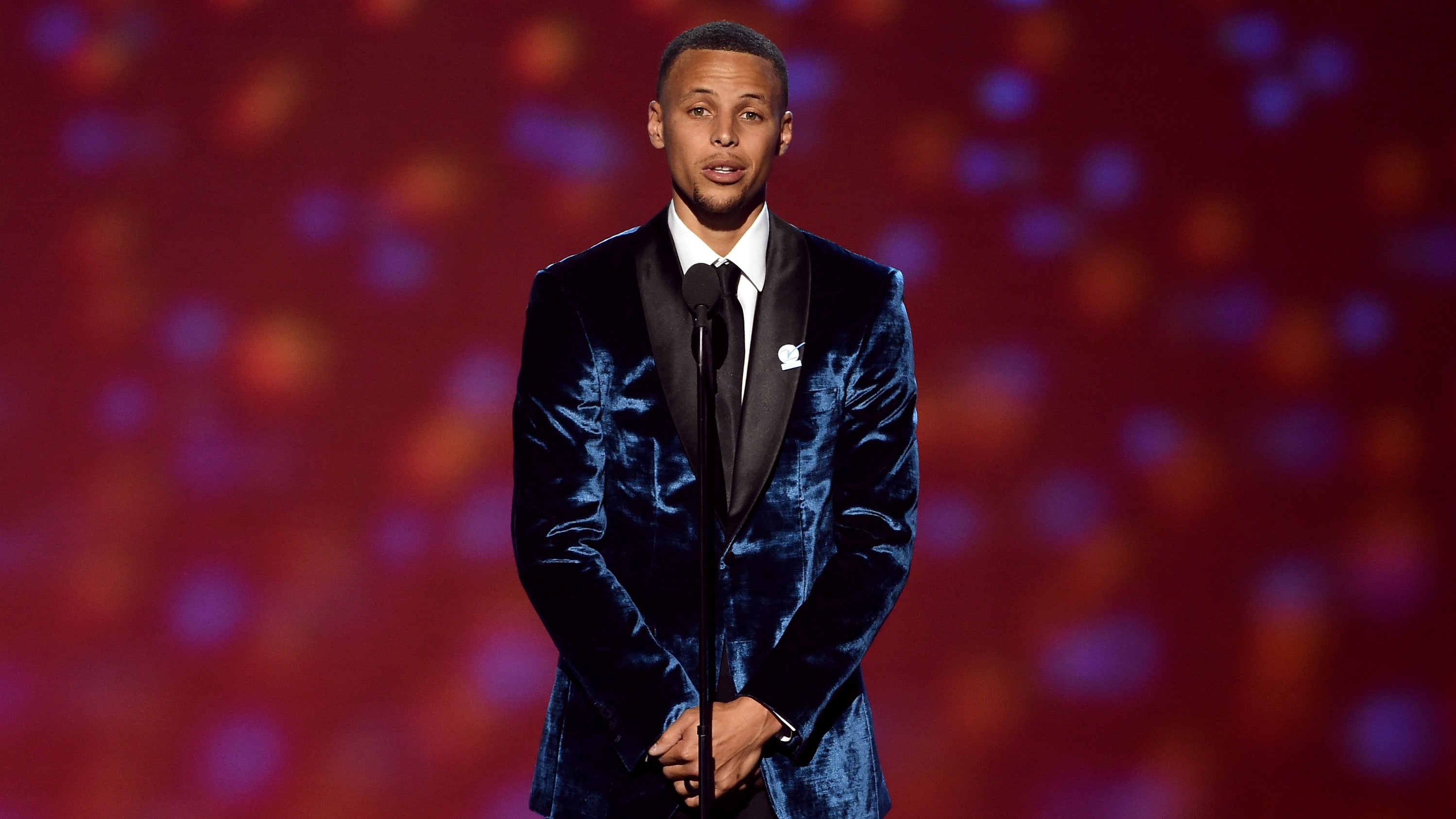 You have a high bar with former athletes who have hosted the ESPYs before whether it's Peyton Manning or LeBron. Even Drake has done it before. Are you pulling out all the stops for this? 
Yeah. Playing that deep into June and winning the championship sets the stage for a pretty fun night to celebrate what the year was personally but also all the other sports and teams and athletes that have done amazing things. When it comes to the hosting gig, obviously I'm nervous and excited. I don't really know what to expect. I actually tapped into Drake and Peyton Manning on what it's like but I think once I get out there, I'm just going to have fun. I'll be prepared, I'm looking for the opportunity to be on that stage. I've been there many times but I want to see the other side of what hosting is like. 
We saw LeBron sing and dance in 2007, are we going to see you perform? We saw the viral video of you singing in college? 
Haha. I guess everything you've seen me do, whether it's dancing with Chance The Rapper and trying to rap like Chance The Rapper and failing miserably or everywhere in-between trying to show some personality in different commercials and stuff. All of that is likely to show up in some shape or form. That's kind of what it's about, just having fun. But you have to obviously make sure there's some surprise element and stuff to keep everybody watching on their toes. 
You mentioned earlier that you experienced this in the audience. You've probably been on the wrong end of some jokes in the past. Now, you got the mic. Are you going at people? Are you going on a victory lap? 
Haha, I labeled myself the 'Petty King' so that probably should answer your question for sure. Definitely. 
So let me get more specific. Are we going to get LeBron jokes? KD jokes? Boston Jokes? 
You're going to get good jokes, how about that? I don't know who the targets will be. Obviously the ones that are close to me in basketball. A few teammates I've had or people I know personally. That opens up the gates even more but I think either if you're in the building at the ESPYs or a part of all the different storylines that have happened, all of those are on the table to go after with the jokes and the comedy. Obviously, there will be a little self-deprecation in there too so we are going to have some fun with it. 
The Warriors are nominated for Best Team. Championships teams will always be in the discussions with hypothetical matchups against other title teams. One that has been a topic as of late has been the 2017 Warriors vs. 2001 Lakers. Shaq and KD went at it about that matchup, what do you think about that matchup yourself? 
Between the '96 Bulls and the hypotheticals of a 7-game series, the 2001 Lakers and that hypothetical series, or every other hypothetical series that people say we should've lost because of an injury or because of whatever the case may be, those conversations are trivial. But at the end of the day, if you could match up in some alternate universe, us versus the 2001 Lakers, obviously we feel like we can win. I don't know who would guard Shaq but I don't know who would guard me and Klay either. We rockin' with that. And three is better than two.
One ESPY category that was missing was in-game celebrations. The "Night Night" celebration would've been up there. First off, we have to clear the air. Did you get that from somebody or was that something you thought of on your own?
So now I'm finding out that there was some guy in baseball that did it. Maybe in soccer, I can't remember who was it. I think Taurean Prince did it in a game one time. So I've been seeing all the receipts of people pulling it out but in terms of the moment that I did it, No. 1 I didn't know about them, but in terms of the moment it happened and actually putting the words behind it "Night, Night", I consider it an original still so we rockin' with it. 
You're also nominated for Best NBA Player and that's obviously always a conversation in the NBA. Are you at the point in your career where you feel like that title is meaningless at this point? Best player in the league or even top 10 of all-time? 
I mean it's for fans and for all the "experts", I ain't even want to call them experts anymore but the talking heads that cover our game and it's their job to try to stir up drama when it comes to whose lists, whose rankings, who's the best currently and all that type of stuff. I think anybody who knows basketball knows that this is the way we talk about in terms of talking real basketball: there's a shortlist of guys in the league that every team would want and there's a shortlist of guys that impact winning and have done it consistently. When you're in that category whether it's right now or all-time and you have the respect of your peers, that's the conversations we want to be having. Everybody's list is different, that's the beauty in it. We got 10 people and they'll have 10 different top lists. You'll crack one of them and let those conversations be what they are. 
For you, people have always said your biggest flaw is defense, calling you a liability on that end. Do you feel like you ended those talks in the Finals after you made several key defensive plays all series? 
Uh, yes because the way I play defense is just doing my job and trying not to be considered the weakest link out there. That's all effort and IQ and understanding the game. You can't compare me to the all defensive team guys. I'm never going to be on that level but I try to be as well-rounded as possible. That end of the floor I made tremendous strides and the ability to do that has helped us win so yeah, you dead that conversation in terms of there's no flaws in the game. Everything you try to do, you keep leveling up. 
Last question I wanted to ask is now you've seen the league scrambling to matchup with the Warriors again. What does it feel like to be back on that level where everyone is catching up to the Warriors? 
That's a consequence of the wild journey we had getting back to the top. When you can sit back and have confidence that if we can bring as many guys that were a part of this team back, get James Wiseman up to speed and healthy and making an impact, just a lot of our roster. There's a championship confidence and swag that comes with it to be able to  run it back. You pay attention to what happens around the league and that's great but we still have to compete. We just can't be complacent. There's a  different vibe when you're watching free agency and you're just trying to make sure you can come back with as much cohesion as we did to end the year so that we can run it back. We have confidence that if this team is who we are, we can't beat anybody and we've obviously proven that so that helps.