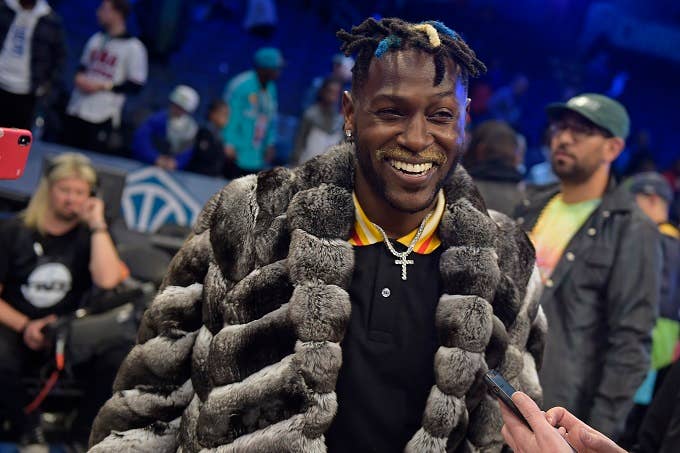 As Antonio Brown waits for an NFL investigation to determine when he can play football again to wrap up, the All-Pro wide receiver is making sure to not waste any of his current free time. Brown was cut from the Patriots in September amid allegations of sexual assault. Brown's been in limbo ever since and even worked out for the New Orleans Saints last month, though they didn't sign him.
Of course, you've likely seen AB on social media over the past few months, taking shots at just about everyone you can think of while he waits for the league to make a decision. Even with his football future in limbo, Brown has stayed in the public eye, ranking as the No. 1 searched athlete on Google in 2019. Brown is also focusing on making music, with the recent release of his new single, "Whole Lotta Money," which will be featured on his upcoming album that will be put out through his new label, CAB Records. 
As Brown continues to wait on the NFL, we talked to the 31-year-old wide out about his new music, his future in football, playing with Tom Brady again, fighting YouTube personality Logan Paul, and much more. 
(This interview has been edited and condensed for clarity.)
What really made you want to start making music at this point? 
There's not many people that know me and the media has portrayed me as a different person than I really was, so rapping has totally allowed me to be able to express myself. Little things that happened in my life and then I just put them into art form.

What kind of story do you try and tell with your music?
No, what I want to be able to do is a lot of people don't know me that well. You know, share my story. You want to inspire. You want to inspire and lead.
You weren't trying to send any direct messages at anyone with the lyrics on this one? 
No, I was just having fun with it, ya know. Whole lot of everything, you know, a whole lot of money. We just shining. The thing is never sell yourself short, whole lot of everything, never [get] fooled and never doubt. Getting a whole lot is never ending. 
"I'm not trying to say anything to create any mayhem or anything, but speak from a different voice than proven athletes."
I've noticed that the way you promote yourself is a bit outside the box compared to most athletes.
Why would you say it's outside the box?
It seems like you speak your mind more than most athletes do.
Absolutely. Most guys will get to the point where I'm at where I'm proven and have taken care of myself financially. So, you know, I'm not trying to say anything to create any mayhem or anything, but speak from a different voice than other athletes.
Do you think other athletes might be jealous of how you speak your mind? 
Absolutely. Like everyone in the world has the opportunity to understand, we control our own destiny and you're free to be you. That's the part of having freedom, you control your own destiny and then in my position, I'm allowed to inspire people to control your own destiny. 
You were the most searched athlete on Google this year. What does that mean to you?
Going No. 1 on Google means a lot. A lot of people around the world are looking to me for leadership or motivation because I'm me. Understanding that I'm No. 1 on Google allowed me to understand that I need to be a good leader because a lot of people looking for me and a lot of people watching this stuff.

When you speak about being a leader, what does that mean to you? 
Superman don't come to our neighborhoods. For a lot of people in our community, I'm like Superman to them. Kind of went away and did something cool and then came back to be that example. So I try to make sure leadership is important, you know, having a good structure and providing good leadership that guys could follow and being that good example. Leadership is key and I pride myself on being a leader. So trying to be around the community kids and set a good example.

So the first single is out. Do you have a title for the album yet?
We got a title, we won't say it yet, but it's not "No White Woman," that was just a joke. 

I was about to ask if that's what you were going to call it... 
[Laughs] No, that's not going to be the title. I kind of just made a tweet and it was funny as just a kind of a marketing tweet to sell the album. But it's definitely not going to be called that. It's got to be something with meaning. Something with good leadership behind it. 
Do you think people know when you're joking or not on Twitter?
Sometimes people think they're too serious, you know, I'm being silly. I'm just entertaining. That's why people take it too serious.

As you look to the future, does football line up for you going forward? 
Absolutely, I'm looking forward to playing next year. Getting the opportunity to continue working on my craft and continue to be a leader in that aspect as well. Hopefully, the NFL will be making a decision here shortly and hopefully I can get back to business and continue to improve. I got my little gym at 84/7 and then having the college kids come over. So I'm getting ready to go.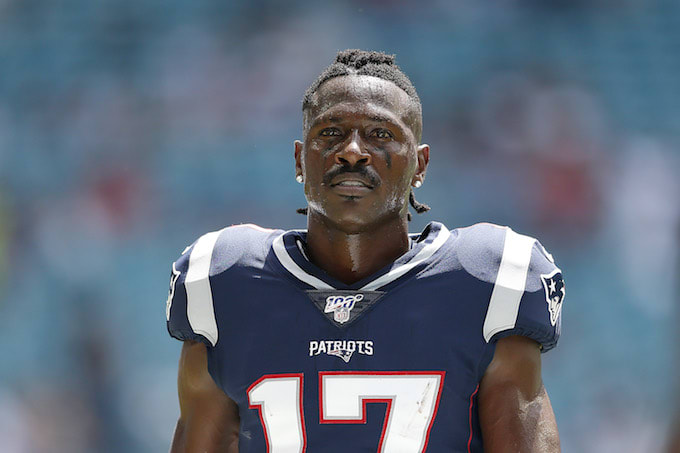 You're obviously close to Tom Brady, are you looking to play with him again if he does leave the Patriots?
Yeah, I'll see. I'll see how it goes. I'm just looking forward and getting the opportunity to be back out there, you know, get a feel inside it, you know, just want to present myself in the right way.

The Logan Paul thing, is that really happening or are you just trolling?
Yeah, if he really want to do it. He was calling me out for a couple of months, said he wanted to fight me. That he's down to fight. So if old Logan want to come, see if he wants to get a little rumble on. 

You really got Floyd Mayweather training you? 
Yeah, I'm going to be out in Vegas. If Logan confirms, if he's serious about it. I don't want him to be writing checks you can't cash, you know, you're coming after me for a couple of months. So I finally just hit him up like, "Hey man, I've seen this too much." He must really want to make this happen.

It seems like he does.
I know, I've been hearing him talk about it a lot. Get that paper right so I can get out to Vegas and get in my zone. 

Did you watch his last fight?
Yeah, he got beat, man. He's just been taking Ls all over. He made a good pop though, made a lot of money.

The fight made a lot of noise for sure. 
It seems like Logan is a boxer for real though and I'm a big fan of him. He's a cool guy, man. Came to my house a couple years ago at the Superbowl was all kind of love. But I'm excited about everything. He's promoting his craft and his brand, so it would be an honor if I could hook up with him. I think it would be pretty fun.