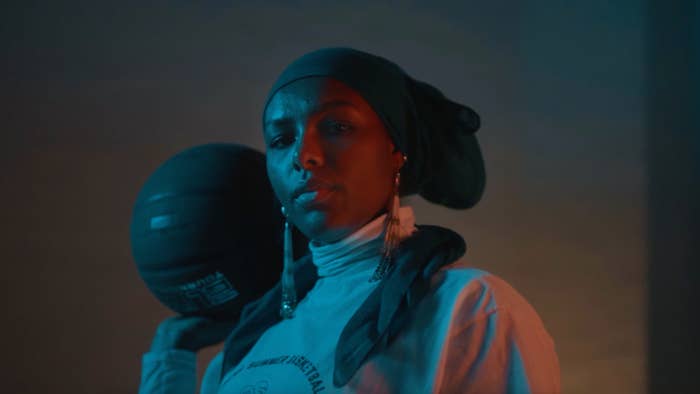 "When I was growing up I didn't see much; even now in Toronto there are more basketball leagues for Muslim women to participate in than I had," says Fitriya Mohamed. "I fell in love with the sport and wanted to take it a step further."
It's easy to underestimate the value in representation because of the way its absence results in more discreet, minuscule ripples that roll for years, but just think about it. 
If you, as an impressionable child, do not see those that present as you do on the media platforms you consume and engage in, you would likely find it difficult to even fathom yourself in their place. Perhaps you'd subconsciously accept that because people like you aren't participating, it must not be your place to join in. All too often, inclusion is dismissed as tokenism by those who find it hard to imagine their favourite mediums featuring people and images unlike themselves; to others, invisibility has been the long-held standard. But for Mohamed, a Toronto-based basketball player, organizer, and academic, the familiar experience of subtle exclusion of marginalized people was turned into an unrelenting motivation for cultivating visibility—a space for those like her to comfortably do what they love, and know that it's OK. 
"Just based on my experience growing up and playing basketball; it was the reason why I wanted to create a space for Muslim women," she says.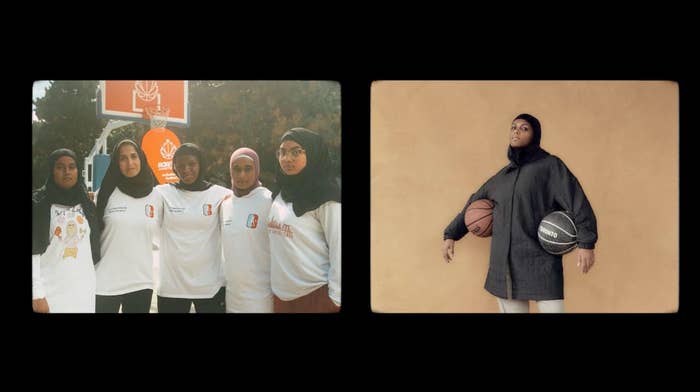 Mohamed's love for facilitating the inclusion of Muslim girls in sport, the same inclusion that she'd missed out on in her journey as an athlete, guides her community involvement. An African Muslim myself, we came to a quick understanding about the effects of not seeing those that look like you participating in your interests, and the subsequent impact it can have on our goals and self-esteem. Something that can be quite tough to identify and bring language to as children. So naturally, she grew up feeling a drive to correct these blanks in representation as an adult; becoming precisely what she once needed to see. 
An ambassador for the Hijabi Ballers (you may have seen their excellent ads during Raptors games featuring Nike hijabs), described on their website as a project that "..seeks to recognize and celebrate the athleticism of Muslim girls and women…we also work to increase participation, and consequently representation, of Muslim females in sport spaces and sports programs around the city," Fitriya Mohamed is quite literally a student of representation.
"I think this is the exact kind of representation we need. Especially in a time where [Muslim women] are being challenged for wearing the hijab in many parts of the world."
During our chat, I inquired about the specifics of the Master's program she'd mentioned to me. "My Master's is actually more so focused on creating space for Muslim women in academia, so the research is on hijab-wearing Muslim athletes that are engaged in advocacy and activism. So in a way, myself. But there are so many women out there doing similar work and I feel like in academia, Muslim women aren't focused on in these ways. We wanna know 'Why aren't they involved?' without asking them."
Mohamed seeks to understand how the dynamics in representation exist outside of her more privileged vantage point in the Western world too, going on to describe her goals in further understanding what keeps Muslim women athletes excluded across the world. How is it manifesting in the Global South? Instead of wondering why Muslim women are reluctant to participate, why is there an unwillingness to accommodate their needs in majorly Islamic regions too? The questions, curiosities, inquiries, field work, and answers Mohamed has accumulated over recent years is for a clear purpose too. "Writing this thesis has been its own entrepreneurial journey, really." 
Mohamed is looking to pour in this wealth of knowledge into the foundation and execution of the passion project she founded—the Muslim Women Summer Basketball League (MWSBL)—with absolute precision. 
"In terms of building our foundation for our organization, we've been using social media to actually share stories of women hooping around the globe. I think it goes back to my initial issue of not realizing that there are other Muslim women out there who are playing basketball and who are doing amazing things in their communities. And so through the MWSBL series, it was amazing to highlight these individuals for the world, and even to their own communities. Some of them didn't even know there were Muslim women playing at a high level in their own country."
The league has been delayed due to the provincial restrictions imposed by the pandemic, but Mohamed expects to see it through soon—meanwhile, she's using her time to further explore the aforementioned themes through different avenues and platforms that come her way. 
Only hours after I had finished up my interview with Mohamed, scrolling TikTok at an ungodly hour, I was confronted with the haunting accuracy of the app's algorithm. In an ad, I saw the vibrant abstract illustrations of Hershey Canada's 'Her for She' campaign. Not only was it the ad, it was Mohamed's message, in which she narrated over clips of herself playing the sport she loves;
"I feel like street culture is just 'do you, and people will respect you because you're being authentic to yourself.' I want the league to be a positive representation for Muslim women. I just want it to be very inspiring and empowering."

Hershey Canada's recent campaign is part of a global initiative, highlighting five Canadians making real change in their community for women, girls, and non-binary people in vastly different ways. In honour of them, Toronto artist Gosia Komorski designed the packaging of the bars that feature the faces of each difference maker. The company is also donating to and partnering with the NGO Girl Up.
"I think this is the exact kind of representation we need," said Mohamed of the campaign. "Especially in a time where [Muslim women] are being challenged for wearing the hijab in many parts of the world." 
In the face of being forcibly othered, Mohamed chooses the exact opposite time and time again: to be seen. 
"They're are things Muslim women are facing just for their visibility. I think this campaign is a way to celebrate them and shed a light on us all."