Stormzy Pauses Ibiza Festival Set to Enjoy World Cup Match
Stormzy had to catch a pivotal moment of the England vs. Colombia match during his Merky Festival performance Tuesday. He then launched into an extra-hype rendition of "Big for Your Boots."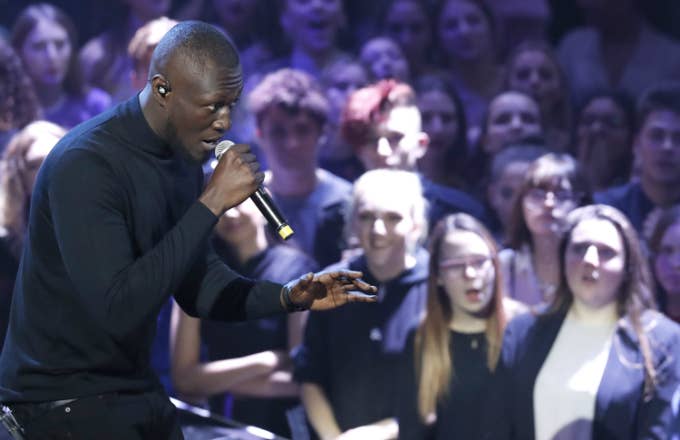 Getty
Image via Getty/David M. Benett/Dave Benett
Hot take: Artists should be allowed to stop mid-performance to do anything they please. For Stormzy, that means taking a moment to catch some soccer before hitting the crowd with his 2017 Gang Signs & Prayersingle "Big for Your Boots."
During his Merky Festival set in Ibiza Tuesday, Stormzy paused so he and the audience could watch England's Eric Dier do his thing against Colombia. Understandably, this helped the crowd reach a new level of stokedness. See for yourself:
As I know dick-all about sporting sportspeople sportily sporting, let's talk more about Stormzy instead. Back in February, his brilliant BRIT Awards mini-medley of "Big for Your Boots" and "Blinded by Your Grace Pt. 2" received an official response from the UK government. As you'll recall, Stormzy called out Prime Minister Theresa May by name during the performance:
Yo, Theresa May, where's the money for Grenfell?
What, you thought we just forgot about Grenfell?
You're criminals, and you got the cheek to call us savages
You should do some jail time, you should pay some damages
You should burn your house down and see if you can manage this
Later, a response was issued alleging the amount of Grenfell contributions: