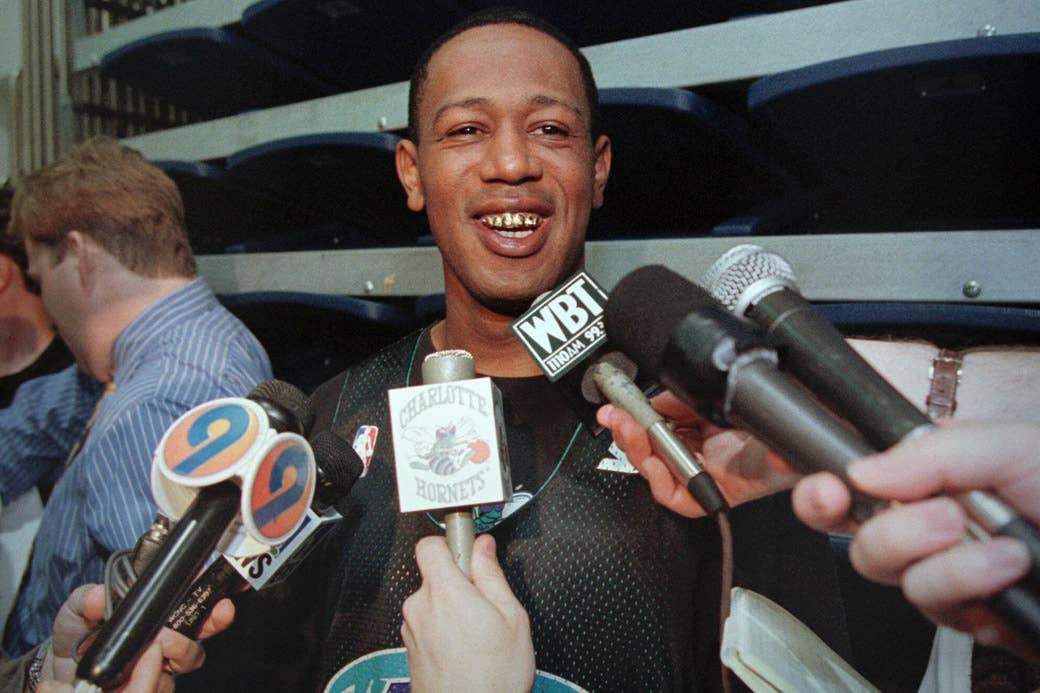 For a few days following the abrupt end of the 1998–99 NBA lockout, Percy Miller, better known as No Limit Records rap mogul Master P, was heir apparent to the recently retired Michael Jordan—at least in terms of recognition off the court. A preseason invitee to Charlotte Hornets training camp, P was the most interesting person in basketball. At the time he was a 31-year-old rapper worth $361 million with little basketball experience attempting to make an NBA roster. It was an absurd proposition cloaked in hubris, like Donald Trump for President—or Jordan patrolling the outfield for the Birmingham Barons. But unlike Jordan and (hopefully Trump), P almost succeeded.
As part of the NBA's initiative to lure back fans following the fractious lockout, the Hornets held a free inter-squad scrimmage at the Charlotte Coliseum on Saturday, Jan. 23, 1999. The team expected 8,000 people for the 12:30 p.m. exhibition. Fans lined up from 7 a.m., and the Hornets, fearing that anyone near the entrance would get crushed, opened the gates 20 minutes early. The announced attendance was 15,371. Bedlam ensued inside the arena as the Hornets took the court to Master P's biggest hit, "Make 'Em Say Uhh!"
"It was louder than our regular season games," remembers former Hornets guard Eldridge Recasner. "I played in the NBA for eight years and never saw that many people at an inter-squad scrimmage. I'm not blowing smoke. I couldn't believe all those people were there to see this guy."
With P on the bench to start the game, the crowd, which included No Limit artists C-Murder, Mia X, Mystikal, and Mr. Serv-On, chanted, "We want P! We want P!" Their request was granted. P soon entered the game, and quickly hit a three-pointer. He held three fingers in the air. One fan waved a sign reading: "Goodbye MJ; Hello Master P."
In 16 minutes of action, Master P had 9 points on 3-6 shooting, 4 assists, 2 rebounds, and 1 turnover in the teal team's 83-77 win over the black team. After the contest, P told reporters, "I know that's what I can bring to the league. I've got a big following and sold a lot of records. I just came to show the world I can play basketball."
"The GM, Bob Bass, called me in and said, 'You can play. You are a helluva basketball player, but your music is pure filth and it's a Bible Belt city.' And they let me go."
—Master P
The Charlotte Hornets cut Master P on Feb. 1, 1999, four days before the team opened its truncated season with a home loss to the Philadelphia 76ers. The move was expected. For all the exposure P brought to the team—and the team did crave exposure ("At the time we needed publicity," says a former Hornets employee)—Master P was not an NBA player. But how close did he come to making the Hornets, and the Toronto Raptors, which he tried out for the following season? How good of a ballplayer was Master P?
Culled from interviews with over a dozen former colleagues, coaches, and executives, here is the scouting report on Percy Miller: Master P could shoot. He could spot-up or shoot off the dribble. If a defender went under a screen or rotated off him to double-team the post, P could hit the open jumper. He didn't have the quickest release, and his range was limited to 20 feet with a hand in his face, but he could shoot. He had adequate ball-handling skills, a decent handle. When driving to the hoop, he didn't rely on athleticism. He had a sneaky old-man game similar to Andre Miller, a mix of guile and pump fakes that allowed him to get his shot off. He was a big guy—a sturdy 6'3"—who knew how to use his body. He was also fit and had surprising strength and stamina. Above all, P was a great competitor who played with confidence—he was far from humble. Master P believed he belonged in the NBA.
As for his weaknesses, P lacked explosiveness. He was a good athlete, he just wasn't an NBA athlete. For all his craftiness, finishing at the rim was a challenge. He wasn't dunking on anybody. He was also slow for a guard, which led to trouble on defense; you can't hide on that end of the floor in the NBA. More than anything, he lacked fundamentals, the result of playing mostly pick-up ball in recent years. He struggled reading screens, and coming off screens. He didn't understand proper spacing or how to find the right shot on offense—little things that seem inconsequential but are foundations of the game.
"He missed so many years of that basketball fundamental stuff," says Keith Smart, P's head coach in the Continental Basketball Association, and now an assistant with the Miami Heat. "When you're away from the game playing pick-up, and not organized basketball, you're going to be behind."
And here he is on a steamy July afternoon, sitting in the ReelzChannel offices high above Grand Central Terminal in midtown Manhattan. "I was better than a lot of guys in the NBA," P says as an introduction. "It was all politics. They know it."
Placards promoting his upcoming Reelz reality series, Master P's Family Empire, fill the conference room. P sits at the head of the table in front of an open MacBook Air. A zero-calorie energy drink and a packet of BBQ-flavored sunflower seeds are to the side. He wears a black Brooklyn Nets adidas snapback hat, diamond encrusted Aviator-shaped eyeglasses ("A little bling," he says), a khaki-colored military style short-sleeve button up, white shorts that hang past the knee, and Air Jordan III's in black/cement. A colossal security guard sits near the door.  
P sports a wry self-satisfied smile throughout, as if an interview dedicated solely to his basketball career is worthy of commemoration—which it is! No entertainer, let alone rapper, has come as close to making a professional team as Master P did. But he isn't here to brag—OK, P enjoys talking his shit. First, he wants to express what basketball means to him.
"Basketball saved my life," he says in his deep rasp. "It took me on the road, gave me a bigger vision." P started playing ball at 5 years old in New Orleans' Calliope Projects, the violent neighborhood now known as the B.W. Cooper Apartments. All night, past dusk, past any curfew, P says he'd shoot jumpers in the park. It shielded him from the gangs, he says. He remembers the bad guys hollering, "There is P out there shooting hoops, leave him alone."
"Basketball is how I escaped a lot of negativity," P says today.
The playground games were rough. Some guys sipped brews in between points or huffed a cig on dead balls, but everyone was a ballplayer. "Real basketball," P calls it. His high school career began at Booker T. Washington, then a regional powerhouse. Now, post-Katrina, it sits abandoned. He fought a lot, he says, and transferred to Warren Easton, where he averaged 18 points, 9 assists, 5 rebounds, and 3 steals during his senior season. Afterward, he attended the University of Houston. It is unclear whether he received a full basketball scholarship to the school or if he made the team as a walk-on, but he left the team and the school after tearing his ACL before the season—P lifts his right leg to reveal the scar.
He resurfaced in the early '90s at Merritt Junior College in Oakland. P was a regular on the Northern California AAU scene and played ball with Steve Nash, who was enrolled at Santa Clara at the time. One day, after a pick-up game with Jason Kidd at Harmon's Gym (now called the Walter A. Haas Jr. Pavilion) on the University of California, Berkeley, campus, P lobbied Cal head coach Todd Bozeman for a tryout. "He knew Billy Kennedy, one of my assistant coaches, from New Orleans, and came to our office," Bozeman says. "He was decent. I don't know if he could have made our team at Cal—we had NCAA Tournament teams. He could have outplayed some of our walk-ons for sure. But he wasn't in school."
P found a new hustle. As legend goes, he started rapping, opened a small record store called No Limit Record Shop in Oakland, stocked the shelves with his own music, started a record company named No Limit, and sold CDs out the trunk of his car and to other record stores until the operation became so massive that he signed a record-pressing and distribution deal with Priority Records. (As for his other, other hustle, listen to "Ice Cream Man" or watch I'm Bout It.) Throughout the '90s, P and No Limit mutated from regional phenomenon to national juggernaut—by early 1998, the label had sold over $120 million in records. Around that time, in the middle of a year in which he reportedly grossed over $56 million, P got bored. He announced that his June 1998 double album, MP Da Last Don, would be his last.
P's "retirement" (he released another solo album, Only God Can Judge Me, just 16 months later) in the summer of 1998 coincided with the NBA owners locking out the players. Like a good hustler, he found his way into scrimmages with Paul Pierce, Sam Cassell, and Derek Fisher. "We had a lot of good players working out," says former LSU star Randy Livingston, a regular at P's runs at the school's Baton Rouge campus. "He more than held his own." P also played ball at the Foundry in Houston, and on the UCLA and Southern University campuses. "We were going for his throat. But he was going hard too. He wanted to prove he belonged in the NBA."
With each day P's confidence grew. Slowly, he realized he could compete. He had also fallen in love with the game again. "I caught the bug," he says. "I had to get it out of my system. It was like, 'How good am I really? How far can I take this?'"
"[Matt Barnes and I] were going so hard, I think I broke his nose or something. I feel like I made him a tough player. I made him the toughest guy in the league."
—Master P
Master P's professional basketball sojourn began in the Summit City, Fort Wayne, Ind. Sometime in the fall of 1998, Tim Redo, a No Limit employee, called Keith Smart, a friend of his from Baton Rouge. Smart, who hit the game-winner for the Indiana Hoosiers in the 1987 NCAA championship game, was now head coach of the CBA's Fort Wayne Fury; a forerunner to the NBA's Developmental League, the CBA was an independent professional basketball minor league. The league went bankrupt in 2001 and ceased play in 2009.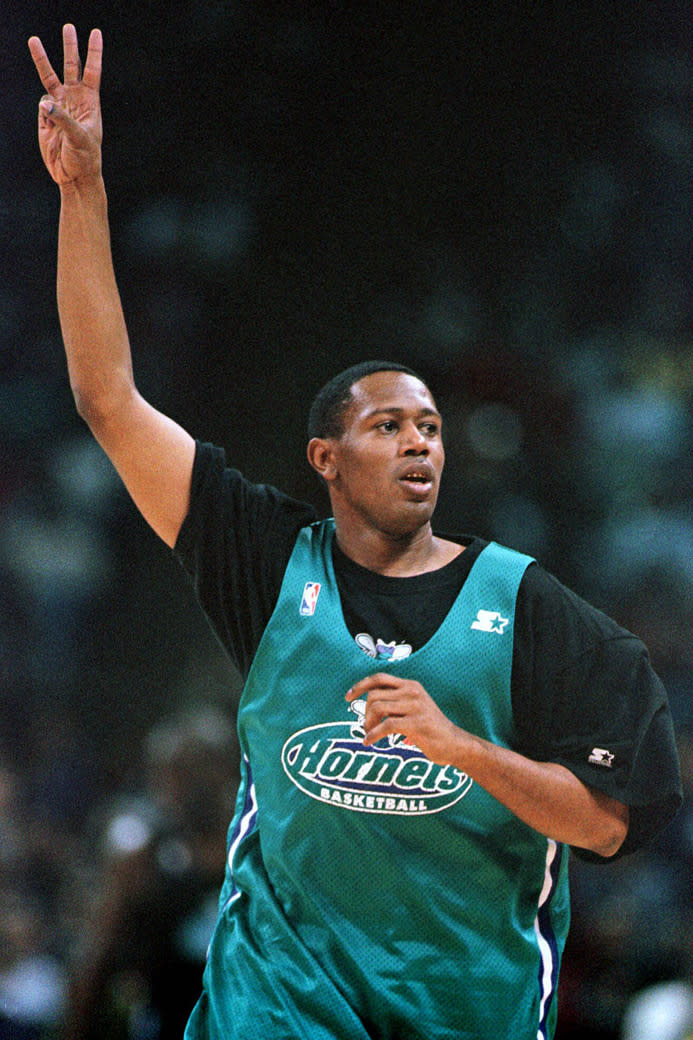 Redo asked if his boss, Master P, could try out for the Fury. With training camp on the horizon, Smart agreed to take a look. "We thought it would be exciting for the Fort Wayne community," Smart says. "Master P and his group met up with ownership and they all thought it would be a pretty unique situation. He'd probably expose the team to other avenues."
As a backup guard for the Fury, P earned $1,000 a week in addition to $15 per diem on road trips. Smart remembers P as coachable, an eager learner, despite the fact that the rapper temporarily left the team to shoot No Tomorrow, a direct-to-video film. In eight games for a talented Fury team that included future 9-year NBA veteran Moochie Norris and former high school and college star Damon Bailey, P had more personal fouls (24) than points (15). "He had a lot of flashes, but they weren't enough to make you think he's going to be called up [to the NBA]," Smart says. "That year we had nine players get called up. He was not one of the guys that people saw as a prospect."
In Jan. 1999, with the NBA lockout settled, P asked Andrew Curtin, an agent with No Limit Sports, P's sports agency that represented Ron Mercer, Derek Anderson, and Ricky Davis, to petition NBA teams for a tryout. Curtis heard from Don Nelson, head coach and general manager of the Dallas Mavericks. Soon P, Curtin, and a 10-man entourage were in Dallas.
A Friday morning meeting with Nelson went well. P was then chaperoned around the team's facilities by Steve Nash, his old NorCal running mate, and worked out with the team. When he returned to the hotel, Curtin says that P told him that the next practice was scheduled for Monday. P flew to Baton Rouge that evening. Curtin, who remained in Dallas, says he received a phone call on Saturday morning from the Mavs trainer inquiring on P's whereabouts. He had missed morning practice. P returned to Dallas later that day but the deal was rescinded. "He blew it," Curtin tells me. "He absolutely blew it."
P disputes this version of events. "No, I was in with them. They were going to sign me to that team. They liked me. It fit with me and Steve Nash," he says. "I think the head coach ended up getting in trouble. He was leaving or something like that." Nelson resigned as Mavericks coach during the 2004–05 season.
Later on, Curtin says he asked Nelson's son, Donnie Nelson, then a Mavericks assistant, now their long-tenured general manager, about the team's interest in Master P. "Donnie said [that] his dad said, 'Maybe if I had this rapper guy on my team, we could be more attractive to attract free agents,'" Curtin says. "Don Nelson had run-ins with Chris Webber at Golden State and with Patrick Ewing in New York. He had a PR problem. He thought players would think a guy who had a rapper on the team must be pretty cool." Through the Mavericks, Donnie Nelson declined comment.
"Ain't no publicity stunt. Do you know how hard it is to work into that [situation]? I view it as I made history. What other hip-hop [star] or entertainer got that far?"
—MasTer P
A few days after the Dallas fiasco, P was in Charlotte Hornets training camp. Tyree Davis, father of Hornets rookie and No Limit Sports client Ricky Davis, secured a tryout after urging Hornets coaches to watch game film from P's stint with Fort Wayne. The Hornets were an ideal destination. Though the team won 51 games and a playoff series the previous season, the Hornets were in turmoil: Anthony Mason would miss the 1999 season with injury; Glen Rice, the team's best player, was hounded by trade rumors and had offseason elbow surgery—he was dealt to the Lakers in March 1999; and owner George Shinn had been recently accused of sexual assault. (A grand jury refused to indict Shinn on criminal charges. A civil lawsuit in Dec. 1999 also went in his favor.)
The Hornets needed a spark. "Management knew who [P] was and that was the reason they brought him in," says a former Hornets employee. "I'm fearful of calling it a publicity stunt because I can't think of a better phrase to use, but, you know, it's close to that."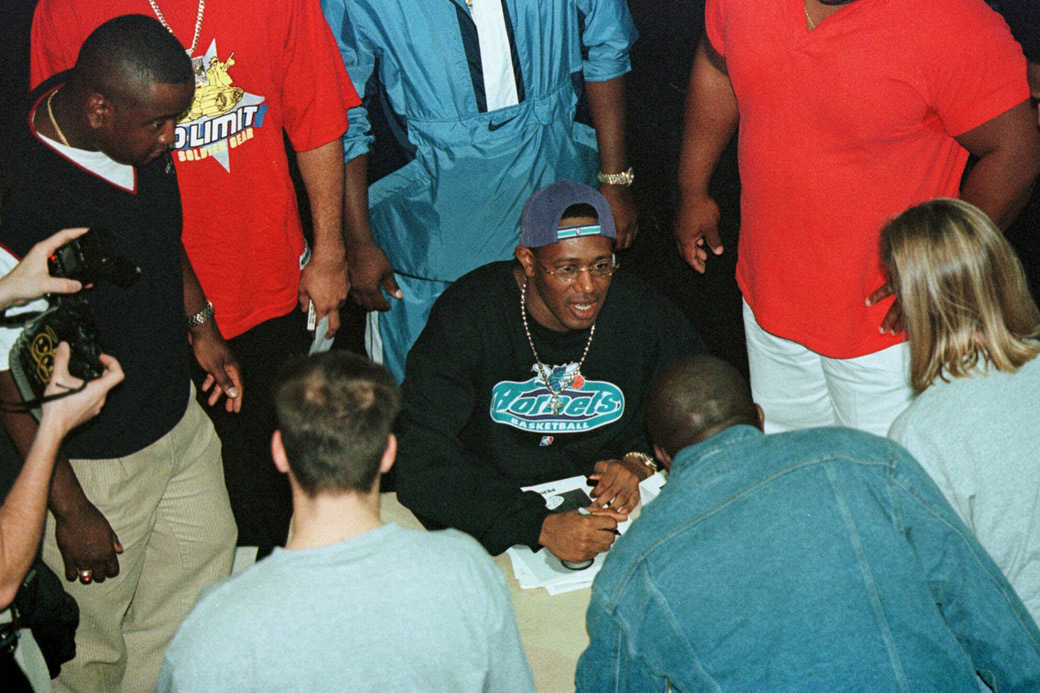 Publicity stunt or not, P competed. Two-a-day practices were the norm at training camp. Morning practice, held from 10 a.m. to noon, focused on conditioning. There was a lot of running and a lot of drill work—shooting drills, rebounding, defense. Then the coaching staff would review offensive and defensive plays, sets, and strategies. Recovery (massages, ice baths) followed in the afternoon. Then, from 6–8 p.m., the team ran scrimmages. It was a rigorous schedule.
"I was like, 'Damn, there is no way Master P can get through it, but he got through it with flying colors,'" says Recasner. "The one thing, though, was that he never showered after practice. He'd get on the bus in his workout gear, and, I guess, shower back at his room. He never showered in the locker room with the rest of the guys."
Anticipation for the preseason was high following P's performance in the inter-squad scrimmage—not only from fans. "Other guys in the league would come up to me and ask, 'Can he really play?'" says Derek Anderson, a guard with the Cleveland Cavaliers. Anderson had a marketing deal with No Limit Sports at the time. "I'd say, 'Yeah, he can play.'" But in two preseason games, a home-and-home against the Atlanta Hawks, P played a total of eight minutes. (Due to the lockout, each team played just two preseason games.) He scored two points, went 0-3 from the floor, and had two assists and one rebound.
Before the game in Atlanta, he delivered a pep talk to the team, an honor typically reserved for the star or captain. In his cliche-riddled locker room speech, P spoke of playing hard, laying it all on the line, and fulfilling dreams. His passion was undeniable. Still, he didn't make the Hornets final roster.
"I was the biggest star on that team. I should have made that team at Charlotte," he says today. "My music got me cut from that team. It was politics. The GM, Bob Bass, called me in and said, 'You can play. You are a helluva basketball player, but your music is pure filth and it's a Bible Belt city.' And they let me go. It wasn't about basketball. I handled my business."
"I killed him at practice. We knew what Muggsy Bogues was before, but at that time he couldn't stand in a room with me. He knew it. The
fans knew it."
—Master P
If P was a good fit with the Hornets, he was out of place with the Toronto Raptors. General manager Glen Grunwald and head coach Butch Carter had assembled a unique roster in Toronto, with veteran role-players Antonio Davis, Charles Oakley, Kevin Willis, Muggsy Bogues, Dee Brown, and Dell Curry supporting the team's two young emerging stars, Tracy McGrady and Vince Carter. It was the core's second training camp together.
P says he was a target of rookie hazing in training camp, and even fought Dee Brown after refusing to carry the 1991 Slam Dunk Contest Champion's bags. "I had to put it on him in the gym so he understand who I am," P says. "He had it out for me the whole time."
Coach Carter confirms the scrap but believes it was the result of Brown toying with P in scrimmages. "He was playing against Dee, and Dee is a veteran and was running him off screens with Antonio Davis and Charles Oakley," Carter says. "He thought Dee was taking advantage of him, which he was. That's an old vet move. It wasn't personal." No punches were thrown, Carter says.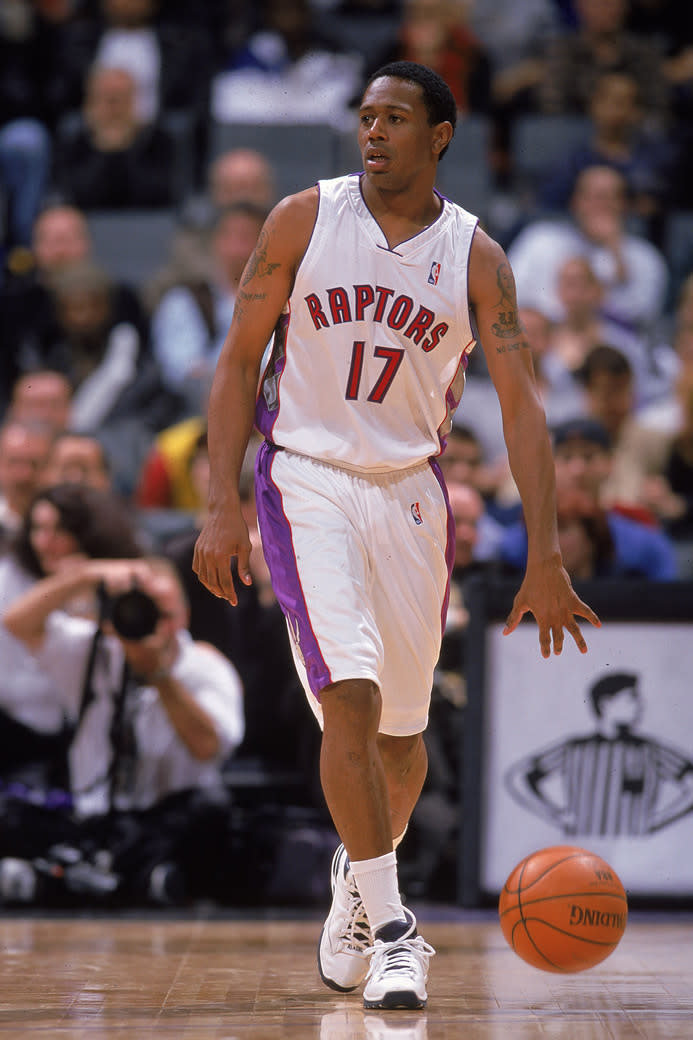 In six preseason games with the Raptors, P played a total of 23 minutes, shot 4-13 from the field for 13 points, grabbed 2 rebounds, and committed 4 turnovers and 5 personal fouls. An eight-point outburst against the Vancouver Grizzlies on Oct. 18, 1999 in Edmonton was a highlight. With cuts looming, P's agent Leland Hardy took drastic measures, asking Raptors backup point guard Alvin Williams if he could "give a vote of approval" to Coach Carter for P. "I couldn't do it," Williams says. "Hardy was like, 'He is better than any 12th man in the league.' I'm saying to myself, 'I'm pretty much the 12th man on the team right now.'"
P was waived on Oct. 27. "I'm bitter," he said at a news conference. "There was nothing I wouldn't do for my teammates. I felt that we bonded as brothers."
Over 15 years later, the bad feelings linger. "I did all this stuff for Vince Carter but I feel like, at the end, he didn't stand up for me," P says, the anger mounting in his voice. "They were riding off me, off my fame, back then. That city was just building, as far as basketball."
He then takes aim at the man he believes should have been cut. "They kept Muggsy Bogues. He couldn't even get up and down the court. But I get it: It was his last year to get his pension. He was done. He was on his way out," P says. "You keep Muggsy Bogues? For real? What did he have to offer? Nothing. That last year, what could he do? He did nothing but just sit on the bench. I killed him at practice. We knew what Muggsy Bogues was before, but at that time he couldn't stand in a room with me. He knew it. The fans knew it."
Coach Carter stands by his decision. "We were loaded," he says. The Raptors clinched their first playoff berth that spring. "P did a great job, but he could not have made that team."
When reached for comment on P's basketball career, Bogues (who we spoke to prior to P) immediately chuckles and then asks, "Are you talking about when Master P tried out for the Toronto Raptors?"
"He knew he was not making that team," Bogues continues. "I was a big fan of Master P. P was a great guy. I enjoyed meeting him. I enjoyed playing against him. He was a funny guy." He then adds, "He might have blocked my shot once at practice."
"I am forever grateful for having him in my life. He taught [Me] about life, how to understand business—the business of basketball. He was, in a sense, a
father figure."
—Demar Derozan
Master P did not give up after the Raptors cut him. Later that year he played with the San Diego Stingrays of the International Basketball League. Then, in 2004 and 2005, he tried out for the Denver Nuggets and Sacramento Kings summer league teams. In Sacramento, he says, he roughed up noted bruiser Matt Barnes. "We were going so hard, I think I broke his nose or something," he says. "I feel like I made him a tough player. I made him the toughest guy in the league."
He still gets annoyed when his time in the NBA is described as a "publicity stunt." "Ain't no publicity stunt. Do you know how hard it is to work into that [situation]? Come on," he says. "I view it as I made history. What other hip-hop [star] or entertainer got that far? I did something."
Perhaps P's greatest contribution to the sport occurred after his NBA dream ended. As founder of the P. Miller Ballers, an AAU basketball team, P coached future pros Brandon Jennings, Lance Stephenson, and DeMar DeRozan. "I am forever grateful for having him in my life," says DeRozan, a 2014 NBA All-Star with the Raptors, who attended USC in 2008-09 with P's son Romeo Miller. "He taught us about life, how to understand business—the business of basketball. He was, in a sense, a father figure."
P still plays basketball every day, he says, to stay in shape. His focus has turned to his youngest sons. He says that Mercy Miller is the no. 8 ranked third grader in the country, while Hercy Miller, 12, is top 10 for his age. Both kids are on track to surpass the best ballplayer in the Miller family—which might not even be Master P.
"I saw his brother Silkk the Shocker play one time and he might be better than P," says Williams. "I saw him play in some club in Chicago or Minnesota. He's a little taller, lankier, a little more athletic than P. He wasn't bad."