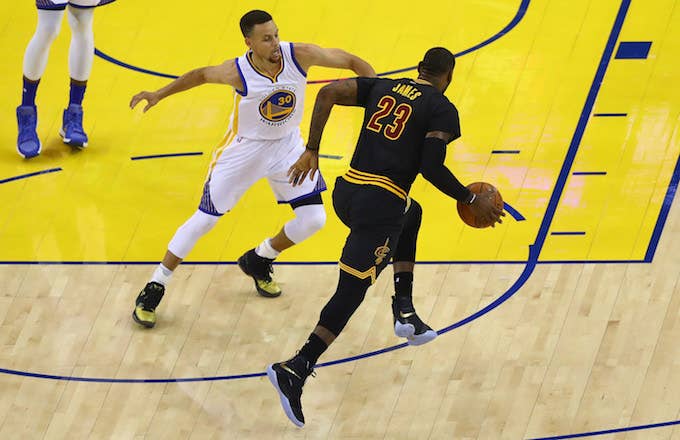 The 2016 NBA Finals entered lore territory the moment the whistle sounded signaling the end of Game 7, which may go done as the greatest sports contest of all time. Books were written, legacies burnished, hearts broke with glee and despair, and Cavs fans got to make "down-3-1-to-a-73-win-warriors-team" memes for months—nay, years—thereafter. It was a glorious time to be alive, and so of course ESPN released new material squeezing some more content out of the series.
The seventh of eight episodes of More Than an Athlete on ESPN+ is titled "Unfinished Business" and features exclusive behind-the-scenes footage of the Cavs after they beat the Warriors in Game 6, shining a light on Cleveland's confidence heading into Game 7 on the road.
If you can't remember, Game 6 in Cleveland was when Steph Curry picked up his sixth foul with 4:22 left in the fourth, then threw his mouthpiece into the stands in disgust, earning the normally jovial MVP his first ever ejection. Not only that, but his serene beau turned into an NBA QAnon theorist. On the other side, LeBron poured in 41 points, dished 11 dimes, and snagged eight rebounds before informing his squad the Warriors had blown the series before they even flew back to the Bay:
"They fucked up," James said. "Mentally and physically. I'm telling you, they fucked up." He wasn't wrong.
After a Kyrie Irving game-sealing 3-pointer, LeBron's iconic come-from-behind rejection on Andre Iguodala and emotional embrace of Kevin Love, the 2016 title belonged to a Cavs team no one could have possibly foreseen winning the chip just a few days earlier. James' prescient believe the Dubs had really "fucked up" after Game 6 acts as just another subplot many will tell their grandkids one day, if we all haven't already perished by then.