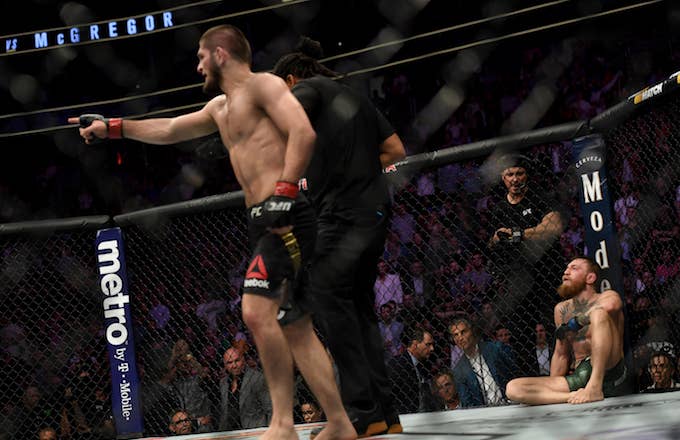 It takes a special kind of anger to fight for the UFC title, win, and then jump over the Octagon cage in a rage as you seek the taunting teammate of the man you just beat. But that's what happened to champion Khabib Nurmagomedov after he got Conor McGregor to submit in UFC 229. The ensuing jump into the crowd set off a brawl and investigation that delayed his title payment. Khabib even thought about quitting.
Despite all this, Nurmagomedov's tone appears to have changed. During a press conference in Moscow on Monday to talk about his sponsorship with Gorilla Energy Drinks, the McGregor feud was brought up and he appeared conciliatory.  "Everything is possible," he said. "Just as McGregor and I feuded, so we could reconcile."
When he was asked what he'd do should he ever face the Irishman again, Khabib—a devout Muslim who has called out the Russian nightclub scene in the past—got religious: "Who are we not to forgive one another when the Almighty forgives us?"
McGregor called Khabib a "mad backward c**t," and his opponent's father a "quivering coward." It takes a special inner resolve to forgive something like that. While Khabib has said he was "was not my best side" when leapfrogging out of the cage to attack McGregor's foul-mouthed teammate, there's only so much a person can take. 
While a reconciliation of some sort remains possible, Khabib really wants to fight Floyd Mayweather, who has recently said he'd only do so in a boxing ring. (Floyd is the guy McGregor's teammate should've called a quivering coward.)
"For legacy and in the sense of the money aspect, and in a sporting sense, I think the Mayweather fight is much more interesting," Nurmagomedov said, before adding, "The athletics commission needs to finish up first and then we'll talk.'' After the brawl with McGregor, the Nevada State Athletics Commission (NSAC) initially suspended both fighters (though McGregor got his purse). There's a scheduled hearing with the the NSAC about the post-fight melee on Dec. 10.