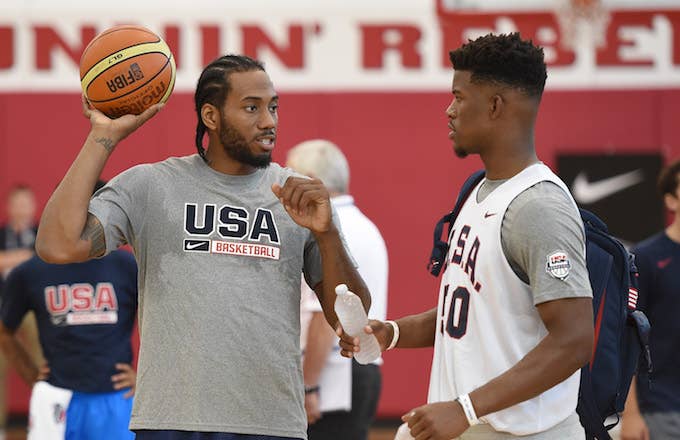 When news broke that Jimmy Butler is seeking a trade out of Minnesota, three teams were allegedly landing spots where he'd agree to sign a contract extension: the Knicks, Nets, and Clippers. The latter appears to be leading the pack.
League sources told ESPN Butler is most interested in a future with the other team based in Los Angeles. His thinking seems to be that the Clippers can pair him with another max-level player—they'll have room for two in July—acquired in a star-studded free agency market next summer. As a bit of kismet, sources also tell ESPN that one of the biggest names in that free agency bonanza, new Raptors wing Kawhi Leonard, is also a front-runner to land with the Clippers.
As part of his conversation with coach Tom Thibodeau earlier this week, Butler said he would sign elsewhere next summer when he becomes an unrestricted free agent. That means it's incumbent the Wolves deal him before what could be an uncomfortable media day on Monday. Along with the Clippers, Butler mentioned the Knicks as another possible partner for a trade, with the Nets a distant third simply because they can open up two max contract slots. The Athletic reported late Wednesday that Butler's desire to leave is more about money, and Minnesota's unwillingness to renegotiate his current deal and assimilate it into a max, five-year extension, than anything to do with issues with teammates. That's despite the trail of bread crumbs suggesting he clashed with his younger teammates. To wit:
The Clippers, similar to the Lakers and Kawhi, might not look favorably on a trade to net a player they could sign outright in free agency, but they have three solid veterans—Tobias Harris, Lou Williams, and Patrick Beverley—who could help Thibodeau win in Minnesota right now. He's not interested in a rebuild. Butler is looking for a trade because he wants to keep his Bird Rights, so whichever team that gets him in a deal can re-sign him to the 5-year max that'll net him around $190 million, or $40 million a season when Butler, 29, is near his mid-30s 
Regardless, the Los Angeles Clippers, after their surprisingly deft deal to get Blake Griffin's five-year deal off their books last season, appear to be in the driver's seat for two of the most lauded stars in the league. Don't ever underestimate Jerry West.