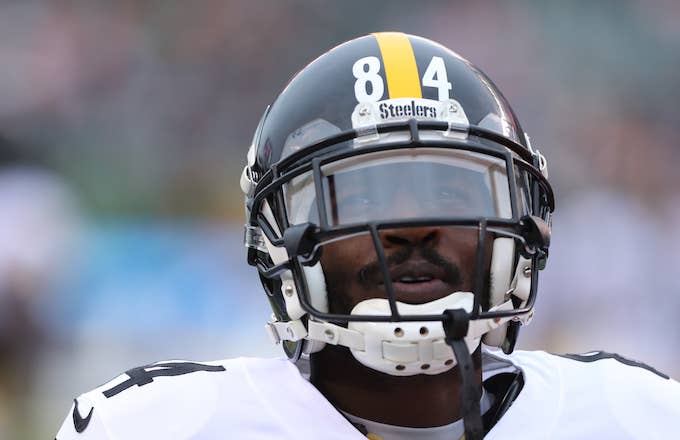 A lawsuit filed earlier this month accused Steelers wideout Antonio Brown of endangering a 22-month-old toddler when he allegedly threw some heavy furniture from his 14th-story balcony at a swanky complex where he leases an apartment in Florida. Brown has already said the suit contained "false claims," and in a court filing obtained by TMZ, Brown now says someone else threw the furniture.
"The acts were committed by another individual who was also present at the time of the incident," the documents say. TMZ points out how his new defense contradicts the police reports of the incident, even though Brown wasn't charged. According to the police report, there were two men in Brown's apartment when they arrived at the scene, his trainer "and another gentleman." Brown was said to be acting "very agitated" and yelling as they rolled up.
Now, the veracity of a police report, especially for a well-off African-American athlete in Florida, shouldn't be cast in the stone of truth. But it's hard to believe that one of the two people allegedly calming Brown down might've also been a perpetrator of the angry furniture throwing. And if Brown's to blame, he really should face the consequences because the young boy in question could have been killed if any that furniture had landed in a different spot. 
But, probably at the advice of his counsel, Brown is attempting to defend himself against the lawsuit by blaming one of the two parties also in the apartment at the time of the incident. We're guessing he has a new trainer these days.