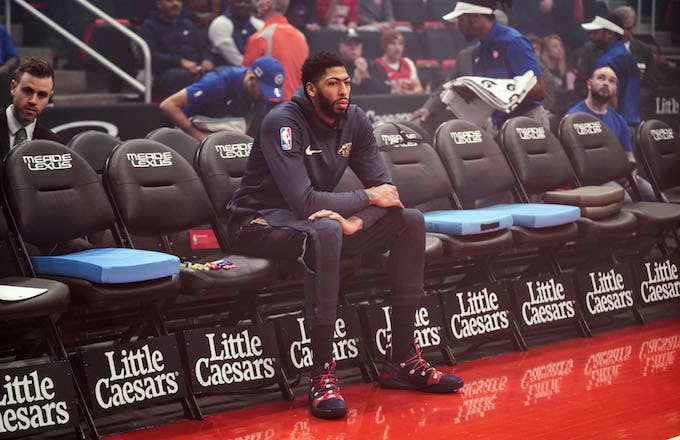 Much has been made of where Anthony Davis might go if he were to leave the New Orleans Pelicans. Publicly, AD has continued to say all the right things, even handling the LeBron James and Giannis Antetokounmpo's fawning with grace. 
But a recent nugget from an ESPN's Ryen Russillo adds another layer to the Davis-is-leaving narrative. 
"Been told by two league sources, that [Davis] is not going to play for the Pelicans after this year," Russillo said around the 30-minute mark of his recent podcast. "That is not actually the newest stuff here, but you keep hearing it from the people I'm hearing it from.
"Much like [Kevin Garnett], the [example] I've used in the past, [Davis] is not gonna be that guy that's gonna rock the boat," Russillo opined. "He's not gonna do the [Carmelo Anthony] 'get me out of here' thing. I don't know if Klutch Sports, Rich Paul, and those guys would do that. It's not really their MO, but they may have to. I don't know if it's gonna be a relative. I thought at this point there would already be a relative that would be vocal about this and start pushing to get him out of there."
The rest of his screed is more of the same informed speculation, where Russillo dismisses Boston because it wouldn't align with Klutch Sports. Basically: Why would AD even sign with Klutch if he wasn't going to join LeBron? Remember, trading before the February deadline is the best shot the Lakers have of acquiring the Brow because Boston can put a much better deal together if AD declines New Orleans' five-year extension, forcing the Pelicans to trade him before the summer of 2020. The big things are the league sources and the tone Russillo uses, which is one of not if, but when AD ends up telling the Pelicans he's done.
Despite Davis' MVP-level numbers, the Pelicans currently sit second-to-last in the Western Conference.