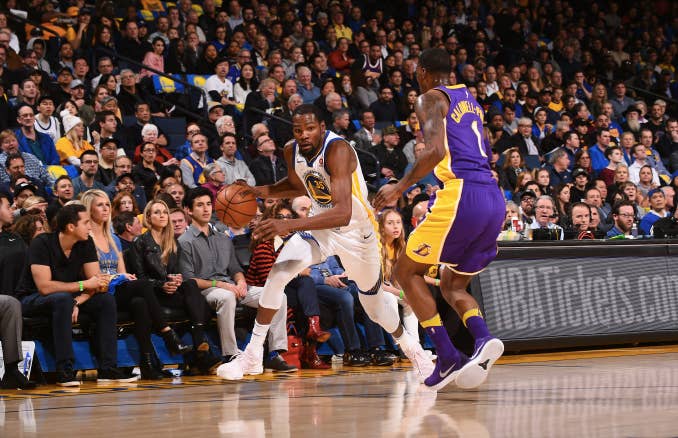 The Golden State Warriors are battered and bruised. Kevin Durant is set to miss at least two weeks with a fractured rib, the team announced on Friday. After suffering an incomplete rib cartilage fracture last Sunday against the Minnesota Timberwolves, Durant played through the injury in a matchup against the Lakers on Wednesday.
"What happened was, I've got hit in the ribs before, so I just thought it was a little contusion. Obviously, I kept playing. It was a little sore the next couple of days, but not something I'd worry about," he said before Friday's game. "Then the last game, I went out to close out on the wing and I felt something stretch and pull, and, you know, I felt some discomfort in the first half, so then the next day it got sore." Durant underwent an MRI scan and the results arrived just hours before tip-off. 
Durant isn't the only Warrior dealing with injuries. Steph Curry is currently nursing a right ankle injury and Klay Thompson has a fractured right thumb. The team is likely to slip further behind the Houston Rockets for first place in the Western Conference as a result. "I'll just try to get healthy, man. I'll try to make sure I'm out here and being me on the court. That's the most important thing," Durant said. "This isn't great timing wise. But it's all about feeling better when I'm out there playing."
On the bright side, the Warriors stars can use this injury time to recharge before the playoffs. But Durant isn't buying it. "That's the positive part of it you can look at. But on the other side, you're thinking 'I wish I was out there hooping and using these days to get better and sharpen up our skills,'" he added. "It's all good. It could've been worse for all three of us. But luckily it's not."
Luckily, Durant won't need surgery, but he will have to keep his movements restricted, as he reported feeling pain when he laughed or got out of bed. "Definitely unfortunate,"  he explained. "But that's what happens when you play a contact sport."