 It was the perfect storm, really, one we likely won't see again until—er, maybe next summer. The best (regular season) team in NBA history, the 73-9 Warriors, with an open roster spot, the salary cap shooting up from $70 to $94 million, and the perfect Warriors-style player, a 6'11" sharpshooter by the name of Kevin Durant, entering free agency at the peak of his prime. The Warriors were right to offer Durant a spot. Durant was right to accept. The rest of the NBA will have to figure this out.
The backlash, of course, was immediate. That's what we do, as fans and as media. Which is odd, really. Oklahoma City Thunder fans have every right to be upset. They saw their first and greatest superstar leave a team that came within one win of the NBA Finals to join the team that beat them. The future in Oklahoma City, always so bright, is suddenly bleak. With Russell Westbrook entering free agency next year as the cap goes up yet again, the Thunder best prepare for his departure as well.
As for the rest of us—including you, Stephen A. Smith—I'm not sure what there is to be so upset about. We made this. All of us. We made it when we started valuing RINGZZZZ over all else. We made it when we criticized Carmelo Anthony for taking more money to stay in a rebuilding situation in New York rather than accepting less to have a better shot at winning. And while the differences between the Thunder and Warriors are less, there can be no doubt that Durant went to Golden State to win championships. Plural. He did the opposite of what Melo did. And we're mad at him, too?
There is a very real cost to this, one that both Durant and the Warriors implicitly accept. Anything less than a historic season ending in a championship will be seen as a failure. 
Again, this is the perfect storm. The Warriors have a unicorn (apologies to Kristaps Porzingis and, well, Durant) of a superstar in Steph Curry: He's a two-time defending MVP who broke the game 2K style with his limitless shooting while playing on a sub-max contract he signed back when he was seen as injury prone; and he's willing to defer to Durant in terms of stardom and even shots if it means a better chance at winning. Well, at least that's what he says now, weeks removed from a historic collapse in the Finals. Here you have the reigning MVP teaming up with the previous MVP, in a situation that is literally unprecedented.
We made winning the most important thing, and then we wondered why players do the same. Durant has won everything else—an MVP, four scoring titles. He led a team to the NBA Finals. He is, by all measures other than RINGZZZ, one of the best players in NBA history. But without a championship, none of that means anything. That's what we've been taught. That's what we echo, again and again. That's why Patrick Ewing and Karl Malone and Charles Barkley will always be seen in a lesser light than Michael Jordan or Shaquille O'Neal or LeBron James. Over time, circumstances matter less and rings matter more. James, initially excoriated for "The Decision," is now just thought of as a three-time champion. He did what he had to do. At some point, all great players start thinking of legacy. And legacy as defined in 2016 starts and ends with rings.
There have been lots of comparisons made historically, that Magic Johnson and Larry Bird would have never teamed up, that Jordan would have never joined a greater team as some kind of a short cut. Let's start with Magic and Bird, each of whom were—great as they were—born on third base. Magic was drafted by the Los Angeles Lakers, who already featured Kareem Abdul-Jabbar. Bird went to the Celtics, the winningest franchise in NBA history. Magic won a title as a rookie. Bird, joined by rookie Kevin McHale and fourth-year center Robert Parish, won a title in his second year. They had no reason to go anywhere.
Jordan? He was a different player in a different time. The Bulls built wisely—much like the Warriors did—signing guys to cap-friendly long-term deals and adding players through trades and the draft. And by the time Jordan could have left, why would he have wanted to? He signed an eight-year deal in 1988 that was a bargain by the end but looked pretty good when he agreed to it. The same went for Scottie Pippen's five-year, $18 million extension he signed in 1991. By the time the Bulls could have added another superstar, they didn't have to. Instead, they gave Jordan $30 million for one season, then $33 million the next. That worked out fairly well too.
This is a new world, and such loyalty is rare. Stars go where they can win. They start young, with AAU teams, continue into college—look at the recruiting classes Kentucky gets every year. Stars beget stars. Once they reach the NBA, there are those who stay, but not only have players like that become more rare, they're most often stars who win young. Kobe Bryant was a Laker for his whole career, but he won three titles by the time he was 23. Dwyane Wade remained with the Heat, but he won his first title in his third season. Tim Duncan won his first title in his second. Loyalty becomes easier when you've already won.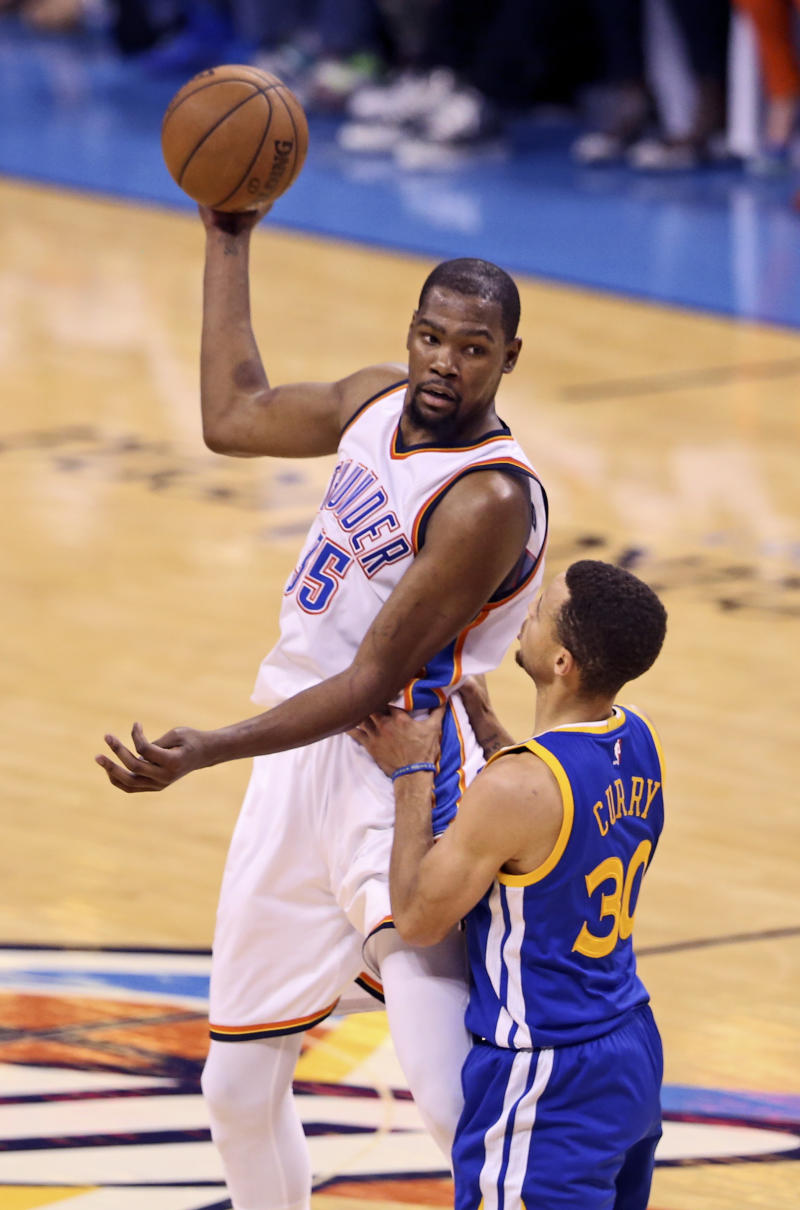 If anyone can be compared to Durant it's Dirk Nowitzki, who's still a Maverick despite winning just one championship. Durant made the NBA Finals in his fifth season; it took Nowitzki eight. He didn't win until 2011, 12 years into his career. Durant is entering his 10th season. Who's to say what could happen if he stayed? Now we'll never know. Nowitzki made his decisions, Durant made his. Neither are wrong.
There is a very real cost to this, one that both Durant and the Warriors implicitly accept. Anything less than a historic season ending in a championship will be seen as a failure. After all, if the Warriors could go 73-9 without Durant—winning their first 24 games in the process—they should easily be able to win 75 with him. Every loss will be dissected, every game will be huge. There will be untold amounts of pressure on everyone. Fans may assume that the Warriors will simply blow everyone out. Opponents won't think that way. The obvious doesn't always happen. Remember when Durant's Thunder were up 3-1 in the Western Conference Finals? Remember when Curry's Warriors were up 3-1 in the NBA Finals?
The Warriors and Durant both know this, and both decided to do something about it. It would have been easy for Durant to stay in Oklahoma City and give it another try with Russell Westbrook; it would have been just as easy for the Warriors to keep Harrison Barnes—at great expense—and retain the core of a team that has won 140 games over the past two seasons. No one would have faulted either for doing so. Instead Durant and the Warriors joined forces, bringing scorn down on both. But if it brings championships, that's all that we'll ever remember.