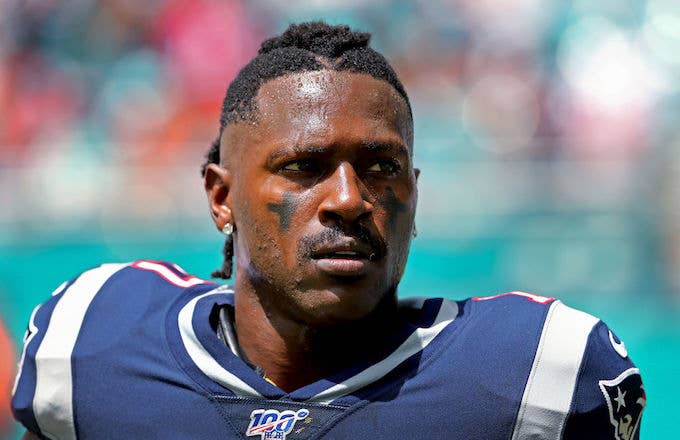 Antonio Brown just can't stay away from drama.
The troublesome athlete took to Instagram Live to show his followers an intense scene involving the police outside of his home. The police were there at the request of one of Brown's baby mothers, who asked for their presence while she picked up some clothes from his house, TMZ reports. No arrests were made.
It's not really clear what's going on, but Brown clearly sounds distressed. "They got this girl out here acting like she lives with me. She gotta get up out of here," he said. "These girls be so broke they try to force [themselves] in. You can't force your way in on a GOAT."
Someone in the background tells the athlete to "take that off," likely referring to the livestream.
In the video, we can see Brown talking to a police officer about what seems to be a domestic situation. He appeared to be complaining to the cop about an unknown woman driving his car and letting her into his house. "She's blocked at the gate and you keep letting her in," Brown told the officer in the video. "Fucking police don't help nobody. Fuck the police." TMZ reports that the woman involved was likely Chelsie Kyriss, who gave birth to three of AB's children.
People on Twitter reacted to the disturbing video.
Brown has been released by the Oakland Raiders and the New England Patriots this season, and his chances of getting back into the NFL appear to be slimmer by the day. The Pats have no interest in resigning Brown even after his apology.