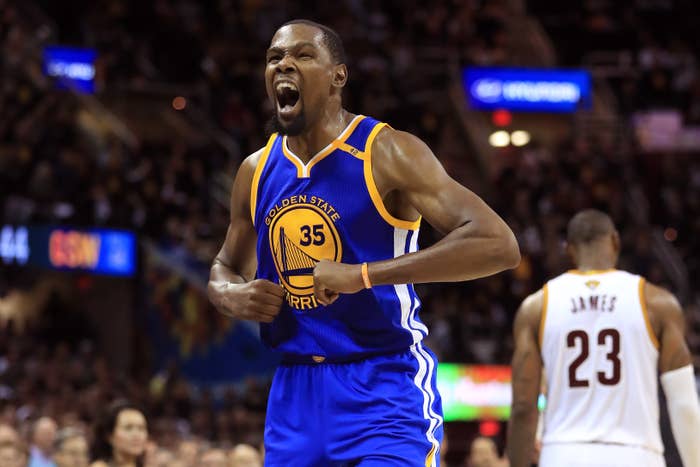 Even before blowing a 3-1 lead, the Warriors lacked a true go-to scorer. Sure, the Splash Brothers could frequently hit bombs from beyond the arc with relative ease, but they needed someone who could make the gritty shots—the midrange jumper with a defender all in your grill, the driving layup in traffic, the pull-up 3 with a hand in the face. The Warriors needed a scorer who could get them a guaranteed bucket in crunch time, to stop and start runs, to protect leads and to ice games. They needed a closer. 
Look at the way the Cavs refused to get swept, clawing their way to a win in Game 4 of the Finals. Consider how the Warriors had to keep their foot on the gas well into the fourth quarter of Game 5. Without KD, the threat of blowing a 3-0 lead would still have loomed overhead. Luckily, Durant makes a great team legendary. 
During this year's Finals, Durant proved to be everything Golden State could've hoped for and more. He was efficient, shooting 55% from the floor, 47% from beyond the arc and 92% from the charity stripe. He was their best player, racking up 35.2 points, 8.4 rebounds, 5.4 assists, and 1.6 blocks per game. 
But most important, he was just what the Warriors were missing. Monday night was an epitome of that fact. With Golden State up only four and the Cavs threatening to come back late in the fourth quarter, Durant instinctually sank a three-pointer with Richard Jefferson draped all over him. He followed that up with another rainmaker over the outstretched arm of Kevin Love, then on the next possession, slashed through the paint for a dagger layup. He managed to rack up 39 points with 11 in the fourth quarter, in what has to be the icing on the career-defining performance of his storied career. 
Kevin Durant was recognized early as a special talent on the basketball court. As a high school prep phenom, he was revered by college scouts for his size and ball-handling ability en route to earning McDonald's All-American MVP honors. At the University of Texas, he was celebrated for his exceptional range and offensive skill set, becoming the first freshman to ever win any National Player of the Year awards. And during his 10-year NBA career, Durant has accumulated four scoring titles, one league MVP, two Olympic gold medals, eight All-Star selections and a reputation as one of the best offensive players the league has ever seen. 
for all the accolades he's garnered, any praise was always quickly followed by a bevy of criticism.
But for all the accolades he's garnered, any praise was quickly followed by a bevy of criticism. He can score, but he's too skinny. He's a great college player, but he's too weak to in the NBA. He's an all-time NBA player, but he fades in the biggest moments.
Well, that all changed the moment Kevin Durant added NBA Champion and Finals MVP to his already impressive resume. 
Given their record-breaking destruction during the postseason, the Warriors' window seems to be wide open. Their core of Durant, Curry, Thompson and Green is all under 30 years old with plenty of prime basketball left. The Slim Reaper has even expressed a willingness to leave money on the table in order to keep Golden State's most lethal unit together. The Warriors bench has become one of the most effective in the league. Barring injury, it's reasonable to assume the Warriors will win multiple championships over the coming years. They are now more than an awe-inspiring collection of talent. The Warriors are becoming a dynasty—all because of a blown series lead and a skinny kid from Seat Pleasant, Maryland. If the numbers, and championships, and MVPs continue to pile up, Durant's critics will quickly run out of "buts," and he just might find himself on the Mt. Rushmore of basketball.